Blueair versus Meaco air purifier
In the race for the title of best air purifier, how do these two brands' models compare?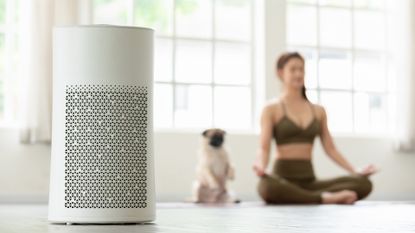 (Image credit: Getty Images)
woman&home newsletter
Sign up to our free daily email for the latest royal and entertainment news, interesting opinion, expert advice on styling and beauty trends, and no-nonsense guides to the health and wellness questions you want answered.
Thank you for signing up to . You will receive a verification email shortly.
There was a problem. Please refresh the page and try again.
When trying to uncover the best air purifier (opens in new tab)out there today, there are a few models fighting it out for the top spot. This particular pitting, between the Blueair versus Meaco air purifier (aka MeacoClean CA-HEPA 76x5 (opens in new tab)and the Blueair Blue Pure 411 (opens in new tab)) is the air purifier version of a David and Goliath battle.
While the MeacoClean model boasts an air quality monitor, smart controls and can clean a larger room, Blueair's device is smaller and much simpler. You'd think it would be a no-brainer, and yet it's not that clear cut a decision when debating which one to buy.
(opens in new tab)
On first look
The MeacoClean, which costs £199.99, scored well in testing and came out as a top pick in our buyer's guide to the best air purifiers (opens in new tab). The most affordable smart air purifier that we tested, it features a built-in air-quality sensor that detects even the smallest particles in the air and sets the filtration level accordingly. That means you can plug in the MeacoClean, turn it on, switch it to auto mode and essentially ignore it until it's time to change the filter. If you want to play more of a part in its functioning, you can also control it – and monitor air quality – via the associated app. And if you have a large open-plan home, this smart piece of kit can handle it, cleaning a space that measures around 30m².
In comparison, the Blueair is more affordable (£135) but it's also simpler; this design will look stylish in your home, and it does the job it's there to do, but it doesn't feature the same air-quality sensor and smart controls found on the MeacoClean. In fact, its controls are very basic: you simply manually tap a circle on the top to cycle between three power levels. In terms of power/ capacity however, the Blueair can thoroughly clean the air in a 15m².
Both air purifiers performed well in testing, with the MeacoClean removing 97% of PM2.5 and 98% of PM10 particles respectively in an hour on its top settings, and the Blueair removing 96% of PM2.5 and 99% of PM10, in the same test conditions. Impressive figures from both sides, here.
(opens in new tab)
Style it out
But design goes beyond what's happening inside – as a piece of home technology, that will be on display, how do these match up when it comes to external looks and style?
The smaller and more stylish of the two, the Blueair measures in at W20.3 x D20.3 x H42.4cm – that's significantly neater than the MeacoClean model's bulk (W30.3 x D27 x H49.7cm). The Blueair's simple, cylindrical design is more interior friendly than the MeacoClean, too – you can even replace the fabric pre-filter that covers the bottom with a new colour to suit your décor. The Blueair also draws less attention to itself by the fact that it's quieter. As a side note, it also uses less electricity.
Size matters
Where the decision might become more obvious is if you take it down to room size. How big a space does your air purifier need to work with? Measure the length and width of your room in metres, then multiply them together. If the total area is around 30m² or more then, really, you'll need the capabilities of the MeacoClean (the Blueair cannot handle rooms of this size). However, most bedrooms are a fraction of that size; anything 15m² or smaller and the Blueair is more than capable of scrubbing the air clean.
It seems the decision is going to boil down to the other features. It becomes about whether you need the air quality sensor and smart controls.
Smart or simple?
Honestly, we could live without smart controls. There's no desperate need for a companion app. If you have multiple air purifiers from one brand in your home then it's nice to get a picture of air quality and keep an eye on filter life, all in one place, but for a single machine it's really not necessary.
That said, we do like the MeacoClean's built-in air-quality sensor because it means you can put the air purifier on Auto mode and leave it to get on with the job. It's rarely loud and, when it is, you know it's for good reason – because the air needs more of a scrub. Auto mode is much like having a radiator with a thermostat; it saves you constantly having to fine tune your settings as the conditions change throughout the day.
Having tested a lot of air purifiers and watched the various settings in action, however, we can impart a little extra knowledge: once the air in your room has had an initial clean, the low setting is usually powerful enough to maintain the quality. This would certainly be the case in a regular-sized bedroom, that is only in use for limited hours in a day (or night).
Living spaces are different. Open the front or back door and pollen or pollutants enter. Cooking generates odours and smoke. A bit of DIY or crafting can generate VOCs. Living spaces tend to be larger and uses are more varied so they really do benefit more from air purifiers that offer automatic modes.
Which is right for the room?
Our conclusion, then, comes down to the setup or space. The affordable, compact Blueair Blue Pure 411 is perfect for bedrooms, and as we spend a lot of time in bed, purifying that air is a priority. Use a high setting initially (and when you're doing things like cleaning, as this will disturb possible pollutants), then use its low setting the rest of the time. With energy consumption of 1.5-10W, you could have one on constantly in every room and still use less electricity than one old-style light bulb.
Where the MeacoClean really comes into its own is in living spaces, where its larger capacity and auto mode make it ideal for the bustle and continuously changing conditions of daily life. It's good for an area of up to 30m², which is enough for homes with larger or open-plan spaces.
Caramel Quin is an experienced journalist and author who tests technology for newspapers, magazines, and online. She prides herself in real-world testing and her pet hates are jargon, pointless products, and over-complicated instruction manuals.
A self-proclaimed 'gadget girl', Caramel started out as an engineering graduate and spent the nineties on the staff of various computer and gadget mags, including launching Stuff magazine in both London and New York. In 2006 she won Best Writer in the BlackBerry Women & Technology Awards. And in 2011 she won the CEDIA award for Best Technology Feature, for a piece in Grand Designs magazine.