The Hanwag Belorado II Tubetec Lady GTX review: Who knew we could be so excited about laces?
The Hanwag Belorado II Tubetec Lady GTX's shock-absorbing sole is a game changer.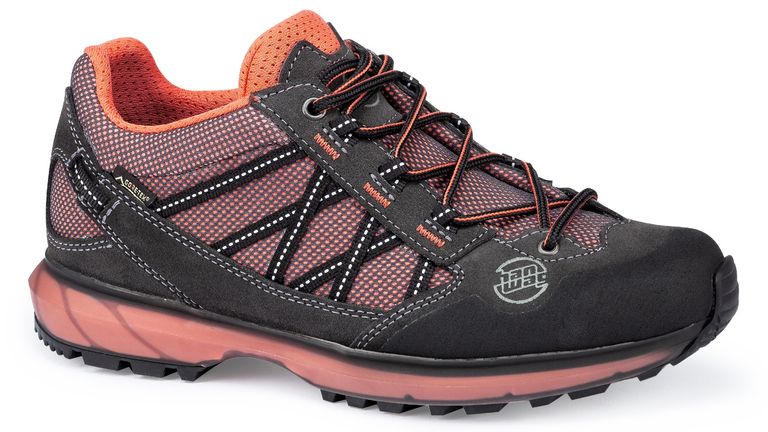 (Image credit: Hanwag)
These sporty boots are an ideal pick for anyone who has health issues with their feet.
Reasons to buy
+

Great lacing system

+

Comfortable

+

Good for precision

+
Reasons to avoid
-

Came up large

-

Slightly heavy

-
Looking for a new pair of walking boots? The Hanwag Belorado II Tubetec Lady GTX – which has a special shock-absorbing sole – could they be one of the best women's walking shoes for you?
We've put a pair through its paces from the moment they were unboxed, so you can see if you think they are worth the investment.
Hanwag Belorado II Tubetec Lady GTX specifications
Size range: UK 3.5-9
Weight: 730g
Sole: Hanwag TubeTec
Upper: Suede/synthetic
Waterproof: Yes
Who will the Hanwag Belorado II Tubetec Lady GTX suit?
The Hanwag Belorado II Tubetec Lady GTX will best suit a woman who takes her off-road walking seriously, but is often discouraged by pain.
What are the Hanwag Belorado II Tubetec Lady GTX like to wear?
These low-rise boots are sporty-looking and very easy to pull on and take off. The reinforced webbing around the midsole makes them very comfortable, as is the arch support and padded heel. But the best bit about these walking boots – or, at least, the thing that makes them stand out from the rest – is the lacing system.
Hanwag prioritises a good fit when it comes to their walking boots and they even have a range especially designed to fit women with bunions (called Hanwag Bunions). While not actually dedicated to such specific feet problems, these ones have laces that start much further down the toe box than most walking boots. This forward-reaching lacing means that you have so much more control of the fit. You can loosen or tighten a lot nearer the toe area than ever before. This design is so simple, but can make a great deal of difference, especially if you have any type of injury and need to take special care around your toes.
The Hanwag Belorado II Tubetec Lady GTX shoes also have toe caps, which can make you feel safe and secure when walking on rocky terrain. Plus, they are very breathable compared with a lot of other walking boots and, thanks to the shock-absorbing sole, joints are well protected.
The only downside was that the laces are quite long and there is nowhere to tuck them in.
The Hanwag Belorado II Tubetec Lady GTX design
Unlike the majority of walking boots and shoes, the Hanwag Belorado II Tubetec Lady GTX shoes are available in two different colourways. You can pick between either orange and black or blue and black. I tried and tested a pair of the orange ones.
While these still look like a pair of walking boots, they are stylish, sporty and modern in design. I actually found the orange was far more muted than in photos online. Although quite chunky, you could still wear them with leggings and they wouldn't look out of place.
The versatility of the Hanwag Belorado II Tubetec Lady GTX
The low-rise shape is ideal for anyone who feels too restricted in a full boot, but needs more protection around the heel than a walking shoe can offer. This means they are great for dog walking, mucking out horses and long walks in the countryside, but they can still offer a lot of grip and support if you decide to go hiking off-road.
They're made by Bavarian bootmakers and designed for the mountains, so really keep out the elements (including wind and rain) when needed. This is thanks to the Gore-Tex lining, which definitely keeps feet dry.
Sizing and comfort of the Hanwag Belorado II Tubetec Lady GTX
I tried a pair of UK size five Hanwag Belorado II Tubetec Lady GTX and felt they were quite large and generous with the sizing. In fact, if you want to wear them with thin socks, I recommend choosing a half size or even one size smaller. While you can tighten the shoes considerably with the laces, I found my feet were not sitting in the right place, as the boots were too big. Even so, they were still comfortable to wear and did not rub or need breaking in at all.
There is plenty of padding around the tongue and ankles. However, the Hanwag Belorado II Tubetec Lady GTX are quite heavy (around 700g for a pair of UK size five), especially as they are not a full boot. What's more, they make you aware of how you are placing your foot on the ground, although you do quickly get used to it.
How well do the Hanwag Belorado II Tubetec Lady GTX grip?
The Hanwag Belorado II Tubetec Lady GTX grip well, which is largely thanks to the well-spaced lugs. Some walking boots have such inflexible soles that you can't use your own feet to help control your movement. However, these are much more flexible and you can really use your own balance to aid your control if needed.
How do the Hanwag Belorado II Tubetec Lady GTX rate online?
The Hanwag Belorado II Tubetec Lady GTX rate well online, with many users saying they were flexible enough to wear every day, especially around stables or while working outside.
Are the Hanwag Belorado II Tubetec Lady GTX worth buying?
Yes, these are worth buying, especially if you are going to be doing a lot of hiking in them, as it will take a long time for them to wear down. They definitely have the potential to push you on for a few extra miles because they are so comfortable to wear and walk in.
Faye M Smith is an award-winning journalist with over 15 years experience in the magazine industry. Her continued work in the area of natural health won her the coveted title of theHealth Food Manufacturers' Association (HFMA) Journalist of the Year Award 2021.
Currently Acting Health Editor across several brands including woman&home, Woman and Woman's Own, Faye specialises in writing about mental health, the menopause, and sex and relationships. In fact, having previously been the go-to sex columnist for Now magazine, there isn't much she won't discuss when it comes to women's health. This makes her the best person to review must-buy sex toys, describe how to have a mind-blowing orgasm or explain how to navigate sex in the shower without it ending in a medical emergency.
While not anti-gym, Faye's fitness routine is more focussed on finding inner balance rather than burning excess calories. An advocate of mindfulness, she loves power breathing, yoga and plenty of walking in nearby woodlands rather than a sweaty HIIT class. Follow her @fayetuned