6 healthy flour alternatives that have big benefits
Add some extra nutrients to your baking with these healthy flour alternatives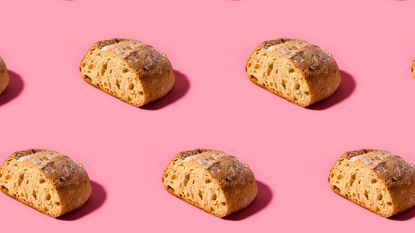 (Image credit: Getty, Westend61)
woman&home newsletter
Sign up to our free daily email for the latest royal and entertainment news, interesting opinion, expert advice on styling and beauty trends, and no-nonsense guides to the health and wellness questions you want answered.
Thank you for signing up to . You will receive a verification email shortly.
There was a problem. Please refresh the page and try again.
Healthy flour alternatives are a great way to get creative in the kitchen while catering to food allergies and restrictions, or if you simply want to try something new. Many flour alternatives are more nutritionally dense, meaning you can still make your favourite sweet and savoury treats with the peace of mind that you're nourishing your body, too.
There are plenty of flour substitutes worth trying when whipping up a storm in the kitchen, from almond to quinoa. Each has its own unique flavor and profile of vitamins and nutrients. Plus, many have a high content of resistant starch, which can improve your gut health. All while avoiding ingredients in traditional flour that can be inflammatory or aggravating to some people.
Recipes for healthy flour alternatives rarely deviate from traditional baking methods, but it might help to have a food processor to hand to whizz up ingredients (our guide to the best food processors might come in useful here).
6 healthy flour alternatives to try
Knowing which healthy flour alternatives to choose can be a little confusing with so many options on the market. We asked nutritional experts to tell us which flour alternatives work well within our favorite recipes, and those that might taste a little off. As with any recipe, practice makes perfect and you may need to experiment in the kitchen when honing your baking repertoire with these healthy flour alternatives.
1. Almond flour
"Almond flour is made by simply blanching whole almonds, removing their skin, and grounding to a fine consistency before sifting," says nutrition expert and founder of nutraceutical company Formulate Health, Mina Khan (opens in new tab).
"As this type of flour only contains almonds, it—unsurprisingly—tastes pretty much exactly like almonds! I'd describe the taste of almond flour as being slightly sweet with a nutty, slightly bitter taste." This nutty flavour will work well in sweet recipes like pancakes and waffles, but the texture will be denser than regular flour.
Health benefits:
High levels of vitamin E
High in healthy fats
If you're worried about nutrient deficiency, this contains high levels of vitamin E, so is brilliant for aiding skin, nail, and hair health. "An antioxidant in the body, vitamin E can help to prevent harmful molecules linked to heart disease and cancer," says Mina. But, watch out—almonds are high in fat.
2. Chickpea flour
"Chickpea flour has been a staple cooking ingredient in South Asian cooking for centuries. Made from ground chickpeas, it's used in both savoury and sweet dishes, and makes fantastic bread, pancakes and even works well in a batter," says nutritional therapist, Aliza Marogy.
So, what does it taste like? "Chickpea flour has a delicious, very light nutty flavour. It's not too strong so can be used for a variety of baked foods, either by itself or as part of a blend of flours."
Health benefits:
Good for gut health
High in fiber
"Packed full of protein, gut-healthy fibre and plant sterols, it can help manage cholesterol levels," says Aliza. But, if you suffer from irritable bowel syndrome (IBS), this flour may trigger symptoms.
3. Banana flour
"Banana flour is made from unripe bananas that have been peeled, cooked, dried and then ground into a fine powder,' says Aliza.
"It has a slightly sweet banana flavour when eaten raw, and a neutral, earthy flavour when cooked. It is traditionally used in African and Jamaican cooking and in some South American dishes, and is gradually becoming more widely known in the UK as a gluten-free alternative to wheat flour."
Health benefits:
Good for gut health
High in potassium
High in resistant starch, mixing this flour in a mini food processor for a fresh take on your favorite loaf or muffins will help to keep your gut lining healthy. Suffer from IBS? It may cause bloating.
4. Teff flour
"Teff flour is made from teff, a tropical grain crop grown mainly in East Africa. It's made by grinding down the crop into a powder, it has a fairly neutral, earthy taste, similar to banana flour," says Mina.
Shopping on a budget? Teff is a little more pricey than other gluten-free flours thanks to teff grains being extremely difficult to harvest.
Health benefits:
High in protein
High in iron
High in fiber
Just 100g of teff flour is packed with more than 12g of protein, and 37% of your daily recommended intake of iron.
And that's not all. "It's also gluten-free, low in salt, and high in dietary fiber," adds Mina. So whether you want to try an alternative cheese and chive bread or put a spin on olive and halloumi bread, you won't need to sacrifice great taste or healthy eating with this flour.
5. Spelt flour
"Spelt is another ancient whole grain that is a subspecies of wheat and has been grown in Europe for centuries," says Aliza. "Spelt flour has quite a nutty and sweet taste and is highly nutritious. It is also considered to be easier to digest than modern wheat."
Health benefits:
High in fiber
High in iron
Low GI
This healthy flour alternative is a great source of fiber, which helps lower levels of cholesterol in the blood. "This can reduce the risk of strokes, heart attacks, and some types of cancer," says Mina.
However, if you have a gluten intolerance or wheat allergy, you might want to swerve the spelt.
6. Quinoa flour
"Quinoa flour is made by crushing and grinding quinoa seeds down into a fine consistency," says Mina. "It has a slightly grass-like taste with a hint of bitterness to—perfect for baking bread or gluten-free pizza dough."
However, toasting has been said to significantly help balance out the flavors resulting in a more versatile end product.
Health benefits:
High in fiber
High in protein
Low GI
"Packed with fiber, quinoa flour can keep you feeling fuller for longer, helping weight loss," says Mina. "It's a bit too bitter for some but, if you wash your quinoa first and toast it, you might just learn to love it."
Rose Goodman is a health writer across print titles and websites including woman&home.
Prior to pursuing her career as a writer, Rose obtained a degree in psychology and went on to work in adult mental health for five years, specifically working with people diagnosed with eating disorders, anxiety, depression and OCD. Mental health and wellbeing is something Rose feels incredibly passionate about and believes normalising the conversation around mental illness is something we should all actively strive to do.