Healthy Easter eggs: 7 high-protein alternatives and low-calorie options recommended by nutritionists
Nutritionists recommend a range of healthy Easter eggs for those looking for something extra this weekend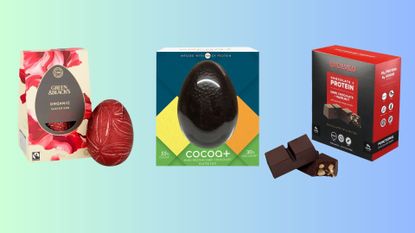 (Image credit: Green&Blacks, Cocoa+, Eating Evolved)
The concept of healthy Easter eggs may sound like a conflicting idea, but we promise, there are plenty of options out there. Made with different ingredients and promising lower calories, more protein, and less sugar, they're a great way to enjoy the long weekend.
If you want to try an alternative to the classic Easter egg this year, whether you're looking to make some lifestyle changes or avoid the sugar crash, we've got you covered.
This selection of healthy Easter eggs, many of which could rival a place in our guides on the best Easter eggs overall and the best Easter candy for the holidays, has been recommended by a team of nutritionists. From retailers such as Amazon, Eating Evolved, and Balance, each of these eggs and chocolate alternatives contains a key nutritional element that makes it a 'healthier' pick compared to the traditional chocolate egg.
What are healthy Easter eggs?
Why you can trust Woman & Home Our expert reviewers spend hours testing and comparing products and services so you can choose the best for you. Find out more about how we test.
When we talk about healthy Easter eggs, we're referring to those with fewer calories, less sugar, and those that have added elements like additional protein or fiber sources. They may be:
Made from dark chocolate rather than milk or white chocolate
Made with oat milk or one of the best milk alternatives
Include protein powder
Be embellished with fiber-rich fruit and/or nuts
Smaller in portion size
Although, there's nothing wrong with sticking to your favorite regular chocolate egg this Easter. Everyone should be able to enjoy food without guilt and there's no such thing as healthy chocolate really anyway, so you might as well opt for the chocolate eggs you enjoy. As the experts say, there's really not much difference in it.
"In reality, for one day out of the year, this registered dietitian says enjoy the traditional chocolate Easter egg," says Leigh-Anne Wooten, MS, RDN/LDN, FAND, a registered dietitian. "Let it be a fun bonding moment with your family who may be enjoying the exhilaration of the Easter egg hunt and the holiday. Food is not just meant to supply us with energy, it's part of our heritage and culture. Embrace and enjoy it."
Provided chocolate is consumed in moderation (regardless of the time of year), it's not going to make that much difference. "Every type of food, even treats, can be included in a healthy, balanced diet as long as we think of portion size," adds Alin Ursache, a sports and exercise nutritionist who specializes in weight loss.
Healthy Easter eggs, as recommended by the experts
1. Cocoa+ Large Dark Protein Chocolate Easter Egg
Best high-protein Easter egg
Specifications
Weight: 150g
Calories per 100g: 568
Protein per 100g: 27.4g
Included: 1 x large chocolate Easter egg made with 70% dark chocolate, and 2 x slabs of 40% milk chocolate
RRP: $13.60 / £10.99
Reasons to buy
+
Four times more protein than a standard grocery store Easter egg
+
30% less sugar than most standard eggs
+
Budget friendly
Reasons to avoid
-
Ships from the UK with fees applied for US delivery
When it comes to making sure you get enough protein over the Easter weekend, there's no beating Cocoa+'s Large Dark Protein Chocolate Easter Egg. While many people do eat enough protein, if you're looking to build muscle via strength training or lose weight sustainably, it's important to prioritize more protein.
Cocoa+'s Large Dark Protein Chocolate Easter Egg contains an impressive 40g of protein per egg. Compared to many of the others on our list, this is over 10g more protein, which is also why there are almost 800 calories per egg. While it might not be for those who are looking to monitor how many calories they're eating every day, it's a winner for those looking to get more protein in. Plus, the type of protein included in this egg is whey protein isolate, one of the best protein powders for women.
A high-protein chocolate egg like this one really goes a long way to making up for the minimal amount of protein we should be eating says dietitian Wooten, who is also the nutrition advisor at Vitamix. She says, "The Recommended Dietary Allowance (RDA) for protein for healthy adults is a mere 0.8 grams per kilogram per day or 0.36 grams per pound. This RDA was established to prevent deficiency, which in reality is a minimum goal. In order to build muscle mass, research tells us that the numbers are closer to 1.2 - 1.7 grams per kilogram per day, again all depending on factors such as age, sex, activity level, and underlying health issues."
2. Maltesers Milk Chocolate Easter Egg
Best hollow Easter egg
Specifications
Weight: 127g
Calories per 100g: 528
Protein per 100g: 7.5g
Included: 1 x milk chocolate hollow Easter egg and 1 x bag of Malteser's
RRP: $12.99 / £1
Reasons to buy
+
Totally hollow Easter egg
+
Fewer calories per serving than other options
+
More protein per serving than other options
+
Includes bag of Maltesers
Reasons to avoid
-
Higher in sugar compared to others
At first glance, you'd think this classically British, traditional Easter egg wouldn't hit all the essential points for our panel of experts. However, hollow Easter eggs like the Malteser's Milk Chocolate Easter Egg are among the best for those looking to limit how much chocolate they eat this year.
"Generally, hollow eggs are a better alternative as they aren't filled with more treats or creams, which pack even more sugar," says Ursache. While this egg comes with a bag of Maltesers in the box, they come separate from the egg, and each serving of this Easter egg is just 187 calories with 3.1g of protein. Compared even to our pick of the best small Easter egg, the Moo Free Dairy-Free Chocolate Easter Egg, this is fewer calories per serving.
The Malteser's Milk Chocolate Easter egg is one of the best milk chocolate Easter eggs generally as well as not only is it delicious, higher in protein than many traditional chocolate eggs, and lower in calories, but it's also available to buy online from Amazon.
3. Moo Free Dairy-Free Chocolate Easter Egg
Best small Easter egg
Specifications
Weight : 95g (serves 2)
Calories per 100g: 540
Protein per 100g: 3g
Included: 1 x dairy-free milk chocolate Easter egg and 1 x milk chocolate bar
RRP: $24.99 / £4
Reasons to buy
+
Smaller size than standard Easter eggs
+
Lower calories per portion
+
Dairy-free
Reasons to avoid
-
Expensive to buy in the US
Naturally, if you're looking for chocolate Easter eggs with less sugar and fewer calories, the easiest and most widely-available option will be the smaller eggs. These tend to sit around the 90 - 120g mark and will often, much like our pick, be designed for two people to enjoy.
The Moo Free Dairy-Free Chocolate Easter Egg is 95g in total, designed to be shared between two (47.5g per person), which comes in at 251 calories per serving. This is even fewer calories than our expert recommended and much less than our high-protein top pick, so it had to take the spot. "Unless there is a clinical condition, such as diabetes, the healthiest way is to think of portion size," advises Ursache. "For a lightly active person, a 30g Easter egg could easily be a snack worth around 200 calories. The secret lies in picking the quantities of eggs that are fit for one person rather than consuming what is made to be a sharing Easter egg."
This chocolate egg is also gluten-free, vegan, and dairy-free, making it an ideal option for those with allergies or intolerances, or anyone looking for one of the best vegan Easter eggs this year. Plus, it's available to buy on Amazon in the US and from most local supermarkets in the UK and online.
4. Balance Milk Praline Reduced Sugar Easter Eggs
Best low calorie Easter egg
Specifications
Weight: 150g
Calories per 100g: 354
Protein per 100g: 5g
Included: 150g worth of praline, natural sugar chocolate Easter eggs
RRP: $6.19 / £5
Reasons to buy
+
Almost 200 calories less than other options
+
Available in milk chocolate or a mix of white and dark
+
Made with natural sugars
Reasons to avoid
-
Expensive delivery to the US
"Benefits of low-calorie food options on holidays like Easter are that they can help fill you up with fewer calories," says Rachel McPherson, a PN1 certified nutrition coach, so opting for a low-calorie egg will help you feed the craving without compromising your deficit too much (or at all).
Balance is a specialist in reduced-sugar chocolate, having been making varieties of dark, white, and milk chocolate for over 10 years. This Easter egg selection is, in my opinion, one of the best products you can buy from the brand. Not only do even the standard milk chocolate praline eggs only have 7.4g of naturally occurring sugar per 100g, but there are also only 354 calories per 100g. This makes them around 300 calories less per 100g than some of the most popular traditional eggs out there and almost 200 calories less than many other options on our list of healthy Easter eggs.
Personally, I love the range of chocolates from Balance - they have so many to choose from, and not just for Easter, with incredible flavors of dark chocolate (the almost and sea salt is a favorite of mine), white, and milk chocolate, all with reduced sugar.
While delivery to the US from Holland&Barrett may be more expensive (£10), we haven't spotted chocolate eggs like this available to buy in the States and the total price matches many of the premium eggs available - which these are also, having been made in Belgium with a creamy, white, and dark praline filling.
5. Green & Blacks 70% Dark Chocolate Egg
Best Easter egg with the least sugar
Specifications
Weight: 165g
Calories per 100g: 580
Protein per 100g: 9.1g
Included: 1 x 70% dark chocolate Easter egg
RRP: £6.65
Reasons to buy
+
Less than 30g of sugar per 100g
+
Almost 10g of protein
+
Available to buy in most UK grocery stores
One of the reasons why many people look for how to give up chocolate after the Easter weekend is because of the sugar cravings that come with a few days of heavy consumption. If you want to pre-empt a potential sugar crash, the experts recommend you opt for a low-sugar chocolate Easter egg alternative.
While the Balance Milk Praline Reduced Sugar Easter Eggs have the lowest sugar of all the eggs on our list at just 7.4g per 100g, the Green&Blacks 70% Dark Chocolate Easter Egg is the next best pick, with 29g of sugar per 100g. While this may sound like a lot compared to the almost 8g in the Balance chocolate, it's still half that of most other eggs - including many on this list. Plus, Green&Blacks' offering has a rich chocolate taste, comes with an extra chocolate bar, and is dairy, gluten, egg, and nut-free.
"Dark chocolate is also loaded with antioxidants, so there is an added health benefit [to them]. And if you find dark chocolate with nuts, that's another win as the nuts provide heart-healthy fats," says Wooten.
6. Chocolate + Protein chocolate and hazelnut squares
Best high-protein Easter egg alternative
Specifications
Weight: 156g
Calories per 100g: 512
Protein per 100g: 25g
Included: 8 squares of dark chocolate made with collagen protein and dry roasted hazelnuts per box (with 6 boxes included)
RRP: $50 for 6 boxes
Reasons to buy
+
Lower calorie option
+
Impressive amount of protein per 100g
+
Includes nuts
Reasons to avoid
-
Only ships to the US
-
Must buy in bulk
Not found the high-protein Easter egg of your dreams? There are fewer options this year from popular brands like MyProtein, who've previously offered collaborations with the likes of Hotel Chocolat. If this is the case, you could opt for something a little different in 2023.
"Protein + Chocolates from Eating Evolved contain 10g of protein from collagen per serving and just 6g of sugar from coconut sugar," says Maria Marlowe, a certified nutritionist and author of The Real Food Grocery Guide. "They are not low calorie (200 per serving) but a much healthier choice compared to traditional Easter Eggs which are very low in protein and high in sugar."
For those looking to buy in the UK, try MyProtein's Protein Chocolate, made with 9.5g of protein per serving, or the Easter Variety box for seasonal specialties.
7. Dark Chocolate Chunky Chicks
Best healthy Easter egg alternative
Specifications
Weight: 11.25g per portion (90g total)
Calories per 100g: 578
Protein per 100g: 9g
Included: 8 x chunky chick-shaped chocolates
RRP: $8.66 / £6.99
Reasons to buy
+
Unique Easter shape
+
Ideal for sharing
+
Higher in protein than other egg options
Reasons to avoid
-
Higher in calories than other options
Dark chocolate, with all its verified benefits, is certainly the name of the game if you're looking to lower your sugar and calorie intake over Easter weekend - and these Montezuma dark chocolates are just perfect.
"Try bite-sized dark chocolates," suggests Leigh-Anne Wooten. "The higher the percentage of dark chocolate, the lower in total calories and sugar they usually are. Plus, they are already pre-portioned for you."
What is a healthy alternative to chocolate eggs?
Greek yogurt and chocolate protein powder: This type of yogurt is higher in protein, calcium, B vitamins, and gut-healthy bacteria than others, according to research by Geneva University Hospitals. Combine with a 30g serving of chocolate protein powder (take a look at our guide on the best protein shake for weight loss for a recommendation) and you'll have a high-protein pudding, the perfect alternative to a chocolate Easter egg.
Cacao nibs: Made from crushed cacao beans, these chocolate nibs are the perfect way to enjoy chocolate if you want to avoid Easter eggs altogether this year. They're high in protein and essential minerals like magnesium, zinc, and iron too, all of which are essential for over 300 bodily processes, studies by the University of Florida and Université Laval show.
Dates and nut butter: If you're looking for that rich chocolatey taste, this is the perfect combination. Dates so closely resemble the taste of chocolate while being a fruit and the nut butter (we love a classic crunchy peanut or almond) delivers the smooth texture. Cut a date in half and fill it with a good dollop of nut butter for the best effect.
Berries: Those looking to beat sugar cravings this Easter should opt for raspberries, blueberries, strawberries, and blackberries, research by the University of Maine reveals. These fruits are high in natural sugars, satiating that need, while delivering plenty of healthy antioxidants. Drizzle in dark chocolate, which, as the experts note, is a lower-sugar and lower-calorie choice, and leave in the fridge for 12 hours to set for a delicious snack or dessert.
Why should we eat protein?
Here, the experts have highlighted how Easter eggs higher in protein may be more beneficial for our health. Why exactly is that? And what benefit does protein have for those looking to make positive lifestyle changes? Nutritionist and personal trainer Alin Ursache explains all:
"Protein is rightfully acknowledged as the base nutrient for lean muscle gain," he says. "However, there is more to the story. Protein also has an important role in regulating our metabolism by acting as hormones or enzymes, and it provides energy whenever dietary carbohydrates, or fat, are lacking."
Protein's role in the body doesn't stop here though. "It also has an important role in healing after injuries and creating new tissues and antibodies. A diet with an adequate intake of protein is essential in both preserving health and keeping your body running optimally."
And for those looking to lose weight without dieting, it's pretty essential. "Besides the well-known merit in muscle gain, it is also known that an appropriate protein intake can actually help preserve muscle mass during weight loss stages. Protein takes longer to be digested too, so protein-rich meals come with an increased satiety sensation, which has been proven to be beneficial in weight loss."
A digital health journalist with over five years experience writing and editing for UK publications, Grace has covered the world of health and wellbeing extensively for Cosmopolitan, The i Paper and more.
She started her career writing about the complexities of sex and relationships, before combining personal hobbies with professional and writing about fitness. Everything from the best protein powder to sleep technology, the latest health trend to nutrition essentials, Grace has a huge spectrum of interests in the wellness sphere. Having reported on the coronavirus pandemic since the very first swab, she now also counts public health among them.