Try this doctor's insomnia hack if you can't fall asleep tonight
This insomnia hack is strangely simple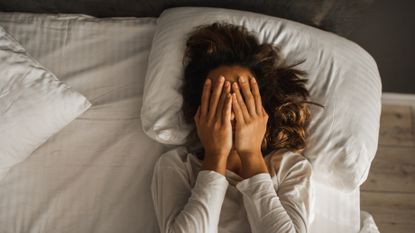 (Image credit: Getty Images)
A doctor's insomnia hack for helping you doze off when you just can't seem to fall asleep at night has gone viral on TikTok.
If you're always looking for ways to fall asleep faster, need to nail your sleep hygiene or simply want to make small bedtime changes to sleep better, this simple trick might be worth a try on nights you just can't drop off to the land of nod.
And when it comes to natural insomnia cures, it's likely you'll be up for giving anything a go if you're a regular sufferer, especially once you know exactly how many hours of sleep people over the age of 38 need to get enough and wake up refreshed.
An NHS doctor, with over four million TikTok followers, has shared a strange insomnia hack he uses to banish sleepless nights and it is surprisingly easy to try.
Sharing a video on his account, Dr Karan Raj recalled how he struggled with sleeping in the early days of his medical career.
In the clip he explains that falling asleep can be as simple as telling yourself you don't want to, saying, "Basically, you tell yourself. 'I'm not going to sleep' and you stay awake. You don't read a book and you don't go on your phone, no TV, nothing. You just lie in bed, eyes open.
"You're forcing yourself to stay awake, tell yourself, 'don't go to sleep, don't go to sleep'. In many cases, you will feel tired and fall asleep. That worked for me."
Taking to the comment section to share more details of the bizarre trick, Dr Raj penned, "BTW this is called "paradoxical intention"...if I tell you NOT to think about a polar bear...guess what you think of first😂..works the same way!"