Zoe Ball's Healthy Eating Tips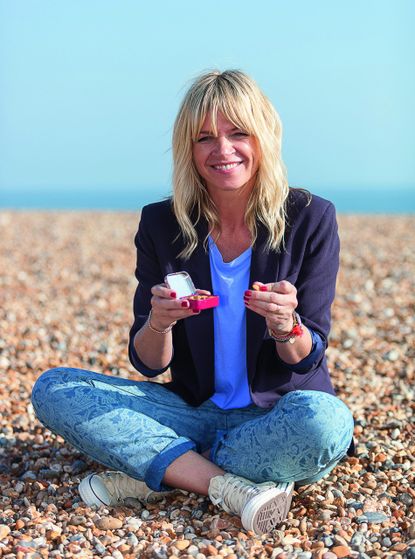 We're all tuned into thinking snacking is wrong and the fast road to weight gain, but it can actually be of huge health benefit. The key is in the right snack! Here, Zoe Ball talks to W&H about her favourite snacks..
You seem like an always-on-the-go person, and obviously you're a busy mum of two - is snacking between meals an essential to keep you on the go? My job is a demanding one, I often find myself rushing around from the radio station to a meeting or filming. Particularly when we are filming Strictly and I'm doing radio at same time, I find that I burn huge amounts of energy and that makes me very hungry. I've learnt over time that thinking ahead and having some healthy and nutritious snacks between meals, does keep me going throughout the day - which means I don't dive into the biscuit tin or chocolates on set! We all lead such busy lives these days, knowing you have some go-to snacks that can give you that extra va va voom is essential!
Do you have any snacking downfalls...and how do you overcome them?
I love a snack and, like many people, I do find it difficult to say no to the sugary treats. I make sure not to deny myself the odd treat, as I am a firm believer in everything in moderation, but I do need to make sure I plan ahead to stop me from grazing throughout the day. On most sets, the crew always seem to have some delicious tempting treats nearby - I find that if I've got a packet of almonds around, a handful is a great snack - i'm now offering them to everyone!
Why do you particularly like to snack on almonds?
I love food and snacking on almonds feels like your eating something - it's a satisfying 'crunch' when i'm hungry, sorts me out and helps to avoid those moments when you crave a sugar fix. I've been learning the benefits of Almonds, did you know, they are packed with 15 essential nutrients?! I like to keep a jarful at home, a little tin in my handbag and a bag in the car. I literally keep finding almonds everywhere - stashed in coat pockets and handbags! Also, top tip - great for a snack post workout, I also like to add them to homemade smoothies too. Have you persuaded friends to take up the habit too?
Healthy eating and keeping fit is something I chat about a lot with my friends and family - I also love picking up tips from others on twitter/instagram too. I've recently taken the 21 Day Snack Happy challenge - snacking on a handful of almonds once a day for 21 days - and this is definitely an idea I can recommend. 21 days is the amount of time it takes to break a habit, so you can take the challenge and pick up a healthier snacking habit, without even realising you've done it - it's just so easy!
I've actually just interviewed a few mum friends of mine to pick their brains on how they cope with leading busy lifestyles and staying healthy. Jodie Kidd and Lisa Faulkner, amongst others, shared their great tips and advice with me.
Watch the video: Zoe Ball shows just how far a handful of almonds can take you - from abseiling down a tall building to speeding up the Thames on a boat, Zoe overcomes it all, without running out of energy!
http://www.youtube.com/watch?v=NVx-q0Oa-_c&list=PL-SJcLSHKCZQbdoa8NKVpelC7hT6z5Ap2