Are you at risk of Type 2 diabetes? These are the common causes, symptoms and treatment
With more than 5.5 million people in the UK expected to be diagnosed with Type 2 diabetes by 2030, could you be next? If you are at risk, there are plenty of things you can do to take control.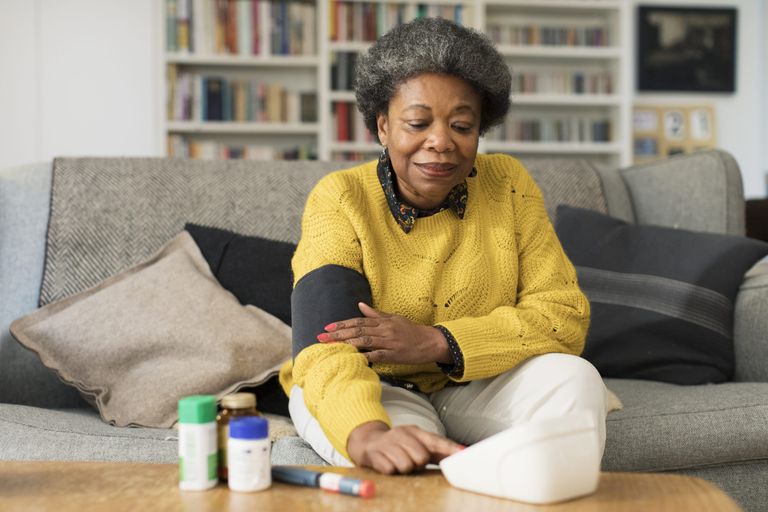 By Lauren Hughes published
Over the past 20 years, the number of people diagnosed with diabetes in the UK has more than doubled from 1.4 million to almost 3.7 million.
This dramatic rise has put an extreme burden on the NHS, costing £8.8 billion each year.
"As the number of people with Type 2 diabetes continues to grow, there's a risk that these costs will rise to unsustainable levels," warns Pav Kalsi, senior clinical advisor at Diabetes UK. Unlike irreversible Type 1 diabetes, where the body can't produce insulin, 10% of the NHS budget is spent on Type 2 diabetes – that's £1 million an hour.
"The good news is that Type 2 diabetes is a reversible condition for a lot of people, so costs could be saved," says Dr Campbell Murdoch, GP and medical officer for diabetes.co.uk."The challenge now is to empower as many people as possible."
Diabetes: the different types
This is an autoimmune disease where your body attacks and destroys insulin-producing cells. "Your pancreas shuts down and you don't produce any insulin, causing the glucose to rise in your blood," says Natasha Marsland, senior clinical advisor at Diabetes UK. This is why symptoms – including feeling thirsty and tired, needing to pee more often, unexplained weight loss and blurred vision – are often more obvious. The reason for Type 1 diabetes, which affects around 10% of all cases, is not yet known, although family history can be a factor. A misconception is that people are born with it, but the peak age for diagnosis is 10 to 14 years old.
With the more common Type 2 diabetes, your pancreas may still produce insulin "but the amount may be reduced or the insulin it produces doesn't work properly, meaning symptoms develop gradually," explains Natasha. Our waistlines are mainly to blame, although there are other factors that can put you more at risk (see Q&A). "Symptoms often creep up on people," says Dr Ian Lake, medical officer at diabetes.co.uk. "You might be more tired than normal, have central obesity, be getting up more at night to urinate, possibly have increased thirst and need to sleep more after a big meal. A lot of people also mention brain fog – so things that we put down to ageing."
This is where part of the pancreas is not producing enough insulin, sometimes caused by inflammation. Typical symptoms include vague abdominal pain, loose fatty stools and vitamin deficiencies. It's thought that far more people are likely to have Type 3c diabetes than diagnosed at present, as may have been misdiagnosed with Type 2, but the condition is still being researched. "Although lifestyle measures may help improve health, insulin therapy may also be needed," says Dr Murdoch
Diabetes symptoms: which are the most common?
Excessive thirst and hunger
Frequenturination (from urinary tract infections or kidney problems)
Weight loss or gain
Fatigue
Irritability
Blurred vision
Slow-healing wounds
Nausea
How will I be diagnosed?
You need to see your GP for a urine and blood test. "Type 2 diabetes is diagnosed by detecting persistently high blood levels of glucose and HbA1c, which reflects blood glucose levels over the past three months," says Dr Melanie Wynne-Jones.
"If you have borderline results (known as "pre-diabetes"), you should be rechecked annually."
What happens next?
"You'll need regular checks on your blood pressure, cholesterol, kidneys (blood/urine tests), feet, eyes and circulation to see whether you need more intensive treatment to prevent complications," says Dr WynneJones.
"If you're prescribed tablets or (occasionally) insulin, you'll need to learn the symptoms of dangerously low blood sugar (sweating, hunger, irritability, confusion and/or unconsciousness), and tell the DVLA if you're a driver. You may be offered weight loss surgery."
My children are overweight, are they at risk of diabetes?
With the Health and Social Care Information Centre revealing that one in five children in England leave primary school obese, it won't be long before Type 2 diabetes affects more under 18s. "Numbers are increasing," warns Pav.
All food or drink high in fat, salt or sugar was banned across all children's media in summer 2017, but it's still too early to see if it has made a noticeable effect.
How can I cut my risk of diabetes?
Being a healthy weight is key. Women should keep their waist size below 31.5 inches/80cm. Reduce your intake of high-sugar, starchy foods,especially sugary drinks (including fruit juices and smoothies), confectionery, cakes and biscuits. Plus, make sure you get moving – 30 mins five times a week if you can (brisk walking is a great way to start), and 10 mins of standing and stretching for every hour of sitting.
Can natural cures for diabetes work?
"Before prescribing any medicines for Type 2 diabetes, your doctor may suggest you try natural approaches, such as improving your lifestyle," says Dr Brewer. "During this phase, your GP may be willing to support you taking ayurvedic herbal medicines (including bitter melon, fenugreek, amla fruit, gymnema and turmeric), which can improve insulin release in the pancreas, reduce insulin resistance and suppress cravings."
What happens if I ignore diabetes symptoms?
"Diabetes damages small arteries, and can lead to heart attacks, strokes, kidney damage, blindness and limb gangrene/amputation, so careful monitoring and effective lifestyle changes/treatment are vital," says Dr Wynne-Jones.
What is the treatment for type 2 diabetes?
"Metformin is one of the main drugs prescribed to treat Type 2 diabetes, especially in overweight patients," says Dr Sarah Brewer. "It helps to lower blood glucose levels and, while most people tolerate Metformin well, it can cause side effects.
"Doses are often gradually increased to help avoid taste disturbances, nausea, diarrhoea, loss of appetite or abdominal pain. If these occur, they tend to improve after a day or two, but tell your doctor."
Will the Sugar Tax help?
In April last year, the Government launched the sugar tax, with 18p per litre on drinks with more than 5g of added sugar, and 24p for added sugar of 8g or more. But with 33% of us having no interest in quitting sugar, despite worrying about its effect on Type 2 diabetes, will it make a difference?
"It has had patchy success," says Dr Lake. "The good news is that manufacturers are cutting sugar in their products to beat the tax. It is predicted to raise £1 billion per year (in the first seven months it raised £154 million), presumably to spend on complications of diseases made worse by added sugar. The bad news is that pure fruit juices and sugar added to milk are exempt."
Lauren is deputy editor at woman&home.com in the UK and became a journalist mainly because she enjoys being nosy. With a background in features journalism, Lauren has worked on the woman&home brand for four years. Before woman&home Lauren worked across a variety of women's lifestyle titles, including GoodTo, Woman's Own, and Woman magazine. After starting out working for a local paper in Yorkshire, her journalism career took her to Bristol where she hunted out stories for national papers and magazines at Medavia news agency, before landing a job in London working as a lifestyle assistant.
Lauren loves helping people share their stories, bringing experiences to life online, honing her interview techniques with everyone from authors to celebrities, headteachers to local heroes. As well as having a good nose for a story, Lauren has a passion for the English language and years of experience optimizing digital content to reach the widest audience possible. During her time at w&h, Lauren has worked on big brand campaigns like the Amazing Women Awards and assisted in developing w&h expert-approved Buyer's Guides—the place to go if you're looking to splash out on an important purchase and want some trusted advice. In addition to her journalism career, Lauren also has a background in copywriting for prestigious brands such as Inhabit Hotel, eco-development K'in in Tulum, social enterprise The Goldfinger Factory and leading London architect Holland Harvey, using language in all its glorious forms, from detailed guidebooks to snappy social content.
A big fan of adventure, Lauren is also a keen travel writer and loves sharing tips on where to find the best places to eat, drink, and be merry off the beaten track. Lauren has written a series of travel guides for London hotels and loves sharing her insights into a destination's cultural and culinary offerings. If you need a recommendation on any UK destination, she's more than happy to help. At the weekend, you'll usually find her hanging out with her pet cat (or anyone else's pet she can get her hands on), escaping to the countryside, or devouring a good book.
Follow her adventures @laurenkatehughes
Twitter: @laurenkhughes
LinkedIn: Lauren Kate Hughes
Email: lauren.hughes@futurenet.com