7 expert-approved tips to make sure your relationship survives the lockdown
Will your love still be strong after the pandemic?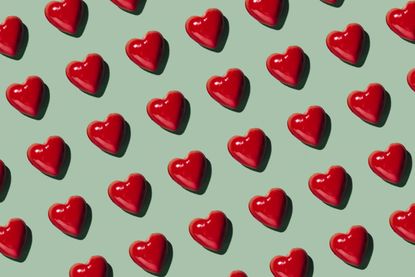 (Image credit: Getty Images)
Thanks to the coronavirus, being locked down 24/7 with your other half might spell the end for your relationship.
In fact, a survey by sex toy brand We-Vibe found 78% of relationships will crack under the isolation strain. And more than a quarter of Brits say they've been more argumentative with their partners since lockdown measures were put in place. But there are ways to ensure your relationship survives. Here's how…
1. Keep things healthy with a relationship routine
"Do your best to maintain structure to your days, whether you're working from home or recovering from illness," says Dr Rachel M Allan, a Chartered Counselling Psychologist working alongside Audley Villages.
"Get up in the morning if you are able to, and go to bed at a reasonable time at night. This helps maintain a sense of routine. And this is essential for good mental health and positive functioning."
2. Spending time apart can keep a relationship fresh
"Structure your time so you're having some time apart in the day, as much as your space allows," says Dr Allan. "Plus, if you're both working from home, set up your work spaces separately if possible."
3. Set goals each day to boost your relationship
"Set your own tasks and goals for the day. And make sure some of these are done separately from your partner," recommends Dr Allan. "Whether it's connecting with friends and family online, participating in work meetings, reading, learning or otherwise, make sure you participate in activities separately. This makes coming together for meals/coffee breaks/relaxation more rewarding. And it means you'll have had time apart to engage with something outside your isolation bubble."
4. Practice empathy
Bickering more than usual? "Be careful that you do not take frustrations out on your partner," says Dr Allan. "These are testing times, and being together in isolation for an extended period is bound to heighten tension and boredom. And even in fraught moments, do your best to find empathy for your partner and treat them with kindness."
5. Don't focus on the negatives
Most of the country is feeling stressed at the moment. In fact, almost half of UK adults say their mental wellbeing has been impacted by the pandemic, found Opinium.
"It's natural to feel heightened anxiety in these circumstances," says Dr Allan. "We all have our own ways of coping with this, and it can sometimes feel comforting to share our anxieties. While this can be helpful to a degree, be careful that you are not engaging your partner in long conversations focused on worst-case scenarios. And if you find your conversations on the subject becoming repetitive, make a deliberate effort to change the subject."
6. Be open with your partner
With uncertainty often comes the need for control. "When in isolation with another person, there is a risk of projecting anxiety onto the other person. This can include trying to control their behaviour or constantly seeking reassurance from them," warns Dr Allan.
"This risks increased stress for the other person, and adds pressure on the relationship. Talk openly with your partner about your own anxieties, but be open to their feedback on how your ways of coping are affecting them during isolation."
7. Make an effort to connect
"Isolation gives a unique opportunity to have time alone, uninterrupted," says Dr Allan. "Make a conscious effort to connect with your partner by putting time aside to talk, and to listen. Despite the challenges and fears surrounding the situation, this could be an opportunity to reach a new level of depth and connection in your relationship."
Faye M Smith is an award-winning journalist with over 15 years experience in the magazine industry. Her continued work in the area of natural health won her the coveted title of the Health Food Manufacturers' Association (HFMA) Journalist of the Year Award 2021. Currently Health Editor across several brands including woman&home, Woman and Woman's Own, Faye specialises in writing about mental health, the menopause, and sex and relationships.