The FODMAP Diet: Everything you need to know about the diet that helps with IBS
Which foods can and can't you eat?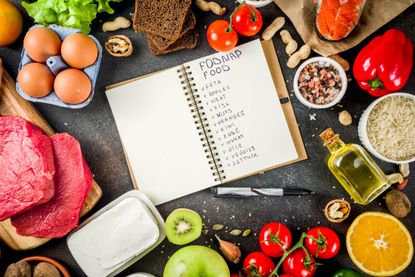 (Image credit: Getty Images)
woman&home newsletter
Sign up to our free daily email for the latest royal and entertainment news, interesting opinion, expert advice on styling and beauty trends, and no-nonsense guides to the health and wellness questions you want answered.
Thank you for signing up to Woman & Home. You will receive a verification email shortly.
There was a problem. Please refresh the page and try again.
The FODMAP diet can beat bloating forever. Get the lowdown...
FODMAP is an acroynm for a whole load of scientific names for a group of carbs, which your body ferments during digestion. Although some people can cope with this without any problems, others (up to 45% of us) really struggle - and that can mean a whole host of really unpleasant symptoms.
Think bloating, pain, gas and sudden and unpredictable changes in your bowel habit. These are all symptoms associated with irritable bowel syndrome (IBS). IBS is notoriously difficult to treat, but the FODMAP approach is a real breakthrough, giving up to 70% of sufferers real, lasting relief.
Unlike most IBS 'miracle cures', the FODMAP diet has been developed in clinical trials and hospitals and it's gathering the support of doctors, gastroenterologists and dieticians. Of course, not all bloating is due to IBS. If you suffer from time to time, it's still worth trying a low-FODMAP diet for two to three weeks. If things improve, keep going for the full eight weeks.
A word of warning: This is a diet to help your digestive system. You shouldn't follow the eating plan for more than eight weeks and if you are concerned for any reason, consult your GP.
Find out how to get started on the FODMAP diet...
How does the FODMAP diet work?
The idea is simple - remove FODMAPs from your diet as completely as possible for about eight weeks. This gives your disgestive system time to rest and recover. Then gradually reintroduce FODMAPs to see if they still cause you problems.
This isn't any easy plan to follow; thebest way to stick to it is to prepare most food from scratch and eat out as little as possible. The good news is that its only for eight weeks and, if you've been suffering, there's a really good chance this will help.
So what can you eat on the FODMAP diet?
What can I eat on the FODMAP diet?
Get friendly with the free-from aisle in your supermarket. There's plenty of choice for wheat-free breads, pizza bases, pasta, biscuits etc. As long as they are wheat free, you can go ahead. Some spelt bread is also wheat free, so check these out at health stores.
Soya alternatives to dairy foods. Milk, yoghurt and custard are especially good. Go for soya if possible, as these have added calcium so you don't miss out.
MORE:The popular diet plan that could be harming your bone health
Hard cheese such as Cheddar and Parmesan are fine - you can also have mozzarella, feta, Brie, Camembert and goats' cheese. Butter is okay too.
Lactose-free dairy products are all okay. And, yes, you can have chocolate but stick to the dark stuff.
FODMAP shopping list:
Bananas, blueberries, cataloupe and honeydew melons, clementines, cranberries, grapes, kiwi fruit, lemons, limes, oranges, papya, passion fruit, raspberries, rhubarb and strawberries.
Aubergines, bamboo shoots, bean sprouts, cabbage (white), carrots, chard, chilli, courgettes, chives, cucumber, endives, ginger, lettuce, olives, pak choi, parsnips, peppers, potatoes, radishes, rocket, seaweed, spinach, spring onions (green part only), swede, turnip and tomatoes.
Two of the hardest ingredients to exclude are garlic and onion, so you'll be glad to know you can use all other herbs and spices. You may want to try asafoetida powder (from Asian supermarkets), which gives a good alternative flavour to onion and garlic.
Most nuts and seeds are fine, except pistachios and cashews. Fats and oils are low in FODMAPs, so fine to eat. Jams and marmalades are fine - but avoid low-sugar varieties thta contain artificial sweeteners. Any meat, fish or poultry is okay as long as it's not breaded. Tuck in to eggs too - you can have between four and six a week.
Foods to avoid on the FODMAP diet
You'll need to avoid:
All foods containing wheat and high levels of lactose (milk sugar)
Pulses like peas, beans and lentils are a no
Foods containing artificial sweeteners like chewing gum.
Some fruits with pips and stones (pears, apples, apricots, plums and peaches), blackberries, cherries, grapefruit, pomegranates and lychees
Vegetables like green cabbage, sweet potatoes, asparagus, artichokes, leeks and mushrooms are all out
Try to avoid caffeinated and fizzy drinks too
Finally, dried coconut, pistachio and cashews, or honey
How to eat out on the FODMAP diet
There's no getting away from it - eating out is pretty tough when you're trying to follow a low-FODMAP plan. It may seem easier just to lay low for eight weeks, but that's unrealistic. Our advice is to find out where you're going ahead of time and check it out before you go. Most restaurants have a website, where you can view the menu and see what is going to be okay.
Dishes to go for? Plain fish, steak or poultry with salad and veg - most sauces will contain onion. Risotto with suitable vegetables (ask for no onion). Asian-style rice or rice-noodle dishes - but check vegetables and be very careful about onion and garlic.
Carluccio's and Zizzi offer wheat-free pasta, while Pizza Hut and Pizza Express can do gluten-free bases.
Sign up to our free daily email for the latest royal and entertainment news, interesting opinion, expert advice on styling and beauty trends, and no-nonsense guides to the health and wellness questions you want answered.
Lauren is the former Deputy Digital Editor at woman&home and became a journalist mainly because she enjoys being nosy. With a background in features journalism, Lauren worked on the woman&home brand for four years before going freelance. Before woman&home Lauren worked across a variety of women's lifestyle titles, including GoodTo, Woman's Own, and Woman magazine.