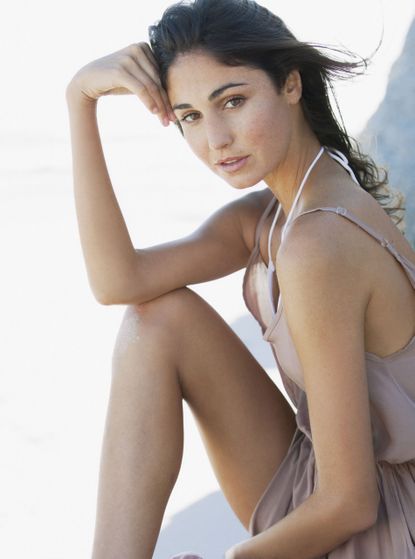 woman&home newsletter
Sign up to our free daily email for the latest royal and entertainment news, interesting opinion, expert advice on styling and beauty trends, and no-nonsense guides to the health and wellness questions you want answered.
Thank you for signing up to . You will receive a verification email shortly.
There was a problem. Please refresh the page and try again.
Fast Diet creator, Mimi Spencer is back with a new six-week plan just in time for summer...
Have you booked your summer holiday yet? A beach break can be just what the doctor ordered to help you feel more relaxed and rejuvenated, but nothing ruins a holiday more than feeling too uncomfortable in your own body to actually go out and enjoy some fun in the sun.
We all know that feeling of sheer panic that hits when you think about having to wear a swimsuit on the beach, but one woman and her easy diet plan is here to help. With The Fast Beach Diet, you can slim down for your holiday in just six weeks.
The Fast Beach Diet is the brainchild of Mimi Spencer, the woman responsible for the biggest diet since Atkins when her first book, The Fast Diet became an international bestseller.
The concept of The Fast Diet was simple: fast for two days a week then eat normally the rest of the time. Dieters everywhere were suddenly presented with a clear, easy to follow solution for healthy weight loss that didn't make everyday life a struggle. No wonder we couldn't get enough!
Now, Mimi is back with a new plan that she's dubbing 'a boot camp for the 5:2' - The Fast Beach Diet (opens in new tab) (£7.99; Short Books), which aims to make slimming down for your holiday or special occasion a cinch.
So what makes this diet different?
'The Fast Diet's USP seems to be its high level of compliance', Mimi explains. 'But some fasters want to boost the process at certain times of the year.
'I've written [The Fast Beach Diet] to be used as a primer for the summer holidays; the idea is to start the six week regime in May, June or July, in good time for take-off (that's clothes, not planes)'.
Click through now to find out how The Fast Beach Diet could reveal a slimmer, more confident you in just six weeks...
Buy The Fast Beach Diet (opens in new tab) (£7.99; Short Books)
How does the Fast Beach Diet work?
'Think of [the Fast Beach Diet] as a boot camp for the 5:2. It is a condensed, modified programme of greater intensity with the aim of helping you achieve a reasonable target weight in a six-week period', Mimi says. 'You will be encouraged to step it up - to get a tad tougher, a bit bolder, with your Fast Diet. But this extra commitment is intended to be short-lived.'
How to get started on the Fast Beach Diet
Simply changing the way you fast can make all the difference to how quickly you slim down. Mimi recommends swapping the 5:2 for 4:3, which means fasting for an extra day a week. 'One clear way to accelerate your Fast Diet is to add a third fast day each week for six weeks', she says. 'People on this form of intermittent fasting lost more body fat than those doing a conventional calorie-restricting regime.' Or you could change the time you start fasting by beginning at 2pm and finishing at 2pm. The '2-to-2' means you can fast while you're asleep so it's more effective.
Why non-fast days are so important on the Fast Beach Diet
The reason we all loved the original Fast Diet? Short term deprivation. There's always an end in sight when you can eat normally again. But, Mimi says shifting how you behave on non-fast days is essential to seeing results on the Fast Beach Diet because it's an intensive plan. She suggests cutting out alcohol, avoiding foods with too much packaging ('the ratio of plastic to foodstuff is generally a pretty good indication of its nutritional value') and simply embracing the better weather by rolling out the barbecue, eating more fish and snacking on raw veggies.
How much can you lose on the Fast Beach Diet?
It's time to get on the scales! As Mimi explains, the only way to truly reap the benefits of the Fast Beach Diet is to know exactly what shape you're in when you start. 'Shrug off the winter layers and see what lies beneath', Mimi says. 'Ideally use a scale that measures body-fat percentage as well as weight [and] measure your waist as an indicator of internal visceral fat; male or female, ideally your waist should be half your height'. Then make a realistic plan. Most dieters lose around 2lb a week on the Fast Beach Diet but everyone is different. 'Don't get hung up on the day-to-day numbers', Mimi says. 'Realise that the goal here is health. Looking good in a swimsuit is nice. But a long and healthy life is so much better.'
The Fast Beach Diet
For the full plan, plus delicious recipe ideas, buy The Fast Beach Diet (opens in new tab) (£7.99; Short Books).