Why moving to a second home or holiday home is dangerous during the coronavirus pandemic
Various high-profile figures have been criticised for doing so during the lockdown...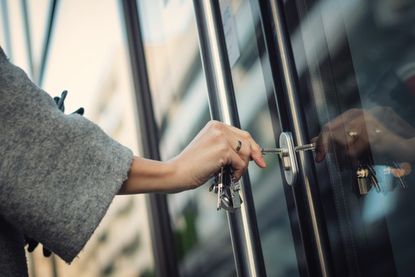 (Image credit: Getty Images)
Not being able to visit a second home may be a very first-world problem to have, but owners of more than one residence are being told that they should not move between them during the coronavirus pandemic.
Gordon Ramsey is the latest celebrity to come under fire for relocating to his second home on the seafront in Cornwall.
Ordinarily, the chef and his family live in London, but it's been reported that they've been hunkered down in their home on the south-west coast since the pandemic began.
Reportedly, people are unhappy with Gordon for relocating to his second home - amid advice from the government that people should not be moving from their primary residence during the pandemic.
Catherine Calderwood, Scotland's former chief medical officer - also came under huge criticism for visiting her second home twice during the lockdown.
MORE:Is viral load the reason some people are being much more affected by Covid-19?
She had been one of the most prominent people in voicing the importance of the lockdown in Scotland, but was giving a warning by police over her unnecessary travel during the pandemic.
As a result, First Minister for Scotland Nicola Sturgeon revealed that Catherine will no longer appear at public COVID-19 conferences. She explained, "It is clear that the mistake she made - even though she has apologised sincerely and honourably for it - risks distracting from and undermining confidence in the government's public health message at this crucial time. That is not a risk either of us is willing to take."
So why is it a bad move to transfer to a second or holiday home during the COVID-19 pandemic?
Towards the end of March, the government urged people not to to travel to second homes or to any popular tourist areas, in order to contain the spread of the coronavirus.
Mainly, concerns centre around the areas' capacity to cope with an increased amount of residents, who may be susceptible to the virus.
The worry is that out-of-towners will put extra pressure on the local healthcare systems if they were to contract COVID-19 - giving doctors and nurses less of a chance to treat people who actually live in these places all year round.
For example, at the start of the outbreak, places like Cornwall, the Lake District, and Norfolk, saw an influx of visitors looking to make the most of the natural beauty they offer, following the news that most other activities are out of bounds.
But it's a move that could have contributed to the spread of the virus.
Last week, a spokesperson for Royal Cornwall Hospitals said to Cornwall Live, "Our hospitals could quickly become overwhelmed if our population is swelled by an influx of people from other parts of the country.
"Please #comeback later and give out healthcare professionals a fighting chance of doing their best for those who live here, our staff, our families."
MORE:Can vitamin D help in the fight against Covid-19? We asked the experts
The other concern is that people travelling in from other parts of the country - particularly London - could well bring the virus back to these less-populated areas with them.
Part of the government's strategy to tackle the virus is to reduce - or stop - inessential travel. This in turn, it is hoped, will slow the spread of disease, as it reduces the number of people you come into contact with.And of course, travelling to a second home or a holiday home, is generally inessential.
Can I visit a second home?
On Wednesday [June 12] Boris Johnson announced further measures to lift the lockdown. One of these was the introduction of a "support bubble", which allows a single person household to stay overnight at one other person's house.
However, it does not include moving to a second home - even if you had planned to move there with your support bubble. Further explanation of the rules from the Cabinet Office explains, "You are not permitted to stay overnight away from the place where you or your support bubble are living - for a holiday or similar purpose - in the UK or overseas. This includes staying overnight in a second home."
The rules do clarify that you are allowed to stay overnight in an emergency, to escape harm or under limited circumstances (like key workers who have to travel). They also remind us that hotels and bed & breakfasts will remain closed to the general public for the foreseeable future.
Fear of a visitor influx
Before the Easter weekend in April, many coastal and countryside resorts were warning the public not to travel to areas they don't live in, in order to maintain the stricter social distancing and lockdown rules that were in place at the time.
On their social media accounts, they pleaded with people not to travel to a second home or holiday home.
The Lake District National Park, sharing their struggles, said on their official website back in April, "Communities across the park are struggling with the coronavirus pandemic and sadly the number of cases in Cumbria is rising rapidly.
"This has led to the National Park Authority, Cumbria Police, Cumbria Tourism, local business owners and the voluntary sector asking people to wait - now is not the time to visit the Lake District."
Chief Executive of the Lake District National Park, Richard Leafe, continued, saying, "Please do not visit the Lake District for the day, or come to a holiday home - we will be here to welcome you back as soon as it's safe to do so and we can't wait for that time. Thank you to the thousands of people who have taken the advice stay at home - this really does save lives and helps to protect the Lake District that everyone loves."
Since the lockdown rules have been lifted, the Lake District and other national parks have welcomed back visitors. However, they have been keen to remind members of the public that there are still rules to be followed to ensure that social distancing remains in place.
Among reminders to the public to take their litter home with them after picking up hundreds of bags of rubbish from across the area, there have been increased warnings that staying overnight is still strictly prohibited. In one post on Twitter reads, "Overnight stays at the #LakeDistrict are prohibited for the time being, this includes camping. Please remember we are all in this together #staysafe."
This comes as Boris Johnson announced back in May that the lockdown measures would be limited so people could go out for unlimited exercise and were allowed to travel some distance to do that exercise, as long as they spent more time being active than driving.
Amy Hunt is an experienced digital journalist specialising in homes, interiors and hobbies. She began her career working as the features assistant at woman&home magazine, before moving over to the digital side of the brand where she eventually became the Lifestyle Editor up until January 2022. Amy won the Digital Journalist of the Year award at the AOP Awards in 2019 for her work on womanandhome.com.