Anxious about leaving lockdown? Why post-lockdown anxiety is completely normal
It's been a long four months of isolation...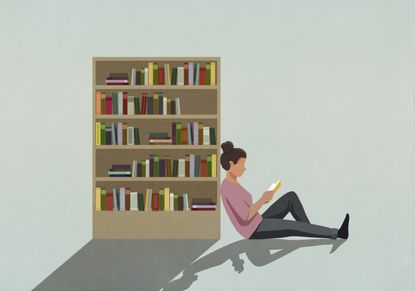 (Image credit: Getty Images)
woman&home newsletter
Sign up to our free daily email for the latest royal and entertainment news, interesting opinion, expert advice on styling and beauty trends, and no-nonsense guides to the health and wellness questions you want answered.
Thank you for signing up to Woman & Home. You will receive a verification email shortly.
There was a problem. Please refresh the page and try again.
For months we've been told to stay home - that home is the safest place for us to be to avoid catching - and spreading - the coronavirus.
But things are changing, and it means it's an anxious time for some people across the UK.From 4th July, an array of venues such as restaurants, pubs and museums - amongst other things - begun to reopen after weeks of closures. Now, we can also socialise with family and friends inside our homes, and enjoy a haircut, too.
But while these are undeniably welcome steps back towards normality for many people - businesses and staff included - the gradual unlocking doesn't come without its worries. When the UK was locked down all the way back on 23rd March, many had a sense that every effort was being taken to control the virus. The path forward, and the rules, were clear.
MORE:Our expert approved guide to managing post lockdown anxiety
But the easing of restrictions, while necessary and arguably condoned by experts, has sparked concern for those still worried about the prevalence of the coronavirus. After all, it was just weeks ago that the death toll was soaring close to 1,000 people a day.
It means that returning back into society after weeks of isolation isn't easy for some. In fact, a recent poll by Ipsos MORI, found that that 67% of us Brits have admitted to feeling uncomfortable about attending large public gatherings now - while three in five British people are skeptical about going to bars and restaurants or using public transport again. Post-lockdown anxiety has become very real for many of us.
Why are we feeling so anxious about leaving lockdown?
Dr Natasha Bijlani, Consultant Psychiatrist at Priory Hospital Roehampton, explained, "The pandemic has created a tremendous amount of fear within us. We have been exposed to endless news updates detailing the vast numbers of cases and deaths, which has served to further deepen our anxiety."
She confessed that the enforced lockdown means that many of us have actually adapted to a life of solitude by now.
"Having to live under lockdown conditions initially presented many challenges and changes to our daily lives. But as the weeks have passed, many people may have become accustomed to living under the restrictions imposed and feel safe within the confines of their own homes.
"So, now, as the lockdown restrictions are being gradually lifted, it is only natural to feel a degree of trepidation, not only with having to adjust to more change, but with the added fear of possible infection, as the virus has not been fully vanquished and is likely to be prevalent for a long time to come."
As such, Dr Natasha revealed that despite the lowering numbers, fear of catching the disease or passing it on is still very prevalent, which could well be contributing to the post-lockdown anxiety many are feeling.
"We are regularly reminded that there is a strong possibility of a 'second wave' in the very near future and are being strongly advised to keep adhering to recommended social distancing measures. Some people will still be fearful of passing on infection to others, particularly if they live with or have contact with elderly relatives or anyone who is considered at higher risk.
MORE:Can weddings resume now - and what will a post-lockdown wedding look like?
"The virus is invisible, so the fear about it can become all-consuming and all-prevalent," she said.
There's also the very real idea that the past few months have been very traumatic - for some more than others. And the idea of going through it again is just too much, so we stay inside to try and stop that from happening again.
The need to be extra vigilant with hygenie and social distancing may also be increasing worry about going outside again, according to Dr Natasha. "The extra caution required will leave most of us feeling a state of heightened anxiety, and even if it is a low grade, background anxiety it is likely to generate ongoing fear."
Could post-lockdown anxiety spark a rise in cases of agoraphobia?
Some have speculated that the lockdown could spark a rise in cases of agoraphobia - a panic disorder defined as a fear of being outside of the house alone, whether that be in a busy space such as a supermarket or travelling in a bus, car or train.
However, a psychologist explained that if you experience fear over emerging from lockdown, it's likely to be anxiety, or a type of re-entry anxiety - if you didn't suffer with agoraphobia before the pandemic.
Chartered psychologist Dr Meg Arroll told Stylist, "The type of anxiety that people without pre-existing agoraphobia or a predisposition to this condition are experiencing is more akin to a form of social and/or health anxiety,"
However those who had pre-existing symptoms of agoraphobia may find these have been intensified by lockdown.
How a 'phased exposure' could help ease post-lockdown anxiety
Dr Natasha said, "I would recommend a phased "exposure" where you gradually spend more time outside your home, if you are anxious about the process.
"If you have already been going out for daily walks, you could progress to meeting others in outdoor areas, keeping to social distancing guidelines and ensuring the number of people you meet is within the limits recommended.
"You could then gradually progress to meeting selected people in suitable locations indoors, while all wearing masks as advised."
MORE:5 easy ways to practise mindfulness in your daily life - and the brilliant physical benefits
You could then spend an hour in a pub garden - outside, so as to limit contact, and perhaps with members of your own household.
Essentially, it's important to make sure you keep taking little steps forward, and are pushing yourself when you feel ready.
After all, Dr Natasha reassures that anxiety isn't something you should feel ashamed of - it's just key that you don't let it take over.
"Anxiety is actually a very beneficial emotion as it helps to keep us safe from danger," she said.
"The challenge is to achieve an optimal balance between fear that can paralyse you, and a suitable level of vigilance and caution that can enable you to go about your daily life with ease. Being careful and sensible does not necessarily mean that you should end up feeling excessive levels of anxiety."
Be mindful of the risks of coronavirus, protecting yourself as much as possible
According to Dr Natasha, one of the best ways to manage post-lockdown anxiety lifting is to be clued up about the best ways to manage the risks of the coronavirus.
"Once you are properly informed about the mode of transmission of the virus, and aware of the updated medical recommendations and government regulations/guidance, you are likely to feel more confident about your behaviour, and this should help reduce your general anxiety."
She also advised, "Take appropriate precautions for your state of health and any medical risk factors you might have, which could leave you at greater risk were you to become infected."
So this might include:
Wearing your face mask in all enclosed areas
Washing your hands often for 20 seconds at a time
Keeping the recommended 1m+ distance
Avoiding close social contact
Sign up to our free daily email for the latest royal and entertainment news, interesting opinion, expert advice on styling and beauty trends, and no-nonsense guides to the health and wellness questions you want answered.
Amy Hunt is an experienced digital journalist specialising in homes, interiors and hobbies. She began her career working as the features assistant at woman&home magazine, before moving over to the digital side of the brand where she eventually became the Lifestyle Editor up until January 2022. Amy won the Digital Journalist of the Year award at the AOP Awards in 2019 for her work on womanandhome.com.