How To Lose A Stone Without Trying!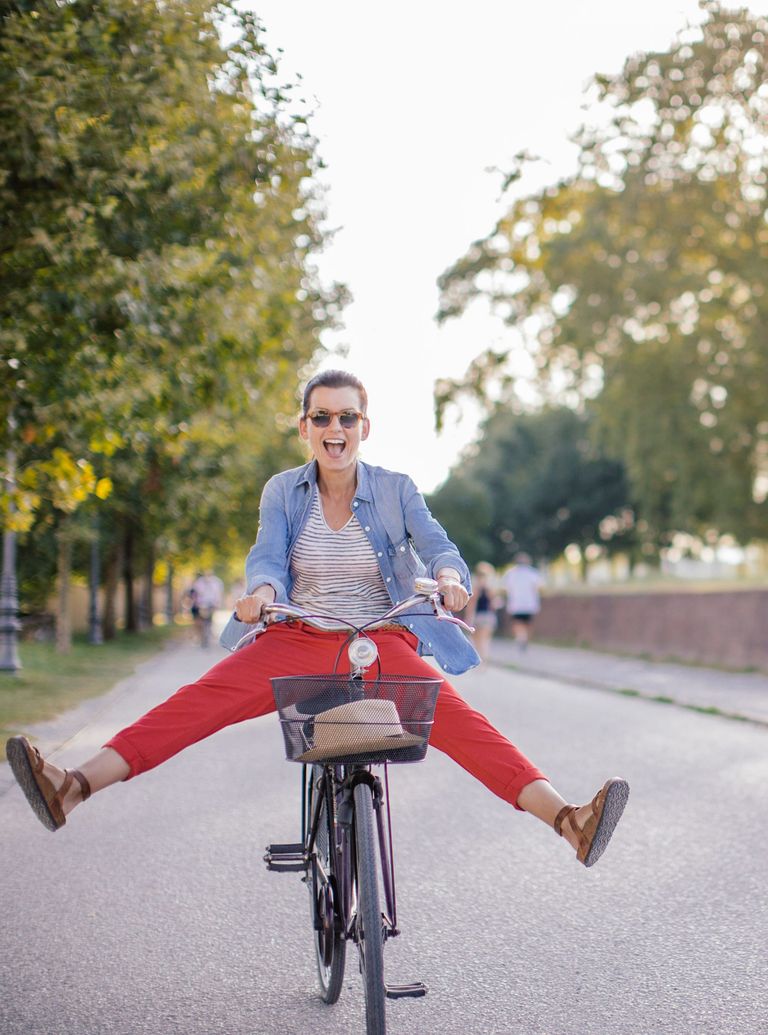 (Image credit: Cultura/REX)
Eat normal meals, indulgent snacks and even have a glass of wine - we know how to lose a stone without denying yourself...
Want to know how to lose a stone in just six weeks? We've enlisted the help of registered dietician, Nigel Denby so you can!
We all want to look good, but that shouldn't mean we have to deprive ourselves. Our how to lose a stone without trying weight loss plan is here to help you get in great shape, while still enjoying yourself.
Follow it for the next four to six weeks and, depending on how strict you want to be, you could lose up to a stone and drop a dress size at the same time. If you want a treat - no problem - you just need to earn it with a little extra effort on the exercise front. Along with healthy foods, the how to lose weight without trying plan will get you hydrated and feeling so good, you'll want to make the principles of the plan part of your everyday routine.
A few do's or don'ts that will ensure you make the most of the plan. Try to limit your added fat to no more than 5tsp per day. This includes spreading fat, cooking oils and salad dressings. Try to have a drink every time you eat. Stick to water, diet squash or fruit tea and allow yourself 300ml (half a pint) skimmed or semi-skimmed milk a day for tea and coffee. Keep an eye on portion sizes too - eat until you've had enough, not until you're stuffed!
Adding salt or sugar to your food is a big no-no. It doesn't need it and neither does your body. Don't rely on alcohol to relax either. Keep it for a planned treat - dry white wine or clear spirits with diet mixers. Two glasses of wine or two mixed drinks a week is your limit. Skipping meals isn't a good idea - you'll only eat more later. Finding it tough? Don't be tempted to give up if you've had a bad day. Accept it and start again the next day.
Keep clicking to get started on our how to lose a stone without trying plan...
How To Lose A Stone: Make The Most Of Breakfast
Get off to a good start with something delicious and nutritious - it won't feel like you're cutting back. Try our rich herby scramble - beat 4 large free-range eggs and 4tbsp milk in a bowl, and add freshly ground pepper. Heat 1tbsp olive oil spread in a frying pan and add the egg mixture. Stir constantly with a wooden spoon until the eggs are set, but still soft. Remove the pan from the heat and stir in 2tbsp low-fat cream cheese and 2tbsp mixed herbs. Serve on 2 slices of toasted seeded bread. Serves 2. Or whizz up a banana and strawberry super smoothie. Combine 1slightly unripe frozen banana (cut into chunks), 125g (4.5oz) natural, low-fat yoghurt and 225g (8oz) fresh strawberries in a blender and whizz until smooth and creamy. Pour the mixture into a glass and sprinkle with grated nutmeg, if you like.
How To Lose A Stone: Make Those Favourites Healthier
You'll never get bored of your diet if you still get to eat some of your favourite foods. How about these ideas for breakfast? Our really fruity, nutty muesli is so much healthier (and tastier!) than the shop-bought stuff. Mix together 125g (4.5oz) rolled oats, 100g (4oz) dried apricots and 100g (4oz) toasted hazelnuts (both chopped). Pour over 250ml (9fl oz) apple juice and leave for 10 minutes. Serve with grated apple and a dollop of low-fat yoghurt. Bacon isn't off the menu either - just try this new fix. Heat the oven to 200C, 200C fan, 425F, gas 7. Beat 2 large free-range eggs and mix in 1 spring onion and 1 tomato (chopped). Season. Drizzle a pan with olive oil. Pour in the egg mix, sprinkle with 2 slices of bacon (chopped). Cook until set, then trasnfer to the oven until golden brown.
How To Lose A Stone: Pack A Satisfying Lunch
Whether you're eating at work or on the go, you can keep your meals interesting with a variety of delicious flavours and textures. Our warm spicy chicken salad is so much more satisfying that a shop-bought sandwich! Tear 1 cos lettuce (washed) into pieces and put ina bowl. Add 2tbsp sun-dried tomatoes or 8 cherry tomatoes, half a cucumber (peeled and sliced) and 1 small onion (sliced thinly). Drizzle over 1tbsp balsamic vinegar and 2tbsp extra virgin olive oil. Grind over some freshly ground black pepper and toss to combine. Heat 8 spicy pre-cooked chicken fillets (you can buy these from all supermarkets) in the microwave for about 2 minutes or until heated through. Cut into smaller pieces and add to the salad. Combine and serve with a sprinkling of pine nuts and 1tbsp grated Parmesan cheese. Serves 2. Or why not try these really cheesy peppers? Heat the grill to medium high. Slice the tops off 2 red peppers, cut in half lengthways and take out all the seeds. Grill for 10 minutes then fill each half with 2 or 3 thin slices of rinded goats' cheese and return to the grill for another 5 minutes, until the cheese has caramelised and the peppers are slightly charred. Sprinkle over a few toasted pine nuts and serve with a mixed green salad. Serves 2.
How To Lose A Stone: Stock Up On These Lunchbox Fillers
You won't reach for chocolate or crisps at 4pm if you pack these... Rye crispbreads, oatcakes, any of the seeded breass and wholemeal pittas are good bases for lunchboxes. These will all keep you feeling fuller for longer. Then add a pot of cottage cheese, cheese sticks, two cream cheese triangles or two mini Edams or Babybels - all tasty and portable. Mixed bean pots are great on the go. Fast and packed full of fibre! Buy small cans (50-70g) of smoked salmon, mackerel, crab or other fish-based pates. They're healthy, as they don't tend to be high in saturated fat, and convenient. Serve with some salad leaves and cherry tomatoes.
How To Lose A Stone: Tuck In To Delicious Suppers For Slimmers
These simple ideas are so tasty, the rest of the family will love your new diet! Swap creamy sauces for spices to flavour food. Our cajun chicken is so good! Heat the oven to 200C, 180C fan, 400F, gas 6. Mix together 1tbsp paprika and half a teaspoon of mild chilli powder. Toss 4 skinless chicken breasts in the spice mix to cover. Drizzle 1tbsp olive oil over a baking sheet and add the chicken breasts. Bake in the oven for 15 minutes or until the chicken is cooked through. Serve with a large green salad. Serves 4. Prefer fish? Tuck in to our Mediterranean fish stew. Heat 2tbsp olive oil in a pan and fry 2 medium red onions (sliced) until softened. Add 3 garlic cloves (crushed), 1 x 400g can chopped tomatoes, 150ml dry white wine, 1 bay leaf and freshly ground black pepper. Simmer for 15 minutes. Now add 1kg mussels (cleaned) with another 75ml vegetable stock. Bring to the boil, cover and cook for 5 minutes until the mussels have opened - discard any that haven't. Add 175g prawns (fresh or frozen and thawed), and 750g firm white fish fillets, cut in to 5cm chunks. Cover and cook for 3 to 5 minutes until the flesh is cooked through. Turn out into a serving dish, sprinkle with a handful of chopped fresh parsley and serve immediately with a large green salad. Serves 4 to 6.
How To Lose A Stone: Choose Your Alcohol Wisely
The bad news: alcohol contains empty calories with no nutritional value - and just a couple of glasses of wine a night can add up to 2,130 extra calories a week! There's nothing wrong with enjoying a drink, but choose wisely. The worst culprits are Southern Comfort and lemonade (193 cals), Tia Maria and coke (180 cals), a large glass of white wine (165 cals and 2 units) and a medium glass of red wine (119 cals and 1.5 units). Opt for a glass of Champagne (95 cals), half a pint of lager (65 cals) or half a pint of cider (103 cals).
How To Lose A Stone: Do More - Eat More!
Mixing healthy eating with daily activity and exercise is by far the best way to lose weight, keep it off and stay sane because you don't have to deprive yourself of the things you love! Aim to use more calories doing everyday activities, such as walking to the shops and doing household chores - fitting in 45 minutes really isn't as daunting as you think! Here's what you'll burn in 30 minutes - and what you'll earn too, based on a typical 14 stone woman: Cycling at 16 to 19 miles per hour - 576 calories (chicken korma) Running at 5 miles per hour - 383 calories (cheeseburger) Walk/jpg at 3.5 miles per hour - 192 calories (packet of crisps) Dancindg (disco or salsa) - 296 calories (Danish pastry)