The importance of early diagnosis when it comes to bowel cancer - discover the symptoms to look out for
Julie Walters has recently revealed she was diagnosed...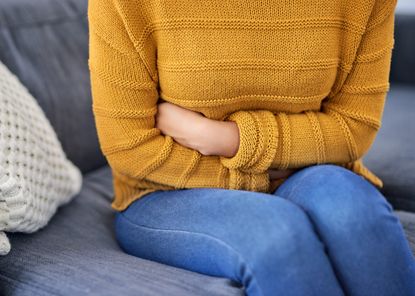 Also known as colon cancer, bowel cancer is the fourth most common cancer in the UK, with around 41,000 new cases each year – that means a new diagnosis every 15 minutes.
Colon/bowel cancer and early diagnosis
Despite the benefits of early diagnosis, many of us are too embarrassed or busy to see our GP, or even take the home-testing kit that's posted through the door – instead, we put our lives at risk.
It's not just a 'man's disease' either. 'One in 18 women will be diagnosed with bowel cancer, but nearly everyone diagnosed at the earliest stage will survive. However, this drops significantly as the disease develops,' says Charlotte Dawson, nurse advisor for Bowel Cancer UK.
So it's no wonder the NHS have invested heavily in research and issued around 30 million home-testing kits since 2006. Yet an estimated 11 million of the kits (which cost the NHS around £5 each) are simply binned or left unused.
"Take the test when you receive it in the post," urges Charlotte. "It's quite simple; bowel screening saves lives. If you have any symptoms, don't be embarrassed and don't ignore them. Doctors are used to seeing people with bowel problems."
Mr Lee Dvorkin, consultant colorectal surgeon at BMI Hendon, BMI The King's Oak and BMI The Cavell Hospitals in London, also urges people not to let fear stop them seeking help.
"I understand seeing your GP about such personal symptoms can be embarrassing but, remember, most patients who go to their doctor with symptoms do not have cancer."
Bowel cancer symptoms to look out for
With the majority of cases developing from tiny growths in the bowel (polyps), it's essential to see your GP as soon as you notice any of the below that persist for more than two weeks, or any other symptoms that concern you.
Rectal bleeding, often with blood mixed in with the bowel motion
A persistent and unexplained change in bowel habit
Abdominal bloating or discomfort
Weight loss
Tiredness and lethargy
The bowel cancer test
FOB (faecal occult blood)
This home kit involves collecting stool samples on three separate days.
FIT (faecal immunochemical test)
A simplified version of FOB, which involves taking just one sample.
A new one-off test for people aged 55, where a flexible camera is used to look inside your bowel. If you live in an area where the test is available, you'll be sent an invitation. You can call free on 0800 707 6060 to see if you're eligible.
"The chance of bowel cancer goes up if there is a strong family history, especially if they were young when diagnosed," says Mr Dvorkin. "If this is you, you may be offered genetic screening."
Which bowel cancer kit will you receive?
Where you live in the UK will determine how and when you receive your kit.
In England and Wales, you'll be sent your first one at 60 (although there are plans to lower this), then every two years until the age of 74.
MORE:Dame Julie Walters reveals secret bowel cancer battle
The FOB test will be replaced by the FIT test, but it's slowly being rolled out. In Scotland, the age range is 50-74 and the FIT test is in use, while in Northern Ireland you'll be screened from 60-74 years with the FOB test. But no matter what type of test you receive, you should always take it, as early diagnosis can be key.
Test done, what happens next?
Been asked to attend a colonoscopy?
A tiny camera on the end of a flexible tube will be inserted into your anus, allowing the doctor to see the insides of your intestines. "You'll be prescribed strong laxatives so the doctor can see clearly inside your bowel,' says Mr Dvorkin. 'Most patients are sedated so you'll need someone to take you home, and you can't drive or go back to work for the rest of the day."
Been told you have bowel cancer?
The most effective treatment is an operation to remove the tumour and its surrounding lymph glands. These are performed by keyhole surgery and patients typically spend just a few days in hospital afterwards.
For cancer in the rectum, radiotherapy is sometimes used to shrink down the tumour before surgery. "If the cancer involves the lymph glands, chemotherapy is recommended and this can last for six months," says Mr Dvorkin.
Reduce your chances of colon cancer
"Factors thought to increase the risk of bowel cancer include smoking, drinking two or more alcoholic drinks per day, obesity, and excessive red meat, animal fat and sugar intake; while exercising and eating more fibre, dairy and pulses are all thought to decrease risk," says Mr Dvorkin.
Sign up to our free daily email for the latest royal and entertainment news, interesting opinion, expert advice on styling and beauty trends, and no-nonsense guides to the health and wellness questions you want answered.
Faye M Smith is an award-winning journalist with over 15 years experience in the magazine industry. Her continued work in the area of natural health won her the coveted title of the Health Food Manufacturers' Association (HFMA) Journalist of the Year Award 2021. Currently Health Editor across several brands including woman&home, Woman and Woman's Own, Faye specialises in writing about mental health, the menopause, and sex and relationships.