Experts warn sleeping under feather duvets can cause lung problems
Could you be suffering from this?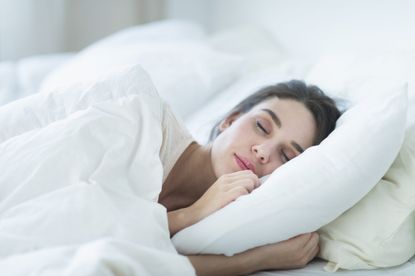 Experts have warned that sleeping under feather duvets can result in lung problems, causing symptoms such as breathlessness and coughing.
Following a report published in the British Medical Journal, doctors are warning patients that unexplained breathing problems could be caused by their feather bedding.
The medical report detailed a case of 'feather lung', an inflamatory lung condition that comes as a result of breathing dust from the feathers used to make some duvets and pillows.
It is reportedly a form of hypersensitivity pneumonitis which occurs because of an immune system response. The symptoms of feather lung can include a dry cough, night sweats and shortness of breath.
READ MORE:Waking up too early could increase your risk of these major diseases, study finds (opens in new tab)
Authors of the report are urging medical professionals to ask about a patient's bedding when diagnosing the condition, explaining that many cases of feather lung can go undetected or wrongly diagnosed.
Co-author of the report and consultant chest physician at the Aberdeen Royal Infirmary, Dr Owen Dempsey, told the Guardian, "I suspect it is the tip of an iceberg.
"I think there are lots of exposures out there that we are not aware of, and just because we are not aware of them they get ignored."
READ MORE:Researchers say blood pressure pills 'work better at bedtime' (opens in new tab)
Dr Dempsey also explained that feather duvet owners should not rush to throw their bedding away, but rather take note of if they have developed any breathing problems since switching to feather bed covers.
He also added, "There are several hundred different types of hypersensitivity pneumonitis.
"For medical professionals it is really important to be nosy and take a meticulous history and ask people about exposures because there are lots of things people do that we don't always appreciate when we are sitting in a clinic or surgery."