Age UK issues warning about elderly care as new report 'paints a frightening picture'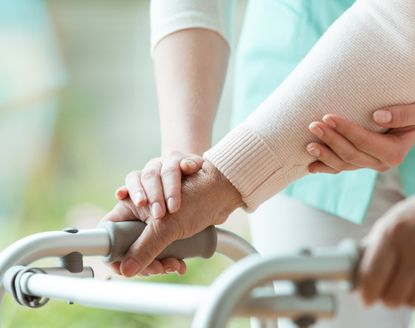 The charity has raised concerns over depleting resources for the UK's social care system.
Recent research from Age UK says that services for older and sick and disabled people are under 'extreme duress' and require a 'very substantial additional investment' to keep up with increasing demands.
The report, The Health and Care for Older People in England 2019, stated that the nation's social care system is at risk of 'total collapse' in parts of the country, and urged Chancellor of the Exchequer Sajid Javid to increase funding to local authorities.
According to Age UK, around two-thirds of those who receive care arranged by local authorities are older people.
MORE: Who's caring for the carers? Find out how to get the help you need (opens in new tab)
Funding cuts in local authorities have resulted in an increased strain on NHS money and means-tested contributions from clients.
Since 2010, there have been nearly £8bn in budget cuts from council adult social care services, meaning around 1.4 million people went without assistance for day-to-day activities such as going to the toilet.
Caroline Abrahams, Charity Director at Age UK, said: "Our new report paints a frightening picture of where our social care system is heading unless the Government intervenes quickly and decisively to arrest its spiralling decline.
"When you strip out the complexity the story is really very simple: demand is going up but funding and supply are going down, leaving increasing numbers of older people to fend for themselves, rely on loved ones if that's an option for them, or pay through the nose via a hefty stealth tax without which many care homes would not stay afloat.
"Things are so bad in some places that it is becoming impossible to source care, however much money you have.
"Certainly, the idea that there will always be a care home or home care agency able to help you in your neighbourhood is increasingly out of date."
MORE: Research reveals amazing impact yoga can have on mental and physical wellbeing in the over 60s (opens in new tab)
A Department of Health and Social Care spokesman said: "We have given local authorities access to nearly £4bn more dedicated funding for adult social care this year, and a further £410m is available for adults and children's services.
"The prime minister is committed to fixing the social care system and we will outline proposals in due course."
Isa Jaward is a journalist from London who has written for the likes of Time Out, The Guardian and Music Week.