Domestic abuse: the signs to look out for and where to find help
Domestic abuse will impact 1 in 4 women in their lifetime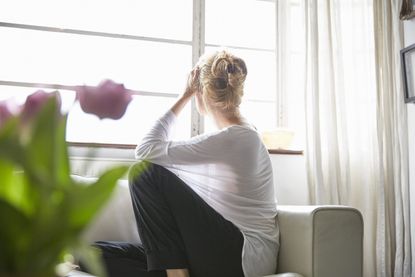 According to the charity organisation Living with Abuse (opens in new tab), domestic abuse will affect one in four women, and one in six men, in their lifetime.
It can sometimes to be hard to notice that someone is a victim of domestic abuse, as it can range from things like verbal abuse, bullying and coercive control to threatening behaviour, violence, rape and sexual assault.
Being able to recognise the signs of someone who is suffering domestic abuse or knowing how to seek help can be vital.
What is the definition of domestic abuse?
Domestic abuse, as defined by Women's Aid (opens in new tab), a charity working to save the lives of women and children from domestic violence, is "an incident or pattern of incidents of controlling, coercive, threatening, degrading and violent behaviour, including sexual violence, in the majority of cases by a partner or ex-partner."
You might ordinarily consider domestic abuse to be a crime amongst romantic partners—and it most commonly is. But Women's Aid explain that it can also be inflicted by a friend, or even, a carer. This type of abuse can have devastating consequences. Living with Abuse (opens in new tab) state that domestic abuse leads to two women being murdered every week - and 30 men each year. It's also considered the most common reason for becoming homeless - according to Shelter (opens in new tab) in 2002 - and has more repeat victims than any other crime. And it goes without saying that there's of course the physical and emotional damage inflicted onto those affected.
Signs of domestic abuse
Recognising abuse is one of the main steps towards getting help. But being aware of the signs can be a tricky if you are the one in an abusive relationship, and also difficult if you are watching from the outside.
As such, various domestic abuse charities, including Women's Aid, have put together list of potential signs, in order to help those who may be suffering, or those who suspect a loved one may be dealing with domestic abuse.
If you, or someone you know, is experiencing domestic abuse, the perpetrator may be verbally abusive - mocking them, calling them names, or being threatening. They may be charming one minute and jealous, possessive, and angry the next.
They may also use isolation tactics, monitoring your channels of communication and blocking and deleting texts, emails and calls. Preventing you from seeing loved ones and leaving the house in general is also a common sign. Refuge (opens in new tab), a national domestic abuse charity, also ask whether they tell you what to wear, or what not to wear - how to think or where to go?
More obviously, physical abuse is a sign of domestic abuse (such as hitting, kicking, punching), but this may be a sign only recognisable to the abused. If you are worried about a loved one, it might help to look out for marks or bruises on their body. Similarly, sexual violence is domestic abuse - forcing them to have sex or making them do things they don't want to do during intercourse, or before or after.
Threats and harassment are also major signs of abuse. Is the suspected perpetrator following you, threatening harm to you or loved ones, embarrassing you in public, destroying your possessions (or threatening destruction), or appearing wherever you are, even if you've told them not to?
Refuge also ask whether you find yourself walking on eggshells with your partner, or if you are ever blamed for his (or her) bad behaviour - for example, saying you deserved it, for that you made him angry.
Noticing the signs of domestic abuse in a loved one
Living with Abuse note that you may pick up on changes in a friend, family member, or colleague if they are experiencing domestic abuse.
Be sure to watch out for...
If they seem to have lost their confidence, or become withdrawn in their personality, display changes in their appearance or with socialising - such as avoiding friends and family, they may be dealing with abuse.
The charity also states that they may be constantly checking in with their partner, or worrying what they might think about certain things. They may also have unexplained injuries, or worries about money that perhaps they didn't beforehand.
Of course, these things may also have other explanations, so it's important to speak to your loved one in order to discover what's going on.
Is domestic abuse a crime?
People cannot be convicted for the term 'domestic abuse' specifically - instead it is prosecuted under a range of offences. For example, the offender may be charged with things like GBH (grievous bodily harm), harassment, sexual assault, or anything similar.
The UK government defines it as "any incident or pattern of incidents of controlling, coercive, threatening behaviour, violence or abuse between those aged 16 or over who are, or have been, intimate partners or family members regardless of gender or sexuality.
"The abuse can encompass, but is not limited to psychological, physical, sexual, financial, emotional."
What to do if you think a friend or family member is being abused
Women's Aid explain that the most important thing is to listen to your friend, and allow her to express her feelings, whatever they are.
They say, "Acknowledge that it takes strength to trust someone enough to talk to them about experiencing abuse. Give her time to talk, but don't push her to go into too much detail if she doesn't want to. Acknowledge that she is in a frightening and very difficult situation.
"Anyone suffering from domestic abuse deserves to be listened to and believed."
"Tell her that no one deserves to be threatened or beaten, despite what her abuser has told her. Nothing she can do or say can justify the abuser's behaviour."
The charity also explains that it may be helpful to accompany her to solicitors or the GP, if she is ready to take either of those steps, and to do all of this whilst ensuring hers and your safety - do not do anything that might compromise that for either of you.
How to get help if you are being abused
If you have experienced, or are experiencing, domestic abuse, it can be difficult, or frightening, to seek out help in order to end the situation.
But, Sandra Horley CBE, chief Executive of Refuge, said, it's important to talk to someone you trust.
She told w&h, "Domestic abuse can happen to anyone. In fact, around one in three women will experience it in some form during their lifetime. If you are experiencing domestic abuse or suspect that a friend or loved one might be, Refuge urges you to talk to someone you trust.
"It could be a friend, a relative, your GP, or the police. The Freephone 24-hour National Domestic Abuse Helpline is an unparalleled resource offering confidential, specialist support and information around the clock to anyone affected by domestic abuse. Refuge's expertly-trained Helpline staff can help survivors to consider their rights and options, and friends and families to formulate a plan in how best to support women and children at risk.
"Anyone suffering from domestic abuse deserves to be listened to and believed, and the chances of this happening depend on all of us knowing how to spot the signs of abuse and recognising where to go to seek help. Remember, you're never alone."
You can call the National Domestic Abuse Helpline for free, 24 hours a day, on 0808 2000 247
Most importantly, before you do anything, ensure your physical safety as much as you can.
But if you can, and feel safe enough to do so, it's a good idea to report your domestic abuse to the police.
The government state on their website, "The police take domestic violence seriously and will be able to help and protect you."
There are also various organisations across the country that can support you - the Government have put together a list of charities that can help you navigate all of the various challenges following domestic abuse - find it here (opens in new tab).
Women's Aid have also put together a Survivor's Handbook, offering advice and resources for all different circumstances - you can find it here (opens in new tab).
You can also use a newly launched online abuse support service
A new online dating abuse support service has recently been launched as part of a just launched campaign from Women's Aid - if this is the type of domestic abuse you are experiencing.
The campaign and the service have been inspired by the Domestic Violence Act of 2018, which states that women experiencing abuse in relationships can apply for legal protection from their abuser. However, Women's Aid believe this is still not something a lot of women know they have a right to.
As a result, they've launched a new instant messaging service, in order to provide support for people suffering.
You can find it onwww.toointyou.ie, and it'savailable 7pm-10pm on Mondays, Wednesdays and Fridays.
The charity have also began distributing a new, free guide, to help women spot the warning signs of abuse, and to provide information on online abuse, as well as support. You can find it here (opens in new tab).
Don't suffer in silence.
Amy Hunt is an experienced digital journalist specialising in homes, interiors and hobbies. She began her career working as the features assistant at woman&home magazine, before moving over to the digital side of the brand where she eventually became the Lifestyle Editor up until January 2022. Amy won the Digital Journalist of the Year award at the AOP Awards in 2019 for her work on womanandhome.com.