Sign Up For A Charity Walk Today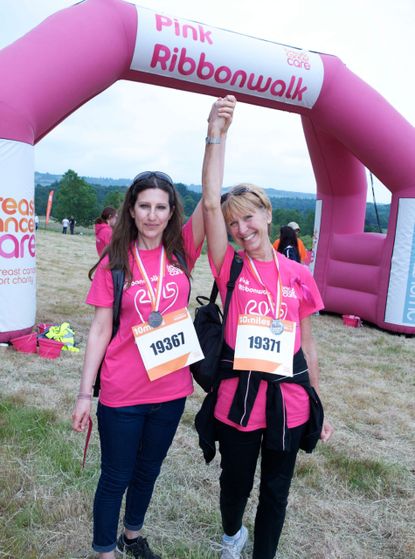 We're all familiar with sponsored runs and if you've always wanted to get involved with a charity event but are looking for something slightly less daunting - there are plenty of charity walks happening this year.
Walking is an excellent form of exercise and has numerous health benefits. It can reduce your risk of diabetes and boost your cardiovascular health, plus it's great for burning calories and toning your body all over.
So look great and feel even better knowing that you're walking for a brilliant cause. Here's a round up of some inspirational walking events happening this year and how you can get involved yourself.
Alzheimer's Society Memory Walk
Where: Various places through September and October. Soonest are Kent, Bath, Liverpool, Exeter, Nottingham, Cardiff and Hull. When: Kent - 2/9/2017, Bath - 3/9/2017, Liverpool - 3/9/2017, Exeter - 3/9/2017, Nottingham - 9/9/2017, Cardiff - 10/9/2017, Hull - 10/9/2017. More dates and places to be updated in the next few weeks. Cost: There's an optional donation you can make at the time of registration. What you get: An information pack that includes a free t-shirt. Other details: Under 16s must take part with an adult. All must register online in order to take part. Welcome packs should be received in April. Short route on the walks are usually between 2-3km and long routes are between 6-10km. Website:https://www.memorywalk.org.uk/ (opens in new tab)
Breast Cancer Care Pink Ribbonwalk
Where: Soonest are Blenheim Palace in Oxfordshire, Bakewell in Peak District, Glasgow at night, London at night. When: Blenheim - 20/5/2017, Bakewell - 3/6/2017, Glasgow - 17/6/2017, London - 1/7/2017 Cost: Adult entry - £32.50, child entry - £15. What you get: T-shirt and a hot meal after the walk if desired. Other details: 5, 10 and 20 mile route options. Dogs are welcome! Website:https://www.breastcancercare.org.uk/pink-ribbonwalks (opens in new tab)
Shine Night Walk - marathon or half marathon
Where: Southwark Park, London. When: 23/9/2017 Cost: £39.99 What you get: T-shirt. Other details: Can choose if you want to raise money for a specific area of research. Website offers training packs. Website:http://www.cancerresearchuk.org/support-us/find-an-event/charity-walks/shine-night-walk (opens in new tab)
Relay for Life
Where: Soonest are Leicester, Cornwall, East Kilbride, Gwynedd and Anglesey, Harrow and Rossendale. When: Leicester - 27/5/2017, Cornwall - 27/5/2017, East Kilbride - 16/6/2017, Gwynedd and Anglesey - 17/6/2017, Harrow - 17/6/2017, Rossendale - 17/6/2017. Cost: Free registration. What you get: Free t-shirt. Other Details: 24-hour event. Can join a team, start a team, or join as a survivor/existing cancer patient. Website:http://www.cancerresearchuk.org/support-us/find-an-event/charity-walks/relay-for-life (opens in new tab)
Walk for Parkinsons
Where: All over the UK. Look at interactive map on website to find closest near you. When: Some walks that are soon: Devon - 7/5/2017, Stafford -14/5/2017, Cornwall - 11/6/2017, North Yorkshire - 2/7/2017, London - 16/7/2017, Wiltshire - 16/7/2017. Cost: £10 for adults and £5 for under 16s. What you get: Free t-shirt and a fundraising pack. You'll also get a medal after finishing. Other details: Every walk has different distance options. Check interactive map on website to find nearest walk to you. Day-of registration is available but only in cash, and £15 for adults and £7.50 for under 16s. Website:https://www.parkinsons.org.uk/content/walk-parkinsons (opens in new tab)
The Great British Dog Walk
Where: 20 walks across the UK. Some starting in May are Suffolk, Glasgow, Cheshire, Kent, Cambridgeshire and Derby. When: From March - mid June: Suffolk - 7/5/2017, Glasgow-7/5/207, Cheshire-13/5/2017, Kent-13/5/2017, Cambridgeshire-14/5/2017, Derby-20/5/2017. Cost: Adults: £10 and children under 16 go free. What you get: A free doggie bandana for your dogs. Other details: This walk benefits hearing dogs for deaf people; each location has different walk lengths to choose from. Website:https://www.hearingdogs.org.uk/support/great-british-dog-walk/ (opens in new tab)
Poppy Walk
Where: Liverpool, Portsmouth and London. When: Liverpool - 1/7/17, Portsmouth - 9/7/2017, London - 16/7/2017. Cost: £15 per person. Children aged 12 and under go free. What you get: Fundraising pack; soft drinks, sweets and snacks during the walk; t-shirt; finisher's reward. Other details: 10km walk through city. Dogs allowed. Benefits the Royal British Legion. Website:http://www.britishlegion.org.uk/get-involved/fundraise/treks-and-walks/poppy-walk/ (opens in new tab)
Just Walk
Where: West Sussex When: 13/5/2017 Cost: Ranges from £20-£70 for adults depending on what distance you choose and £7-£15 for under 16s. Family tickets that provide tickets for 4 people also available for 20km and 10km walks. What you get: Full event pack, hot drinks at the start and finish for all routes, hot breakfast at the start (40km and 60km only), packed lunch on route (20km, 30km, 40km and 60km only), hot soup for 40km walkers and hot meal for the 60km walkers on route. Medals given out to everyone when finished and certificates mailed to you after the event. Other details: You can raise money for any charity of your choice. All the money you raise goes directly to your chosen charity. Distances: 10km, 20km, 30km, 40km, 60km. No dogs allowed. Website:https://www.just-walk.co.uk/ (opens in new tab)
British Lung Foundation Walk
Where: London When: 10/6/2017 Cost: Full details of the event will be available soon. People can register their interest by e-mailing events@blf.org.uk. What you get: Fundraising guide, training plans, BLF t-shirt. Other details: 7.4 miles in Richmond Park. Website: https:www.blf.org.uk/take-action/challenge-yourself/walk/take-steps/richmond-park (opens in new tab)
The Henley 10
Where: London When: 10/9/2017 Cost: £15 for adults, £7.50 for under 14s What you get: T-shirt, free snack and drink at rest stop, medal and glass of fizz at finish, discounted BBQ meal after. Other details: Walk, jog or run. Circular route. This walk is a mini challenge from the same organization that runs the Thames Path Challenge. Website:http://www.thamespathchallenge.com/henley-10k (opens in new tab)