Turkish pide recipes and flavours you should try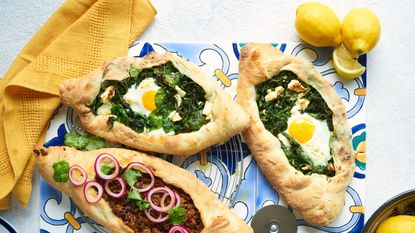 (Image credit: Future Publishing)
Never tried Turkish pide? We're certain pizza-like dish, which can be made with meat or vegetarian fillings, will become a new favourite.
Our collection of Turkish pide recipes will excite your senses and make the perfect Friday night dinner. Similar to pizza, Turkish pide has a dough base that is topped with a variety of ingredients. Pide can be served as individual portions or sliced for easy sharing.
Food director Elisa Roche grew up eating pide as an after school snack or picnic-style supper. She explains: 'Pide, pronounced Pi-deh, is a Turkish snack food or street food staple that is like a mini, boat-shaped or oval pizza. The traditional flavour is ground minced lamb or beef with onions, herbs and a generous sprinkling of coarse black pepper. But there are many flavour and regional variations.'
Elisa adds: 'It is not uncommon to see hard sheep's milk cheese or feta pides combined with mint or parsley - and even a soft fried egg as a topping. If you want to be truly authentic with your cheese versions, look out for Turkish peynir cheese, sometimes also called Beyaz Penir.'
We have a classic Turkish pide recipe, pictured below, which combines ground beef, onions, tomato, feta and herbs. Here are two more delicious toppings which we think you will enjoy. Both flavour variations below make enough for four pide.
Lamb pide recipe
This slightly spicy lamb pide recipe is flavoured with harissa and served with quick pickled red onions which help cut through the fattiness of the meat.
You will need:
2 red onion
1tsp sugar
2tbsp cider vinegar
2tsp olive oil
500g lamb mince
1tsp harissa
1tbsp tomato puree
2tsp dried mint
fresh chopped coriander, to serve (optional)
How to make the lamb pide:
Make the pide dough according to the instructions of our classic Turkish pide
Cut one onion in half and slice into half-moons. In a bowl mix the sliced onion with the sugar, vinegar and 1/2tsp salt. Set aside to pickle.
Dice the other onion then fry over medium heat. Add the lamb mince and increase the heat. Break up with a wooden spoon and cook until browned, around 2mins.
Transfer the onion and lamb to a bowl and mix in the harissa, tomato puree and mint.
Preheat the over to 230C/Gas 8 and shape your pide dough.
Spoon in your lamb mixture, fold the edges and pinch together. Bake for 15min until the dough is golden and risen. Serve with the pickled red onion and fresh chopped coriander.
Vegetarian pide recipe
It's common for pide to come with both meat and veggie-based toppings. Try making a variety if you're having a dinner party and let guests try all the flavours.
You will need:
400g baby spinach
100g feta, crumbled
4 eggs
1 lemon, cut into wedges (to serve)
How to make vegetarian pide:
Make the pide dough according to the instructions of our classic Turkish pide
Boil a kettle and place the spinach in a colander. Pour over the boiling water to wilt. You may need to repeat this a couple of times.
Allow the spinach to cool then squeeze out the moisture, use a clean muslin cloth for best results but you can get most out by hand.
Roughly chop then mix in a bowl with half the feta and season.
Preheat the over to 230C/Gas 8 and shape your pide dough. Evenly distribute the spinach feta mix between the four pide bases. Make a well and crack an egg into each pide. Sprinkle over the remaining feta then bake for 15mins or until the dough is golden and risen.
Serve with the lemon wedges.
Jessica is a Senior Food Writer at Future and is an enthusiastic, self-taught cook who adores eating out and sharing great food and drink with friends and family. She has completed the Level 1 Associate course at the Academy of Cheese and is continually building on her knowledge of beers, wines and spirits. Jessica writes food and drink related news stories and features, curates product pages, tests and reviews equipment and also develops recipes which she styles on food shoots.