McDonald's has new drive-thru AI technology and people are NOT McLovin' it
The internet is pretty annoyed about the new McDonald's drive-thru AI technology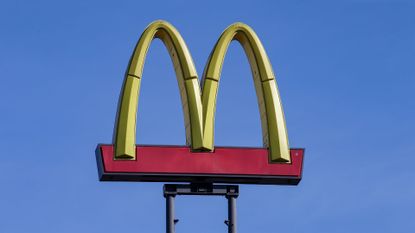 (Image credit: Getty Images)
The world's most famous fast food chain is getting a drive-thru makeover, and people aren't too thrilled about it.
Every once in a while, you might crave McDonald's french fries, or maybe even a 10 piece nugget meal. So, you get into your car, pull up to the screen with the menu displayed on it, and scream your order into the microphone so that the drive-thru employee can hear you.
This whole drive-thru ordering process will still be possible - except a human won't be taking your order. McDonald's is testing out their new AI-powered ordering systems, made in conjunction with tech company IBM, and has been placing them at various McDonal locations across the country.
McDonald's has said (opens in new tab) in the past that these AI ordering systems are meant to accelerate the time spent in drive-thru lines, and will ultimately help fill in gaps in the workforce. McDonald's has called the plan "Accelerating the Arches."
TikToker Ren Adams posted a video on February 10, voicing complaints about McDonald's new AI-powered drive-thru system as they were trying to get her breakfast from the fast food chain in the morning.
"I was gonna get a hash brown, a sweet tea, and a Coke," Ren says, "So, I order, and I'm at the first drive-thru line when I order and they're giving me my total, and then a second car pulls up in the drive-thru lane next to mine."

"Mind you, it's all robot," she says, adding, "She adds the diet Coke from her order to my screen."
Then, when she tried to tell the AI robot to take the diet Coke off her screen, the ordering machine added nine large sweet teas instead.
"I saw this sh*t and I pulled out of the drive thru and drove away," she concludes.
Another TikTok user, Caitlin Sykora, posted a similarly frustrating (but honestly, hilarious) video of McDonald's AI ordering system creating inaccurate orders.
"Stop!!!" Caitlin says in her video, where her and her friend are laughing in their car, observing how the McDonald's ordering technology severely misunderstood her order. Instead of what was likely supposed to be one 10 piece nugget meal, the ordering robot picked it up as 19 10 piece nugget meals, making her grand total out to be over $200.
"This McDonald's robot is wild," reads the text on her TikTok.
"And this is exactly why a person should take your order," one TikTok user commented, adding, "We all know when we talk to computerized people even on the phone we gotta scream at our phone just for them to hear us correctly."
McDonald's isn't the only fast food chain to dabble in replacing their drive-thrus with AI-powered machines - but will they last? According to a report from Restaurant Dive (opens in new tab), McDonald's AI technology was only about 80% accurate when tested in different restaurants in the state of Illinois.
Madeline Merinuk is woman&home's US lifestyle news writer. She covers celebrity, entertainment, fashion, and beauty news but is also obsessed with internet trends - you can find her reciting trending TikTok sounds out loud at any given time.
After winning multiple student journalism awards for her investigative work, she graduated from Hofstra University in 2021 with a B.A. in Journalism. After graduating, she worked at today.com, the digital site for the Today Show, where she wrote pop culture news and interviewed big-name personalities like Emily Ratajkowski, Haley Lu Richardson, Emma Corrin, and more.
Her personal interests, in no particular order, are: cheese, Joni Mitchell, reading, hot yoga, traveling, having multiple chapsticks in every handbag at all times, and dancing to ABBA songs as if she were in the Mamma Mia movies.