Best Easter dinner food: The woman&home taste test
Our food team have selected their expert picks for the best Easter dinner yet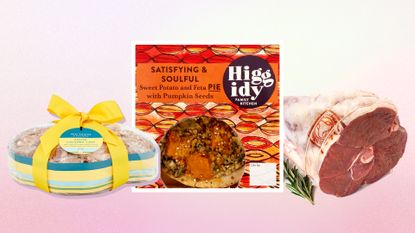 (Image credit: Riveford / Higgidy / Waitrose)
Hosting and creating the perfect Easter dinner is easy enough, you just need a little preparation, the best ingredients and some reliable time-savers if you can't manage everything from scratch.
Whether you want the best Easter lamb joint to smother in the marinade of your choice, or you're in need of a readymade vegetarian main and dessert, these are the top picks from our Test Kitchen.
For some sweet gifting inspiration, make sure you read our guide on the best Easter eggs 2022.
Best Easter lamb joints
Riverford Organic Lamb Whole Leg
The best lamb for flavour
Specifications
Stockist: Riverford
Weight: 2kg
Price: £42.45
This truly splendid hunk of meat would look magnificent atop the Easter table. All the gorgeous flavour from the bone and the fat meant this joint didn't even require the additional attention of herbs. We simply cooked it with a drizzle of oil and seasoning and it was the tastiest, tenderest and juiciest lamb that we tried. The suggested cooking time was perfect for a medium cooked lamb - just how we like it. For a smaller gathering a half leg also available (990g, £22.45).
Taste the Difference Welsh Hill Rack of Lamb
The best for a meal for two
Specifications
Stockist: Sainsbury's
Weight: approx 300g
Price: £9 (£30 / kg)
This was a really great cut of lamb. It was extremely tender with a delicious mild flavour. Sainsbury's rack of lamb is such an elegant cut, and this mini one is ideal for a special meal for two. Wales is renowned worldwide for excellent quality lamb, and we're certainly happy to support farmers closer to home.
Daylesford Organic Lamb Leg
The best lamb leg
Specifications
Stockist: Ocado
Weight: 1.5kg
Price: £25
Delightfully tender meat with a deliciously rich and complex flavour that's spectacular without any added embellishments. We simply seasoned with sea salt and drizzled over a little rapeseed oil and the flavour of this lamb blew us away.
Pipers Farm Grass-fed Whole Leg of Lamb
The best for lamb lovers
Specifications
Stockist: Pipers Farm
Weight: 2.5kg
Price: £42.50
This is a grand handsome piece of meat! Pipers Farm is a company with a great ethos who focus on using sustainable farming methods. The texture of the leg was exceptional and super tender. However, the flavour of this one was a little on the strong side for our taste. Ideal for those who really like lamb, this joint is matured slowly so the flavour becomes stronger.
COOK Family Roast Box
The best for a totally stress-free meal
Specifications
Stockist: COOK
Serves: 6
Includes: West Country Lamb with Garlic & Rosemary, Roast Potatoes, Roasted Carrots with Orange & Thyme, Peas & Leeks and Red Wine & Madeira Gravy
Price: £40
Everything was easy peasy. The meal arrives in a box and then can be stored in the freezer. It's then ready in just two hours. So on a whim, you can quickly rustle up a home-cooked feast with a little help from COOK. The lamb is cooked from frozen and boneless so simple to carve. The outside was a little dry, but still utterly delicious.
Best Easter beef joints
No 1 Dry Aged Sirloin of Beef Roasting Joint
Our overall winner
Specifications
Stockist: Waitrose
Weight: 1.4kg (typically)
Price: £41.99
Truly fantastic. The 30-day dry-aged meat is succulent, rich and tender. The seasoning was perfect and the cooking instructions couldn't have been easier, though we recommend cooking for around 22mins per 500g for a proper medium finish. Use a meat thermometer to be certain it's not overcooking!
Pipers Farm Grass Fed Beef Sirloin
Specifications
Stockist: Pipers Farm
Weight: 1.5kg
Price: £57
Oh-so tender and full of flavour, this sirloin is a real treat. We followed the instructions to sear in the pan before oven cooking and this helped give the fat a delicious golden colour. The instructions provided cook the beef to rare, so we would recommend cooking a little longer if you prefer a medium or well-done finish.
Specially Selected British Rib of Beef Joint with Salt & Pepper seasoning
Specifications
Stockist: Aldi (available in store only)
Weight: 0.9 - 2.7kg
Price: £13.99/kg
A real show stopper. This rib of beef will certainly make an impression at your Easter dinner. We added a touch more seasoning but were really impressed with the texture of the meat and the overall flavour. Excellent value for money.
Riverford organic beef roasting joint
Specifications
Stockist: Riverford
Weight: 1kg
Pricce: £18.70
Lean, flavoursome and great value when you take into account this beef is organic and grass-fed. We roasted it as per instructions and were happy with the results. While it's very nice with a simple seasoning of salt, pepper and oil, we think it's worth considering Riverford's tip and cooking this joint as a pot roast, simmered slowly with some wine and seasonal veg.
British Beef Joint with Roast Beef Butter
Specifications
Stockist: M&S
Weight: 760g
Price: £15 or £20 as part of dine-in deal
The butter and juices from this joint are so delicious there's no need for gravy. The cooking instructions were easy but resulted in a medium-well done finish so we'd suggest reducing the time if you prefer your beef pink. You can purchase it on its own or as part of the Dine In Deal For Four which costs £20. It includes one main, three sides and one dessert and helps you create an Easter feast with minimal stress and cooking!
Best Easter vegetarian mains
Higgidy Roasted Sweet Potato & Feta Pie
An Easter champion pie
Specifications
Stockist: Ocado
Serves: 1 (270g)
Price: £3.75
Higgidy are known for their fantastic pies and this one is no exception. It's got a spiced sweet potato filling with spinach and lovely Greek feta all encased in a shortcrust pastry made with seeded spelt - this gives it a delicious nuttiness and a delicate crumb. Topped off with pumpkin seeds and a quinoa crumb - delish!
Roasted Tomato & Red Pepper Galette
The best vegan option
Specifications
Stockist: COOK
Serves: 4 (795g)
Price: £15
A delicious and surprisingly vegan galette which would be special for any celebration or festivity. The roasted red pepper and tomato bring a big kick of flavour and there's also a sticky sweetness thanks to the sweet pepper chutney base. The golden puff pastry case is super flaky and complements the filling perfectly.
Clive's Nut Roast
Wholesome and hearty
Specifications
Stockist: Ocado
Serves: 2 (280g)
Price: £5.25
This felt the most 'nut roasty' of all those that we tried as it held its shape thanks to the crumb, which added a lovely texture to the roast.
Portobello Mushroom Wellington
A wonderfully indulgent choice
Specifications
Stockist: COOK
Serves: 2 (360g)
Price: £10
A vegetarian wellington which really packs a flavour punch. The mushroom filling is herby and substantial and the white wine and garlic cream adds a delightful flavour that goes really well with the crisp and flaky puff pastry.
Sainsbury's Taste the Difference Three Nut and Mushroom Roast
Nuts for this roast
Specifications
Stockist: Sainsburys
Serves: 3 (550g)
Price: £5.50
This dish has a really good flavour that tastes quite festive with the cranberries and the nuts. The cashews make it feel luxurious and the port sauce is a great addition too.
Co-op Gro Mushroom & Spinach Wellington
A veggie option for all to enjoy
Specifications
Stockist: Co-op
Serves: 2
Price: £3.75
We could not believe this was vegan. It was extremely tasty and the mushrooms help to give it a meaty flavour. The pastry was crisp and flavoursome too. This could be enjoyed by meat-eaters, vegetarians and vegans.
Morrisons The Best Layered Vegetable Tart
Layers of flavour
Specifications
Stockist: Morrisons
Serves: 2 (2 x 250g)
Price: £4
Full of flavour with really flaky pastry which cooked well and wasn't soggy on the bottom. The relish-like layer at the bottom added a nice touch of sweetness.
Plant Menu No Chicken Roast
No chicken, lots of flavour
Specifications
Stockist: Aldi
Serves: 4
Price: £3.09
Whilst not the most attractive vegan option out there this was surprisingly tasty. The texture was also appealing - not too spongey and reasonably reminiscent of chicken.
Best Easter desserts
Hot cross bun cheesecake
A twist on a classic
Specifications
Stockist: Iceland
Weight: 475g
Price: £3
This cheesecake is a fantastic novelty dessert that also delivers on flavour. The biscuit base is nice and crunchy and the creamy cheesecake filling is dotted with plump boozy-tasting fruit which helps balance the overall sweetness.
Easter Columba Cake
Traditional Italian bake
Specifications
Stockist: Waitrose
Weight: 750g
Price : £10
If you love panettone you'll adore this traditional Italian Easter cake. The cake is light and airy with delicious pieces of mixed peel dotted throughout. The crunchy topping has a delicious caramelised flavour and the candied whole almonds are divine. We'd recommend serving with an espresso for the perfect end to an Easter feast.
Chocolate & Salted Caramel Pavlova
A decadent treat
Specifications
Stockist: COOK
Weight: 800g
Price: £14
This pavlova delivers all the flavours it promises and would make a wonderful finish to any Easter meal. It arrives frozen with clear instructions on how to prepare it plus tips on how to present it before serving. We would definitely recommend a fresh berry garnish as this helps balance the sweetness of the caramel and cream.
Best Easter drinks
Maison de la Rougerie Brut Crémant de Bordeaux
A 5 star fizz
Specifications
Stockist: Iceland
Volume: 750ml
Price: £8.75
You'll be hard-pressed to find a better fizz for your money than this outstanding crémant from Iceland. We were extremely impressed.
Bio Organic Prosecco, Veneto, Italy
For the organic wine fans
Specifications
Stockist: Northern Wine & Beer
Volume: 750ml
Price: £12.50
An excellent organic prosecco that packs a punch. It feels much stronger than the 11% that it is. You'll definitely feel grown-up when drinking this!
Aldi Veuve Monsigny Champagne Brut NV
The best value Champagne
Specifications
Stockist: Aldi
Volume: 750ml
Price: £12.99
This Aldi Champagne is constantly winning awards and we felt no different - it deserves our Test Kitchen's recognition!
Best hot cross buns
Booths Sultana & Rosemary Hot Cross Buns
The best overall hot cross buns
Specifications
Stocklist: Booths
Pack size: 4 pack
Price: £1.50
These plump buns from Booths are larger than most. They are gorgeously fluffy and not excessively sweet and we were intrigued by the addition of rosemary. When you open the packet the aroma wafts out, reminding us of focaccia. The rosemary adds a delightful subtle hint, almost aroma that lingers on your pallet. It cleverly enhances the flavour of the raisins making these buns taste extra special.
The Best 4 Extra Fruity Hot Cross Buns
The most fruity hot cross buns
Specifications
Stocklist: Morrisons
Pack size: 4 pack
Price: £1.50
Fruity to the max! The Best 4 Extra Fruity Hot Cross Buns from Morrisons were a little denser than some others we tested but were very generously dotted with plump vine fruit. They toasted well and we think are best enjoyed with a wedge of rapidly-melting butter on top. A pleasant subtle spice - just how we like it!
GAIL's Hot Cross Buns
The most like homemade
Specifications
Stocklist: Ocado
Pack size: pack of 2
Price: £3.20
Quite a thick bready texture but perfectly spiced with ginger, these buns are the most flavoursome we have tasted. You could easily pass these off as homemade. Each bun is flecked with pieces of orange and cranberry as well as vine fruit giving these guys a little bit of a festive feel. But don't let that discourage you, we could eat them all year round!
Extremely Chocolatey Hot Cross Buns
The best hot cross bun for a chocolate lover
Specifications
Stocklist: M&S
Pack size: 4 pack
Price: £1.65
They're not lying when they say 'extremely' chocolaty. There is a melty chocolate moment in every mouthful of these gorgeously fluffy buns. Personally, we think they are missing a trick not putting raisins and fruit in as well - but with all that chocolate maybe if it doesn't fit! These certainly taste more like buns, than hot cross buns in their more traditional sense but the kids would love them for sure. And for something a bit different we are sold!
Co-op Irresistible Chocolate Brioche Hot Cross Buns
The best for something different
Specifications
Stocklist: Co-op
Pack size: 4 pack
Price: 2 for £2.50
For another chocolate option, this contender for Co-op is a great pick. They are delicious buns made from a buttery brioche speckled with rich chocolate pieces.