Wonderbra Ultimate Strapless Bra Review: Is it as wonderful as the name suggests?
The Wonderbra Ultimate Strapless Bra is a high-support style that won't slip and slide throughout the day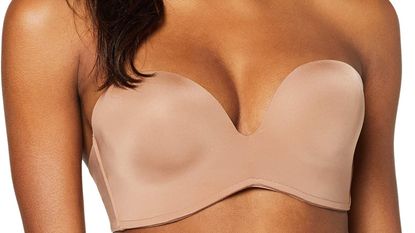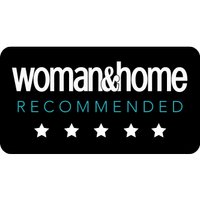 (Image credit: Wonderbra)
Wonderbra Ultimate Strapless Bra creates maximum cleavage with minimum niggling.
Reasons to buy
+

Fully supportive

+

Stays in place well

+

Plunging shape works well with low necklines

+

Creates impressive cleavage
Reasons to avoid
-

Feels slightly restrictive

-

High fit creates pushes the skin around the armpit upwards

-

Can come up small in the back; Wonderbra recommends sizing up on the band
Why you can trust Woman & Home Our expert reviewers spend hours testing and comparing products and services so you can choose the best for you. Find out more about how we test.
Looking for a strapless bra that won't inch down your back as the minutes tick by? The Wonderbra Ultimate Strapless Bra might just be the perfect new addition to your lingerie drawer. We've put it through its paces with real-life testing to give you the confidence you need to take the plunge (pun completely intended).
I have tested a wide range of bras, from dainty triangles to full-on push-up styles, to find the very best bras within each category. I'll be spilling the beans on how comfortable they are to wear, how they look and whether they're worth parting with your hard-earned cash.
Keep scrolling to see if the Wonderbra Ultimate Strapless Bra is the one for you.
First impressions
When I first unpacked my Wonderbra Ultimate Strapless Bra, I was initially worried I'd been sent the wrong size. I have a relatively small bust and it was considerably (if not slightly intimidatingly) bigger than my other bras.
On closer inspection, most of the additional fabric is in the band at the front, which is thick, finishing just over an inch below the bottom of the cups. It's not underwired in the traditional sense, swapping the normally narrow piece of wire for a wider strip of what feels like plastic and I'm told is polycarbonate. This is also built into the cups to form the basis of Wonderbra's unique 'hand support' design, but more on that later.
How comfortable is the Wonderbra Ultimate Strapless Bra?
Wonderbra Ultimate Strapless Bra Specifications
- RRP £40
- Sizes: 30D-38G
- Padded? Yes
- Wired? Yes
- Machine washable? No
- Made in Sri Lanka
As soon as I put the Wonderbra on, I could tell it wasn't going to budge. The tight-fitting back strap and patented silicone dots work in tandem with the structured shape to keep your bust firmly in place.
Although I like this level of spill-proof security (especially handy for avoiding a dancefloor wardrobe malfunction), the intense hold is not 100% comfortable and I did feel relieved to take it off. For me, it would be better suited to an evening out, as opposed to all-day wear for special occasions.
I also found I was standing and sitting much straighter than I normally would when I had the bra on, which, on reflection, is not necessarily a bad thing.
How supportive is the Wonderbra Ultimate Strapless Bra?
The best strapless bras will enhance your bust and boost your cleavage, instead of squishing and minimising, and that's exactly what this does.
Similarly to other strapless styles I've tried, the cup shape is rounded at the top, with the bulk of the heavy lifting coming from beneath the bust. If you wanted to slot it into a neat little types of bra category, I'd say it's closest in style to a balconette bra.
It took a little bit of rearranging to get into the right place (I had to hoick my boobs into the cups), but once I'd mastered it, I was pleasantly surprised by my new-found, well-supported cleavage.
What is the shape and appearance like?
Offering more coverage than your average strapless bra, the top and sides of the cups sit quite high on the chest. This didn't cause any problems when it came to keeping it undetected beneath my clothes (it was still easily camouflaged under a bandeau dress and strappy camisole), but it did contribute to the creation of a slightly unsightly ledge of fat beneath my armpits. The high-fitting style is counterbalanced with a deep plunge in the centre, handy if you're a fan of V-neck blouses or wrap dresses.
The material is comfortably slinky and silky, and created nice smooth lines across my back and chest. The double hook and eye fastening was a big plus for me (most strapless styles have three, to max out on support) and the result was a less bulky, more streamlined shape under clothes.
What are its unique features?
The Wonderbra strapless bra has three unique features:
1. Patented silicone dots
One of the most interesting features of Wonderbra's Ultimate Strapless Bra is the patented silicone dots. The inside of the back strap is completely peppered with these little dots, with a line underneath the bust, too. According to Wonderbra, "the silicone dots are in place to guarantee ultimate comfort, amazing support and to help it stay in place throughout the day and night."
Although the dots are densely packed, you don't get that skin-pulling stickiness that normally comes with a bra with large areas of silicone. They do a brilliant job at stopping the bra from shifting and sliding as soon as you break out into a sweat, too.
2. 'Hand support' design
One of the reasons this strapless bra feels so supportive is the use of a unique 'hand-shaped system', which is moulded into the cups to hold your bust in place.
You can see the outline of this from the inside of the bra, but it's completely invisible from the outside. And although the idea of your boobs being boosted by pieces of polycarbonate (a form of thermoplastic) might sound a little painful, it's completely comfortable to wear.
3. Inclusive shade range
To celebrate 10 years since its launch, and 10 years of being Wonderbra's best-selling style, the bra was relaunched in spring 2020 with a range of inclusive nude shades.
Alongside classic black and ivory, it's now available in five different nudes: deep umber, copper sun, golden sand, desert blush and creamy pearl. On the Wonderbra website, you can see each nude on a model with a similar skin tone, making it easy to work out which one best suits you.
What are the washing instructions?
To keep your Wonderbra Ultimate Strapless Bra as good as new, use the hand wash setting on your machine or take the time to clean your bras in the sink or bath. After you've moulded the padding back into place, leave to dry flat. Remember, it's not suitable for ironing or tumble drying.
Is the Wonderbra Ultimate Strapless Bra good value for money?
When it comes to strapless bras, the Wonderbra is hard to beat, making it worth every penny in our opinion. Priced at £40, it's neither cheap nor too expensive and the luxe fabric lasts well over time.
Is the Wonderbra Ultimate Strapless Bra true to size?
The Wonderbra is a little bit of an enigma. On first glance, it looks too big, but when you put it on, it feels a little small. I would say it comes up true to size, but if you're not used to the fit of a strapless bra it may feel a little tight.
What else is in the Wonderbra Strapless range?
A spin-off of the original Wonderbra Ultimate Strapless Bra, the Refined Glamour collection ticks all the boxes for a sexier take on traditionally functional lingerie.
Designed to be seen, it features the same shape as the original, with the addition of a lace overlay. As a result it's not as easily camouflaged under clothes, but looks far prettier if seen. The only downside is that the shade range is more limited, with just black and ivory on offer.
Although on paper the fit is the same, I found the Refined Glamour version slightly less comfortable, as the fabric is slightly rougher and digs in a little more at the top of the cups. But for an attractive bra with plenty of support, it's hard to beat.
Jess Beech is an experienced fashion and beauty editor, with more than eight years experience in the publishing industry. She has written for woman&home, GoodtoKnow, Now, Woman, Woman's Weekly, Woman's Own and Chat, and is a former Deputy Fashion & Beauty Editor at Future PLC. A beauty obsessive, Jess has tried everything from cryotherapy to chemical peels (minus the Samantha in Sex and The City-worthy redness) and interviewed experts including Jo Malone and Trinny Woodall.