We earn a commission for products purchased through some links in this article.
Just like our other favourite Good Morning Britain presenter Susanna Reid, Kate Garraway's outfits regularly catch our eye.
Kate shares the same stylist as Susanna, Debbie Harper, and we love her smart, stylish and super flattering sense of fashion.
It's not just because Kate always looks great, which is impressive given the team's early morning starts, that we love her style. Her clothes are always very affordable, making it easier than ever to copy her look.
Warehouse, Next, ASOS, Marks & Spencer, Topshop and Dorothy Perkins are just a few of the high street stores Kate often sports clothes from.
Rarely spotted without a sleeve, all women should take note of Kate's flattering wardrobe. Plus, we love that she is not afraid to be bold with her style either.
Kate often wears a bold block colour or statement print and it helps give us confidence that these looks actually work. There is nothing like seeing a dress off the hanger and on an actual person to help make your mind up on it.
Kate brings to our attention items that we might flick past on the rail, or scroll over online. And we cannot thank her enough for it!
Phase Eight Fern Embroidered Dress worn 10 November Today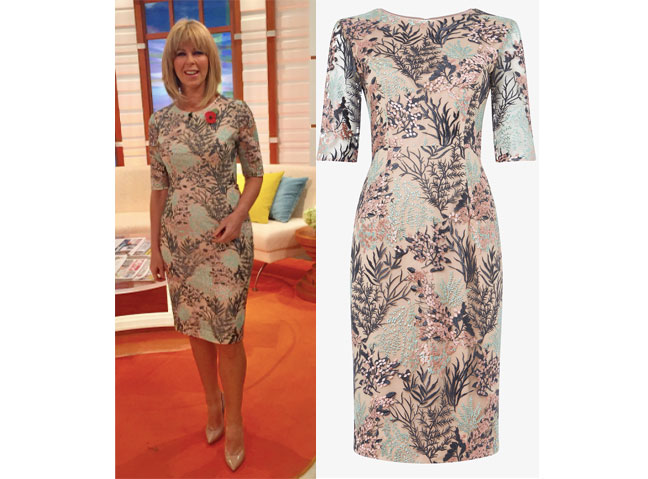 Kate's dress comes with an added bonus, as it has now gone on sale!
The pretty embroidered number from Phase Eight is down to £120 from £160. While it might not be one of her cheapest items, it is a very reasonable and affordable piece of occasion wear.
Buy now from Phase Eight for £120
You could wear this dress all through the festive season for Christmas parties and decadent dinners. It would also look lovely at a wedding and the pastel colours mean you could even pull it out again near spring or summer!
The ¾ sleeve is very flattering and the classic round neckline offers a simple elegant finish. The dress is fully lined which will help to smooth over and flatter your silhouette.
Are you tempted to follow in Kate's footsteps and invest? We certainly are…