Marks and Spencer's dress of the week is proving very popular with customers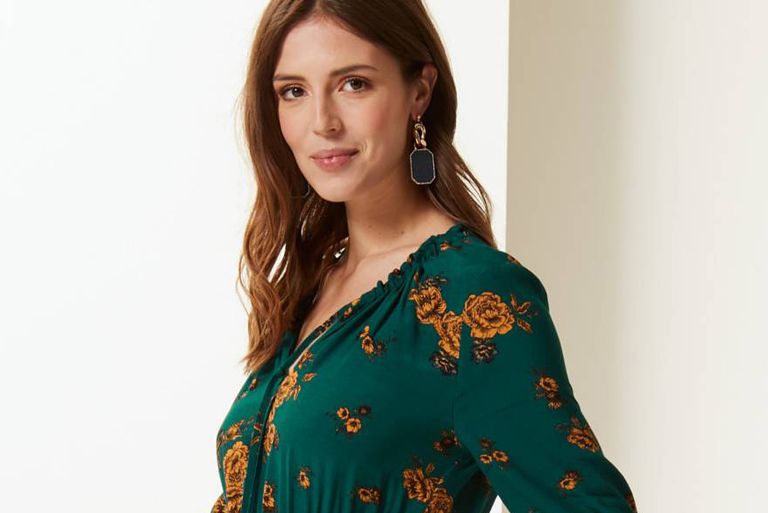 By Amy Hunt
It's official - Marks & Spencer have done it again.
Following the launch of their hugely successful range with Holly Willoughby, the retailer has launched a brand new dress perfect for autumn - and it's proving very popular with their fans.
Posting on their Instagram just a few days ago, M&S unveiled their 'dress of the week' - a new floral print midi dress.
And the gorgeous, forest-green fashion item proved to be a hit, with many Marks & Spencer customers sharing their thoughts on it in the comments section.
The midi dress, adorned with sweet yellow flowers, attracted a wave of positive attention, with many eager to get their hands on it. One customer said, 'I need this!! 😍😍🙌🏽'
While another wrote on the photo, 'Love winter florals 📷💛🍁'. Another keen shopper revealed that they'd already got their hands on the dress, saying 'I ordered it this afternoon. Such a beautiful dress.'
And a fourth fan said, 'Love this one. I'd like to wear for this weekend Lol❤️'. We have to agree!
The elegant but casual dress is ideal for the chiller months, winning points in our books for such a cosy, autumn design. It would also look equally fabulous worn with boots, sandals, or heels - making it the perfect option for any occasion.
Marks & Spencer have also revealed that the dress comes with a stretchy waistband - meaning it'll definitely come in handy as the festive season rolls around!
However, some customers have noted that the dress doesn't come in short or petite sizing, so it could be tricky to style if you are slightly shorter than average.
Buy Marks & Spencer floral print tea midi dress here, £55
The M&S tea dress is perhaps on the more expensive side of the high-street, selling for £55 on their website. But the dress is actually an online exclusive, making it a more unique addition to your wardrobe if you did decide to treat yourself.
Plus, we reckon this dress will work all year round - making it a rather affordable investment piece in our eyes!
The dress is currently available in all sizes bar a 24, but we guess that it won't stay that way for long. So if you want it for yourself, head to the Marks & Spencer website - and fast!