The best lingerie on Amazon to shop in 2023
The 22 best lingerie on Amazon to add to basket now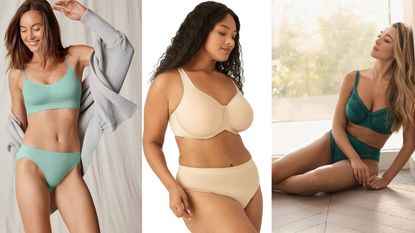 (Image credit: Jockey, Wacoal, Fantasie)
It's unexpected we know, but you can find some of the best lingerie on Amazon. Not just amazing for essentials, the shopping hub has collated a strong fashion and lingerie department to cater to all styles, fits, and needs. All at the click of a button, making shopping that little bit easier.
Lingerie shopping can be a daunting and generally tricky task; finding a style you like, getting the right size, trying it on, it's a marathon in itself. So why not make life easy for yourself and have it delivered straight to your door? For the Amazon Prime members among us, that could mean the next day and with no extra cost; be sure to look out for those Fashion Prime day deals too for big discounts.
When it comes to the best lingerie on Amazon, the collated range is so extensive with something to suit every shape, style and taste, with some of the best lingerie for women to be had on there. As founder of the Lingerie Addict, Cora Harrington says, "When I ran The Lingerie Addict, I often recommended Amazon as a resource for lingerie shoppers. The reasons are two-fold. One, they have an extensive range of brands - everything from daily wear to luxury - at a wide variety of price points. Second, they have an incredible return policy, and, as we know, figuring out your size for lingerie can be quite difficult."
22 best lingerie on Amazon to shop right now - stylish, great fits and convenient shopping
With a recent boom in Amazon sellers, it's now even easier to find great products with quick delivery. Amazon is great for finding brands you may never have heard of before and its customer ratings and comments are ideal for finding out what the product is really like. With easy-to-use filters, you can quickly locate top-rated pieces in no time at all, whatever your bra or your budget. Whether you're looking for the best strapless bras, the best t-shirt bras or even the best bralettes, Amazon has you covered.
1. Panache Imogen Balconnet Underwire Bra
Specifications
RRP: $31.58-$70.00 / £24.0 -£77.66
Sizes: US: 30D-38K / UK: 30D-38JJ
Fabric Composition: 85% Polyamide, 15% Elastane
Reasons to buy
+
Good support for bigger busts
+
Good range of colors
+
Feminine design
Global award-winning lingerie brand Panache knows its stuff when it comes to the best bras for large busts. Aimed at woman wearing D+ bras, its been designing lingerie for nearly 40 years and know how to marry good design and technical ability with competitive prices. The balconette underwired bra offers great support for fuller busts without compromising on style. We love this 'garnet pink' shade which ushers spring in beautifully, but it also comes in a cornflower blue, for those looking for something a little icier in tone.
While the larger bra market used to suffer due to lack of choice and fashionability, Panache has certainly helped to feel that void, with one customer stating "Finding bras in my size is just not easy let alone them also being very attractive! I would give 50 stars if I could for this bra!".
With free two-day shipping with Prime with no minimum spend, or free next day for Prime members and free returns, you'd better get in quick as this style sells out fast.
---
2. DKNY Superior Lace Romper Teddy
Specifications
RRP: $51.35-53.06 / £34.38 - £37.55
Sizes: US: S-XL / UK: S-XL
Fabric Composition: 86% Nylon, 14% Elastane
Reasons to buy
+
Looks premium
+
Designer Label
+
Coverage over cups
Elevate your underwear drawer with this sexy lace romper. From one of the best American clothing brands, this DKNY lace teddy is an absolute find. Available in two colorways, black and a pretty dusky pink shade, the mesh-lined cups give just enough coverage, while the adjustable straps allow you to get your ideal fit.
This style has free delivery and free returns making it the perfect choice for trying before you commit. One shopper claims it to be the "best teddy ever!!!! So comfortable, love to sleep in this."
Some of the best lingerie on Amazon, this teddy is too good to be kept hidden in our opinion; we'd dress the black style up for the evening with high-waisted, tailored pants and an oversized blazer to get double the wear from it.
---
3. Hanky Panky Daily Lace French Brief
Specifications
RRP: $22.50-$28.50
Sizes: US: XS-XL
Fabric Composition: 85% Nylon 15% Spandex
Reasons to buy
+
Good color choices
+
5-star rating
You may already know Hanky Panky for its well-regarded 'Signature' undies. The popular US label was founded in 1977 and by the mid-eighties it had reached cult status after introducing its signature lace thong - one of which sells globally every 10 seconds.
When it comes to finding the right lingerie, the Hanky Panky Design Team suggests, "Look for garments that can be worn in many different ways and for many different occasions. As modern women, we never know what the day holds. We love to pair our bralettes or camis with a sheer top to make your special intimates a bit more visible; when you love a piece so much, it's a shame to always hide it!"
Its 'Daily French Briefs' are some of the best underwear for women and with 11 shades to choose from you can turn your lingerie drawer into a rainbow of color. The high-rise cut elongates your leg and the mid-rise sits just below your waist for maximum comfort. And when it comes to the best lingerie on Amazon, these panties currently have a rating of 5 stars. Sadly in one size only - which according to the size guide accommodates US sizes 2-12, we're crossing our fingers for more inclusive sizing in the future.
---
4. Wolford Belle Fleur Adjustable Triangle Neck Wirefree Bra
Specifications
RRP: $17.76-$32.53 / £17.88-£65.52
Sizes: US: XS-XL / UK: XS-XL
Fabric Composition: 92% Polyamide, 8% Elastane
Reasons to buy
+
Good for small busts
+
Looks premium
Wolford is best known for producing hosiery, the company began in 1950 in Austria and quickly became popular for its high-quality tights. It developed the first pair of transparent and elastic tights in 1969 and some of its designs from the '80s remain bestsellers today. Now producing clothing and lingerie too, it's determined to manufacture to the strictest ecological and socially sustainable standards. Wolford designs to make women feel confident and elegant whether it's for everyday wear or a special occasion.
This wire-free triangle bra is such a pretty option for those looking for the best bras for smaller busts. Made from a pretty, scalloped lace, the cups are lined with tulle in a neutral color. Available in red or black, we love this style for showing off under a sheer top or shirt. If you're looking for a simple, elegant bra to sit under strappy dresses then look no further.
---
5. b.tempt'd Lace Kiss Chemise
Specifications
RRP: $14.99-$41.00 / £19.95-£36.31
Sizes: US: S-XL / UK: S-XL
Fabric Composition: 100% Nylon, Crotch Lining 100% Cotton
Reasons to buy
+
Extensive range of colours
+
Coordinating pants available
+
Free returns
Have you considered a chemise? The name alone makes you sound like you know your stuff when it comes to French lingerie brands. This pretty, lace design has a good amount of stretch in it making it super comfy for wearing under your best dresses as a slip or on its own as one of the best nightgowns. Lingerie brand Wacoal originated in Japan in 1949, but its popularity in the lingerie market quickly grew. Now sold in more than 30 countries, Wacoal understands one size doesn't fit all. Catering from an A to a K cup and back sizes 28 to 48, it truly is an inclusive brand. If this soft grey shade doesn't appeal, there are 26 more colors to choose from so you're bound to find a hue that's right for you.
---
6. Savage X Fenty Back to the Boudoir Balconette Bra
Specifications
RRP: $54 / £55.96-£60.14
Sizes: US: 32A-44G / UK: 32A-44G
Fabric Composition: 92% Nylon, 8% Elastane
Reasons to buy
+
Good selection of sizes
+
Free returns
One of the newest brands on the block with just 5 years under its belt, Savage X Fenty was founded by Rihanna and began as an online-only brand. Within a month of launching, with the help of Rihanna's Instagram account, the whole debut collection had sold out and it's now one of the best lingerie brands on Amazon. With nearly 270 pieces of Savage X lingerie items to choose from on Amazon alone, it's a great place to find the piece for you, using Amazon's super-easy filters.
Most styles offer free fast delivery and returns and some have Amazon's 'Try Before You Buy' scheme where you have seven days to try the items at home and then you're only charged for the items you keep. This scheme is ideal when it comes to lingerie shopping where trying on is essential.
As US artist and Amazon lingerie customer Katrina Eugenia describes it, "Three words: returnable, affordable, range. We all love Amazon for their easy returns, fabulous prices and most of all, the fact that it seemingly offers the widest range of searchable products on the planet".
---
7. Vanity Fair Full Figure Beauty Back Smoothing Bra
Specifications
RRP: $25 / £8.15-£86.00
Sizes: US: 36C-42H / UK: 36C-42H
Fabric Composition: 78% Polyamide, 22% Elastane
Reasons to buy
+
Huge color choice
+
Option of wired or under-wired
+
No 1. Best seller on Amazon
At the top of the ranking board for everyday bras is this Vanity Fair back smoothing bra. Rated by over 47,000 customers, this bra comes out top as the best recommended for an everyday bra and is one of the best bras for back fat. The choices for this bra are huge, it comes in 43 different colors, you can have it wired or under-wired, and in cup sizes from 36C to 42H just to name a few.
Because of tricky sizing, it's a great idea to find the bras you like in-store and then check to see if they're one of the many lingerie brands sold on Amazon, once you know your size and style. One shopper states, "I was so happy to find this could be purchased on Amazon."
Trying on in the comfort of your own home is a lot less hassle than hitting the shops.
---
8. Jockey Seamfree Cami Strap Bralette
Specifications
RRP: $28 / £32.72-£75.05
Sizes: US: XS-XXL / UK: XS-XL
Fabric Composition: 95% Nylon, 5% Elastane
Reasons to buy
+
Removable padding
+
Good colour choice
+
Machine wash
Jockey has a deep-rooted history that dates back to the late '80s. Known for providing comfortable underwear, sleepwear and sportswear for all the family, the Jockey bralettes are some of the best bralettes for smaller busts. The soft seam free microfibre material makes it super comfortable to wear, one buyer even claims "It feels like you aren't even wearing a bra!"
There's removable padding so you can have the option of creating a fuller shape should you so wish, and it is fully machine washable and tumble-dry proof making its care instructions a dream. We love this sage mint hue for a dose of dopamine dressing, just in time for spring, but if green isn't your thing then there are 13 other shades to pick from.
The straps are adjustable so you can get just the right support if you're planning on wearing it for low-impact activities such as yoga or pilates. This style would look great just peeking out from a low buttoned white shirt, worn with baggy tailored pants and a pair of cool trainers.
---
9. Calvin Klein Modern Cotton Bralette and Bikini Set
Specifications
RRP: $39.97-$47.60 (sold in set US only)
Sizes: US: XS-XL / UK: XS-XL
Fabric Composition: 53% Cotton, 35% Modal, 12% Elastane
Reasons to buy
+
Timeless classic
+
Designer label
+
Machine Wash
It was underwear, and of course, denim, that put fashion brand, Calvin Klein firmly on the map in the late eighties (remember the Mark Wahlberg ads?) You know you're buying into quality and durability when you buy Calvin Klein's lingerie and there's a reason why its underwear is still popular 35 years on.
This cotton bralette and brief set calls for some weekend lounging action, and it will look and feel great slipped on under your best joggers for some ultimate r&r. One of the most comfortable bras, the bralette is unlined and has zero padding with the idea that it maintains your natural shape. The racerback offers a sporty aesthetic but this top would only be suitable for very low-impact sports.
There are 14 colors to choose from, although grey and black offer the most timeless feel, however, if you're looking for a more fashion-forward set, try the contrast band styles, that utilize two colors. We'd recommend this style for smaller busted women, as it's not sold as separates, you sadly can't get that custom fit so avoid purchasing the set if you're not a uniform size on the top and bottom. Although these pieces are available individually on Amazon too.
It's not the cheapest lingerie on Amazon, but you are paying for a designer label, however, making use of the free delivery and returns through Amazon is an added bonus.
---
10. Victoria's Secret Wicked Unlined Lace-Up Teddy
Specifications
RRP: $79.95 / £83.50-£84.22
Sizes: US: XS-XL / UK: XS-XL
Fabric Composition: 59% Recycled Polyamide 22% Polyamide 19% Elastane
Reasons to buy
+
Premium item
+
Free returns
This heritage lingerie brand is one of the most well-known in the world, and thanks to the best lingerie on Amazon, you can try on Victoria's Secret from the comfort of your own home. With free returns, you can make the landing your own runway, picking up stylish pieces at competitive price points, and this lace teddy certainly is a showstopper. The under-wiring offers bust support, while the super high cut brief makes legs go on for days. The cut-out back provides an extra feature to show off some skin.
We love the silky lace tie detail at the front, if you feel shy when buying racier pieces like this in-store, getting them from Amazon is the best way. No one need to know what's in that brown parcel or your porch except for you.
---
11. Curvy Couture Plus Size Sheer Mesh Plunge T-Shirt Bra
Specifications
RRP: $31.68-$42.00 / £41.05-£50.92
Sizes: US: 34DD-46H / UK: 34DD-46E
Fabric Composition: 88% Nylon, 12% Spandex
Reasons to buy
+
New season color
+
Good for plus size
+
Reinforced side boning
Curvy Couture is a female-owned US company on a mission to boost curvy figures both in body and their minds. Founder Evora Russell brings 15 years of plus-size intimate apparel expertise to the business so knows her stuff when it comes to plus-size lingerie. Digital Lavender was named WGSN's Color of the Year 2023 and we love this set, as it taps into the fashion color trends for a new season feel.
Some of the best lingerie on Amazon, this Curvy Couture set has super quick delivery for Prime members and free returns back to Amazon. For context, if you were buying directly from the website, you'd need to spend over $100 to qualify for free delivery. There are 11 colors to choose from, and we love the mesh fabric which feels bang up to-date. One buyer describes them as "Sexy, comfortable, breathable", what more could you want?
---
12. Bali Lace 'N Smooth Shapewear Body Shaper
Specifications
RRP: $27.43-$42.00 / £30.13-£44.71
Sizes: US: 34B-40DD / UK: 34B-40D
Fabric Composition: 72% Nylon, 28% Spandex
Reasons to buy
+
Free returns on selected sizes
+
Lycra spandex provides hold
+
Feminie lace shapewear
Reasons to avoid
-
Not ideal for sheer styles
Bali is one of the leading intimate apparel brands in US department stores. They offer a range of bras, panties and shapewear. This lace shapewear piece offers breathable comfort and a smoothing effect but also has lined cups and an underwire feature for added support and coverage - the best shapewear for wearing under any outfit. The sizing works for a range of different cup sizes and has adjustable straps for that personalized fit.
If you're looking for a pretty and more feminine item of shapewear, this is a great option, it comes in black, nude, and white and gives that added level of coverage if you want midriff coverage. Amazon has this piece discounted to a great level and when you factor in the free delivery aspect, you're going to be saving. With over 9000 ratings, customers couldn't rate it highly enough, one buyer describes it as a "Great undergarment that slims & smooths. Love it."
---
13. Fleur Du Mal Velvet Lily Embroidery Demi Bra
Specifications
RRP: $158 (US only)
Sizes: 32C-36DD
Fabric Composition: 100% Polyester, 85% Polyamide, 15% Elastane | Trim: 92% Silk, 8% Elastane
Reasons to buy
+
Premium item
+
Looks expensive
If you're looking for a sexy number for a special occasion, then Fleur du Mal is a good brand to check out. Its delicate, lace designs ooze glamour and sophistication and have a strong sense of femininity to them. The romantic French lace has a vintage feel which makes the brand a strong customer favorite.
This Lily Bra is a work of art in itself, with embroidered velvet cut-outs, sheer mesh and silk trim, it's bound to be at the top of many wish lists, although as a premium style, it carries a premium price tag. This brand is relatively new to Amazon, only joining the multi-retail platform last year but we guarantee its styles will be snapped up in no time.
---
14. Shaperx Sculpting Bodysuit Tummy Control Shapewear
Specifications
RRP: $37.99 / £32.99
Sizes: US: XXS-5XL / UK: XXS-5XL
Fabric Composition: 77% nylon, 23% spandex
Reasons to buy
+
No1 Best seller in Shapewear
+
Free Returns
+
Goes up to a 5XL
+
7 skintone shades
Shaperx is the go-to for shapewear when it comes to the best lingerie on Amazon. For affordable styles that do what they're supposed to, Shaperx have you sorted. This bodysuit has tummy control sculpting technology to hold you in and give you a contoured fit under clothing. Available in three different cuts; thong, brief and mid-thigh, you can choose the cut you like, and the type of body shaper that suits your needs for a given look. The seamless design holds in your core, lifts your chest, and smooths your abdomen to enhance your body's natural shape. Crafted in super-stretchy fabric, which looks small when you first get it but once on, it holds you in at the right places. The breast area is made of breathable mesh material to make it comfortable for all-day wear. Available up to a size 5XL it is also some of the best plus size shapewear on Amazon.
This product is the No.1 Best seller in women's shapewear. Customers are singing its praises in the reviews, saying "this bodysuit is incredible. I love it!" and, "this will be my go-to shapewear under dresses!"
Lots of shoppers comment on how it holds you in, in the right places but doesn't flatten your chest area which some shapewear items do. Free returns and excellent reviews make this one worth checking out.
---
15. Simone Perele Delice Sheer Plunge Bra
Specifications
RRP: $28.14-$53.45 / £49.64-£67.26
Sizes: US: 30D-42E / UK: 30D-42DD
Fabric Composition: 70% Nylon, 19% Elastane, 11% Polyester
Reasons to buy
+
6 luxe looking colorways
+
Premium item
+
Good for low cut tops and dresses
Reasons to avoid
-
Hand wash only, not as convenient care
This is definitely a bra that conforms to both comfort and style, the elegant embroidery and mesh fabric fit in all the right places whilst still looking super sexy. This style goes up to a G cup and although at a higher price point, you definitely have the guaranteed quality.
Simone Perele is one of the best-known French lingerie brands. For over 65 years the French design house has produced some of the most beautiful lingerie that exudes French glamour. As a talented corset maker, Simone wanted to show off a woman's natural shape without sacrificing on comfort. With global success, that unmistakable Parisian touch can be delivered straight to your door all thanks to Amazon. One of the best plunge bras, this design would be ideal for low-cut tops and dresses. The classic black hue looks chic but if you want something a bit different there are five other colors; check out the mango and olive green for a fresh spring twist.
---
16. Warner's No Side Effects Underarm-Smoothing T-Shirt Bra
Specifications
RRP: $20.50-$37.96 / £31.22-£52.81
Sizes: US: 30A-48D / UK: 34B-42C
Fabric Composition: 78% Nylon, 22% Elastane
Reasons to buy
+
Great everyday bra
+
Holds in sides
+
Firm support
+
Machine wash
Warner's is well known in the US for its everyday lingerie. Providing simple solutions to all your lingerie needs along with great fit and affordable prices. Its 'No Side Effects' bra is designed for comfort, while the extra coverage panels and elastic free sides give added support and hold to smooth out under your arms and around the sides of your back.
At around the $30 mark, you're guaranteed a simple yet stylish bra. There are 12 colorways for this particular style so if you find it's a good fit for you, you can expand your collection. There is free delivery and an extra speedy option, returns are free and there are great discounts to be had when buying this bra from Amazon.
With a staggering, almost 20,500 ratings averaging at 4.3 out of 5, one customer says "Did an Amazon-purchased bra just fit better than many an expensive underwire I've bought in ages? Umm yes!" proving the best lingerie on Amazon can rival classic retail environments.
---
17. Only Hearts Whisper Sweet Nothings Coucou Bodysuit
Specifications
RRP: $121.95 (US only)
Sizes: US: S-XL
Fabric Composition: 88% Nylon, 12% Spandex
Reasons to buy
+
Striking color
+
Premium item
+
Adjustable straps
If you're looking for something a bit sexy and special then Only Hearts at Amazon is a good place to start. Describing its lingerie as "inner outerwear" many styles can be worked into an outfit for evening or daywear. Sheer is set to be a huge fashion trend 2023 so investing in pieces like this bodysuit means you'll get your cost-per-wear by the end of the season. We'd style this bodysuit as part of a color clash ensemble with a trending bubble-gum pink blazer and pants for that peekaboo look.
This bodysuit comes in black and red, with free delivery and returns. It's definitely at the higher end in terms of price point but if you're in the market for something luxurious then this is the piece for you.
---
18. Wacoal Basic Beauty Contour T-Shirt Bra
Specifications
RRP: $35.97-$65.00 / £7.19-£39.13
Sizes: US: 30D-46DDD / UK: 30C-44E
Fabric Composition: 85% Polyester, 15% Spandex
Reasons to buy
+
Good colorway choice
+
Lightweight
+
Good for plus size
If you're looking for one of the top bras for back fat, look no further. Its wide back band holds you in, preventing any overspill and the smooth seams soften the edges to create a seam-free-looking silhouette under clothes. Buyers of this style say they feel "more supported" and it had "really great support" - ensuring that you're buying into a great fitting bra.
This bra comes in 26 different colors and many buyers comment on how it softens further after a few washes. Most bras lose a bit of elasticity over time, so buying one with a bit more structure at the outset helps with longevity. The smooth cups make it a perfect choice for wearing under tops and blouses as an everyday bra. With nearly 5000 global ratings on Amazon and nearly 70% of those delivering 5-stars, this bra is definitely one to look into.
---
19. Eberjey Mariana The Dreamer Teddy
Specifications
RRP: $128 / £237.98
Sizes: US: XS-L / UK: XS-L
Fabric Composition: 5% elastane
Reasons to buy
+
Easy returns
+
Vintage feel
Named after the Nigerian word for joy, Eberjey is all about flattering, feel-good lingerie. For the past 25 years, Eberjey has created designs that are both comfortable and feminine. Amazon has a vast range of styles from Eberjey to choose from, with everything from lingerie to sleepwear and beachwear. With a higher price point, it's a good idea to check out Amazon as there are often great deals to be had.
This teddy is available in black or white and there's the option of free returns if you're not entirely satisfied. An all-in-one style is a great swap for a luxury pajama set in the summer, delivering a sexy style that is still practical in the evening. The romantic, fanned lace design makes it premium-level lingerie and would be a welcome addition to any underwear collection. What's more, it's not available on Eberjey's website so Amazon is the place to snap this up.
---
20. Cosabella Say Never Curvy Sweetie Bralette
Specifications
RRP: $45.01-$75 / £30.46-£38.86
Sizes: US: XXS-XL / UK: XXS-XL
Fabric Composition: 93% Polyamide, 7% Elastane
Reasons to buy
+
Huge choice in color
+
Designed for DD cups and up
+
Adjustable straps
Cosabella is Italian for "Beautiful thing", founded by husband and wife duo in Italy in 1983 its one of the Italian lingerie brands that's worth keeping on your radar. There's something sophisticated about navy lingerie, the midnight blue shade has a feeling of luxury about it and is a welcome change to traditional black.
This longline bra has an elastic band under the cups to hold it in place, it is designed for smaller frames with larger breasts, sizing from DD upwards. Many brands presume the bigger the cup size, the larger the back measurement but not everyone fits this mold. Cosabella provides comfortable styles for petite big busted women. Buyers say it offers the same support as a wired style but has the added benefit of more comfort. One says "Cups are large and supportive. Probably one of the best bralettes out there in terms of support. Also very comfortable but firmly hugging".
---
21. Chantelle Magnifique Seamless Unlined Minimizer Bra
Specifications
RRP: $73.00-$78.00 / £48.38
Sizes: US: 32D-44F / 32F-44E
Fabric Composition: Cup 76% Nylon, 24% Spandex. Back 71% Nylon, 29% Spandex
Reasons to buy
+
Higher price point for an everyday bra
+
Good color choices
+
Good for large busts
If you're looking a bra for larger busts, Chantelle's Seamless Minimizer will answer all your big bust prayers. Designed for all-day comfort, this bra is light and seamless to create a natural-looking fit. Buyers rave about it, "I have never worn a better bra. Due to my large bust size, I have never been able to find a smooth, t-shirt bra that flatters and fits. This bra is well worth the price in gold."
Chantelle has expertise in the lingerie game dating back to 1876. Its robust technology makes some of the most comfortable bras out there. In this style in particular, there are a whopping 13 colors to choose from and a cup range up to an I making them idea for those with fuller busts.
---
22. Playtex Love My Curves Underwire Bra
Specifications
RRP: $16.99-$19.99 / £20.28-£64.00
Sizes: US: 32C-38DDD / UK: 32C-44E
Fabric Composition: Cup: 76% Nylon, 24% Spandex; Back: 71% Nylon, 29% Spandex
Reasons to buy
+
Free returns
+
Great price point
+
Looks premium
Playtex is great for curvy women. With a vast range of sizes in its underwear, it offers inclusive sizing with plenty of style. We love this scalloped trim lace bra from the brand's 'Love my Curves' range. It comes with fast, free shipping and free returns if it isn't right for whatever reason making it a great choice to buy from Amazon.
One buyer found she loved the Playtex style but couldn't find any in stores, she goes on "I had purchased the first bra from a department store while on clearance. I couldn't find another. I had written down the model number, etc. after I purchased it. On a whim, I put the model number on Amazon, and there it was. And at a very good price!". If you're looking for your favorite lingerie finds that have gone out of stock elsewhere, Amazon often has a wealth of older styles (as well as new), so it is always a good place to try.
Anna Woodham is a well-established stylist with nearly 20 years of experience under her fashionably tied belt. She has styled numerous celebrities such as Amanda Holden, Holly Willoughby and Claudia Winkleman to name a few and has endured a very tense moment interviewing Kim Kardashian during which her dictaphone decided to cease working!
Anna has worked for titles such as Stella, Grazia Middle East, The Telegraph Magazine, YOU magazine and was formerly Fashion Editor at S magazine. Anna also writes a blog called The Mothershop; a curated edit of the best maternity wear on the market.