Why we are the best-looking 40, 50, 60 & 70 somethings who have ever lived | Allison Pearson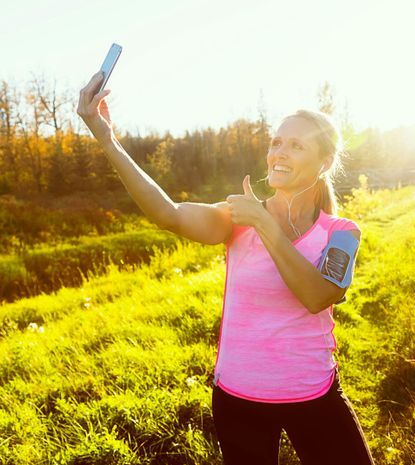 (Image credit: Shutterstock/Rex)
woman&home newsletter
Sign up to our free daily email for the latest royal and entertainment news, interesting opinion, expert advice on styling and beauty trends, and no-nonsense guides to the health and wellness questions you want answered.
Thank you for signing up to . You will receive a verification email shortly.
There was a problem. Please refresh the page and try again.
woman&home columnist, Allison Pearson, on why this is the best time to be a middle-aged woman...
My daughter just turned 23 and she's beautiful. OK, I'm biased, obviously, but so much that we call beauty comes as a free gift with youth. When Evie complains that her bum is too low-slung to look right in jeans, I see an enviably pert backside that fills out denim a treat.
When she laments the fact that she's short (actually, she's the national average height for women), I quote my own mother, "Good things come in small packages." Can she not even take pleasure in her huge hazel eyes? Nope. Don't be ridiculous, Mum! Her eyes are "hooded", apparently, or so she informed me the other day.
It never stops, does it, this business of young women finding fault with their adorable selves? Matters are made even worse today with girls living 24/7 in that warped Hall of Mirrors they call social media. (If you ask me, Instagram was invented by some Dick Dastardly misogynist specifically to undermine female confidence.) I think back to being Evie's age, when I had a 24-inch waist that I hid inside voluminous garments like a Laura Ashley floral pinafore dress, which would have looked a little roomy on someone in their third trimester with triplets. Seriously, what was I thinking? Dressing like an Amish Sunday school teacher when I had a figure that could have posed on the bonnet of Starsky and Hutch's red-with-a-white-stripe car?
If I'd known then what I know now, I'd have spent hours admiring my svelteness in the mirror. Instead of having a "Cyclists Against the Bomb" badge pinned to my dungarees, I'd have had a T-shirt printed with the legend, "24-inch waist!". And worn it over hotpants and a pair of white wet-look boots to show off my non-crepey, toned thighs. I couldn't know that, 30 years later, I would be nostalgic for a body that I took completely for granted.
The one gift we can't give our anxious daughters is a sense of perspective. Only time can do that. And this is where we score. Those of us with a few decades of life under our belt are finally able to start relishing what's right about us rather than what's wrong.
My friends are all in their late-forties, fifties and sixties, with one just about to turn 70, and I can say with total confidence that we are the best-looking forty-, fifty-, sixty- and seventy-somethings who ever lived. Yes, really. If you don't believe me, try picturing your grandmother at the age you are now. Chances are you are thinking of an old lady with a snowy perm, dentures and a mysterious sideline in crocheting dollies to cover toilet rolls.
Now look at yourself in the mirror. Not only do you have your own teeth, your hair is probably highlighted or cut in a flattering style. Regular visits to the gym, 10,000 steps a day, a busy job or simply running around after grandchildren and the biggest kids of all (er, husbands) keep you pretty fit. Oestrogen gel and progesterone tablets (freely available from the GP) mean that you still have a Tigger, if not quite a tiger, in your tank. Retinol A irons out the worst of the wrinkles while fish oil makes you glow.
You have a pared-down wardrobe containing clothes that actually suit you. (Like me, you have donated the When I Weigh 9st 7lb Again garments to the charity shop.) Marvellous friends have either survived or tragically succumbed to cancer, so you know for a fact that hours spent fretting about the kangaroo pouch where your flat stomach used to be are hours stupidly wasted. Chances are, you are much too busy planning a spa break or taking on new responsibilities, either voluntary or paid, to crochet any dollies. Your toilet rolls are out and proud. The concept of ageing has changed vastly in the past half century, and so have we.
The fact is, ladies, this is the best time in history to be a middle-aged woman. Leila Gerstein, the award-winning TV producer, who is adapting How Hard Can It Be?, my novel about a menopausal mother, for an American network series, said, "It's about making the invisible woman visible." I love that. It feels exactly right. Invisibility, for so long the fate of the female over 40, is being challenged in every walk of life, from TV drama to big business. When David Dimbleby stepped down from BBC One's Question Time, he was not automatically replaced, as he once would have been, by another silverback male, but by Fiona Bruce, 54 years old and at the peak of her powers.
Instead of envying my daughter's youth, I feel lucky that, at long last, I have the confidence I sorely lacked at her age. The best thing we can do for our girls is to age fabulously and to hold our heads up high (also a good way to combat a double chin). Three cheers as the invisible woman shows her hidden strength and, yes, her beauty.