This woman has launched a beauty brand for menopausal women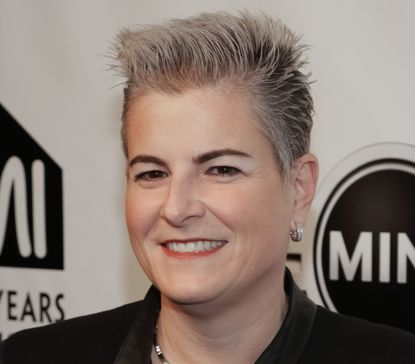 (Image credit: FilmMagic)
Rochelle Weitzner was inspired to create a beauty range for menopausal women after she experienced her first hot flush, confessing that she felt like her life was over.
The former CFO of Laura Mercier Cosmetics was amazed to find that there were no products available to help relieve her symptoms. 'It was as if the whole topic of menopause was forbidden,' she told BeautyMatter.
MORE:The LadyCare Menopause Magnet: what actually is the LadyCare menopause magnet, and does it actually work?
So she decided to create her own beauty brand aimed at menopausal women. Pause Well-Aging launched in the USA this week. Luckily for us, it's also expected to arrive on Amazon shortly. The range includes three products: a fascia-stimulating tool to boost blood flow and help prevent sagging, a collagen-boosting moisturiser and a rescue mist designed to cool skin and help sweat evaporate when hot flushes hit.
Getting the brand off the ground was far from plain sailing. Speaking to Business of Fashion, Rochelle admitted that trying to convince a sea of older men in suits that it was a 'sexy' investment opportunity was 'not easy'.
But she persevered, determined to show other women that menopause isn't the end. "This is a crazy time, and I don't want to minimise that," she explained.
"But it's also not the end of your life! I turned 50, started a company and took up boxing. My life is not over!"
As well as the dreaded hot flushes, hormonal changes during perimenopause and menopause can play havoc with skin, causing breakouts, dryness and sagging, and making wrinkles look more obvious.
But this isn't about anti-ageing – its about ageing well. With Pause Well-Aging, Rochelle wants to give women the tools to embrace menopause. "We will never ever talk about anti-ageing," she declared. "I think it's a phrase that needs to disappear from everyone's vocabulary so that women can embrace ageing on their own terms."
The big brand giants are soon set to follow suit, with Proctor & Gamble test-marketing a new brand targeted at menopausal women. The 'Pepper & Wits' range will include hormone-free hand, feet and vaginal creams along with plant-based supplements designed to boost libido and relieve night sweats.
"This is not a fad," Future Laboratory researcher Victoria Buchanan told BoF.
|It's part of a broader movement in which skincare brands are actually bothering to understand women's specific needs at different stages instead of just taking a one-size-fits-all approach."
Samantha Simmonds is a freelance journalist, content writer, copywriter, and editor based in London.
She graduated from Reading University with a First Class degree in Psychology, later achieving a Distinction in her Diploma in Fashion & Personal Styling from The London College of Style.
Samantha is currently creating digital editorial content for John Lewis, writing for The Edit's wellbeing channel. She also writes for publications including Women's Health, Top Santé, Refinery29, GoodtoKnow, Cosmopolitan, Healthy, Health & Wellbeing, woman&home, and Yahoo, and has created commercial content for brands including Berghaus, Amazon, and Regaine.