Does this pillow spray have the power to improve your sleep?
Clinical studies prove This Works pillow spray helps you relax and switch off - win, win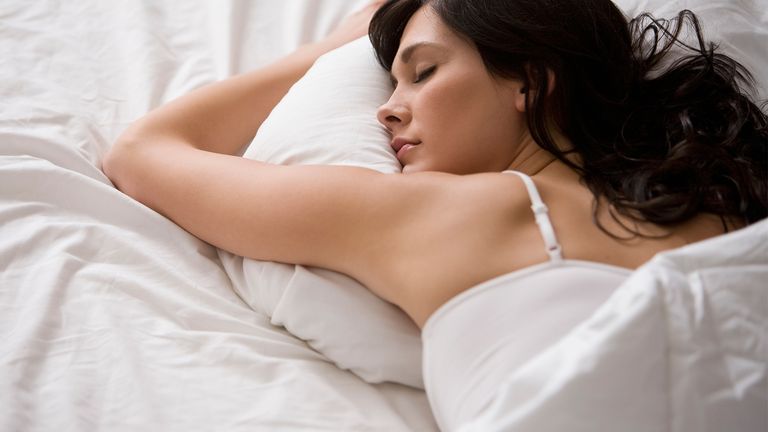 (Image credit: John Fedele/Getty Images)
There's a very good reason This Works pillow spray has sold over 6 million since it's launch in 2006. Its supercharged blend of lavender, camomile and vetivert is clinically proven to help you reclaim a better night's sleep.
The link between sleep and wellbeing is well documented, with multiple studies illustrating the correlation between sleepnessness and poor physical and mental health.
Lack of sleep, says Dr Adrian Williams, a Professor of Sleep Medicine and consultant at Guys and St Thomas's Hospital, leads to increased adrenalin and cortisol levels. Additionally, "there is an increased susceptibility to infections such as the common cold and to higher blood pressure."
But with a rise in sales of essential oil products like pillow mists, during Covid, it seems we can't get enough of the This Works Deep Sleep Pillow Spray.
"Studies have shown that scent affects the autonomic nervous system, which controls our levels of energy and rest. This, in turn impacts heart rate and blood pressure," explains Dr Anna Persaud, a biochemist and CEO of This Works."Over time we also create a connection in our brains that links the fragrance of This Works Pillow Spray t to the experience of feeling sleepy. It's a stimulus for relaxation."
This is all the more important now as the brand's latest research looks at the impact recent months have had on its customers' quality of sleep and overall wellbeing. Sleepless Nights The survey, completed by 1,436 people, found that a poor quality of sleep is a growing concern for many people. Unsurprisingly, the biggest thing keeping people up at night is the coronavirus pandemic, in particular worrying about family or friends which has caused 57% to lose sleep.
Which leads us nicely onto The Works bestselling Christmas gifts, which, you guessed, involve giving the gift of a better night's sleep.
Say goodbye stress with this fast and effective pair. First massage the Stress Check Roll-On over pulse points to relieve tension then sink into a heavenly scent pillow.

Inhale the Deep Sleep Breathe In to to turn shallow breathes into relaxed, deep breathing courtesy of lavender, camomile, vetivert and patchouli. Then, spray the Deep Sleep Pillow Spray across bedding and drift into a sound sleep.
A trio of sleep solutions - Deep Sleep Pillow Spray, Shower Gel and Body Cocoon- for tranquil nights and brighter mornings.
Fiona Embleton is a beauty writer who is now Acting Beauty Editor at Stylist. She is obsessed with Isabel Marant and cats.