40+ Christmas nail designs and ideas for the festive season
From classic yuletide shades to festive embellishments, these Christmas nail designs will get you into the holiday spirit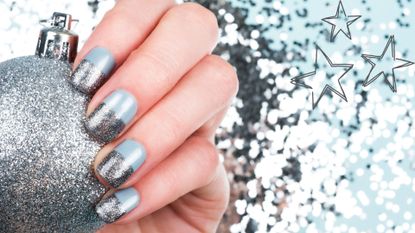 (Image credit: Future/Getty images)
The best Christmas nail designs are the beauty equivalent of watching Home Alone with mulled wine and a mince pie – they'll give you all the festive feels.
If you want to start planning some seasonal nail designs, we have two pieces of good news for you – call it an early Christmas present! First of all, we've curated a sackload of Christmas nail designs to suit every skill set, from beginners' white nail designs and glitter nail designs to more complex festive fare, like snowflake nail art, that's best left to the experts (or amateurs armed with a cheat pack of festive nail stickers.)
The second Christmas miracle is that, as long as you know how to paint your nails, a merry mani doesn't need to eat into your cheese and wine fund. You can bag a frosty nail polish for less than a bottle of Prosecco to create on-trend glazed nails, or perhaps Father Christmas is bringing you one of the best at-home gel nail kits. Either way, with party season on the horizon, It's time to deck your nails with one of these holly jolly Christmas nail designs.
How to pick and prep your Christmas nail designs
Christmas nail designs are a trend category all of their own with almost limitless options. So what's hot for the cold snap? "After a summer where minimalist no-nicures were all the rage, this Christmas is all about something louder- golds, glitters, and classic reds," says Townhouse Founder, Juanita Huber-Millet. (opens in new tab) "Accents of gold foil are always a super chic and stylish choice for the festive season. A minimal glitter french or glitter half-moon shape are also perfect designs for that elevated but wearable look."
Before you embark on an eye-catching design, you'll need a few essential tools. "I would suggest starting with the basics," says Huber-Millet. "A good nail file (I recommend CND files), orange wood sticks (great for prepping the nail), and cotton buds (for correcting any mistakes). If you fancy trying your hand at a little nail art I would recommend a nail art brush - this little tool will be really handy if you are looking to create French tip nails or minimal lines on the nails."
42 Christmas nail designs we love in 2022
1. Golden trees
Milky pinks are perfect for shorter nails as they elongate your fingers. Sprinkle a little Christmas magic on top with abstract zig-zag trees, topped with stars. A gold nail art pen will be a solid investment throughout the party season.
2. Holly jolly mani
Keep it classy with this beautiful holly design, complemented by a fresh and natural nude. You'll need a fine nail art liner brush for this. Take a small square of tin foil and use this as your palette, adding a generous blob of your 'holly' colors to paint on from there. It's a lot easier than dipping your liner brush in the bottle.
3. Christmas star
Piling on the glitz, this molten manicure is fabulously festive. Begin with two coats of silver polish then adorn with golden stars, either painted on or stuck on via a pack of nail stickers.
4. Grey snowflakes
Snowflake nail art is an elegant way to get creative, and can be achieved with a pack of nail stickers. For a subtle ode to the festive season, try two coats of grey glitter adorned with white snowflakes on an accent nail or two.
5. Cute Rudolph
Nothing says Christmas like the famous red-nosed reindeer, and this helpful video makes it look easy. You can even use a cocktail stick to draw on his eyes and antlers.
6. Glitter bauble
Tree green, Christmas stars, glitter, and a bauble thrown in for good measure - this merry manicure has it all. This creation requires a longer nail bed to allow for the room to paint on the bauble so might not be suitable for shorter nails.
7. Santa's coming
Dress your fingertips in tiny Santa hats - a Christmassy take on a traditional French tip. If you find the hat a challenge to paint, you could always resign it to an accent nail, and paint the rest of your nails a solid white or red to tie the look together.
8. Gold-dipped tips
This gorgeous gold French tip oozes festive glamour. Top tip: Etsy has some great chrome French tip nail wraps that simply stick on. No steady hand is required.
9. Lights alive
Switch on the Christmas lights early with this colorful manicure, bedecked with brilliant lights. Begin with a pale neutral base then dot on different colored metallic polishes and join up with a precisely-drawn string of black.
10. Green queen
Simple yet alluring, this deep, green glitter feels of the season without being too 'in your face' about it. Glitter polishes are notoriously sparse so be sure to pile on the coats to ensure even coverage.
11. Micro dots
"A little dot is definitely the best foolproof style, created with a dotting tool or orange wood stick," says Huber-Millet. "This design is a fun and easy way to jazz up a simple mani for the festive season." Even better, it works on any nail length and shape.
12. Rouge French
Give your classic French manicure a holiday makeover with a rouge twist. Long talons look best with a thick tip, whilst short nails can still pull off the look with a neat red crescent on the very edge of the nail.
13. Crystal amaze
Crystal-embellished nails marry the all-out glitz you'd expect from a Christmas mani with a cool-girl twist. The key is starting with a nude base color then adding stick-on crystals using a pair of tweezers.
14. The white stripes
This one might be best reserved for confident nail painters, who happen to have naturally long and strong nails. Otherwise, head down to the chemists to pick up a set of nude stick-on nails and create your own candy cane design.
15. Party polka dots
Choose your accent nail then add spots using a dotting tool or cocktail stick. Just wait for the paint to dry before adding your top coat to ensure they don't run or smudge.
16. Silver sliver
Make your manicure look like it's gift-wrapped with these elegant silver slivers. You can buy striping tape online, then trim it to fit your nail, alternating each one in a horizontal then vertical position.
17. Classic red
It's the perennial nail look with a little bit of Christmas magic sprinkled on - this pillar box red manicure is elevated by the addition of Swarovski crystals.
18. Glitter crescent
Get a good quality, densely-packed glitter polish then use a fine nail art brush to draw a crescent along the side of each nail, starting in the middle of the base of the nail and then sweeping up to the tip.
19. Candy canes
Red and white stripes would be festive enough but throw in a candy cane accent nail and it's a merry manicure of grotto-level proportions. If you want to cheat, Ciaté always excels at cute nail wraps.
20. In the navy
Navy and silver is an unbeatable Crimbo combo. Paint some nails solid navy, others solid silver glitter, then add a stripe of silver running diagonally across one of the navy nails.
21. Santa baby
You better watch out, you better not cry, you better not pout, I'm telling you why... Santa Claus is coming to a nail near you! This design might be best screenshotted and taken to the salon, but if you do have the skill, a fine eyeliner brush and a cocktail stick will help you recreate this look.
22. Ice white
We can't take our eyes off these elegant snowflakes. Paint your nails in a sheer nude or white and then stick on snowflake decals.
23. All wrapped up
Add bows to your ring fingers for an elegant yet festive manicure. The beauty of this design is it works with any color combination so you can tailor it to your party ensemble or make-up look.
24. Matte blue
We usually associate Christmas with shimmer, shine, and sparkle. Here, grey blue nails are pared down with a velvety matte top coat, which provides a satisfying contrast to the jewels and chrome details.
25. Icy ombré
A sprinkling of silver glitter makes a glamorous addition to a snow-colored mani. Wait for your white polish to fully dry before adding layers of silver glitter, drawing the sparkles down the nail to create an ombré effect.
26. Deep blue
Deep navy color with subtle golden sparkle is a grown-up and elegant way to embrace festive nail art.
27. Oh deer
One way to make your Christmas nail design a little more wearable is to keep it monotone. The white reindeer is super subtle but cute as a button.
28. Gold star
Head down to your local craft store and pick up some gold stars. Place them onto your base coat whilst it's still tacky then pile on the top coat to seal in place.
29. Oh Christmas tree!
This decked-out Christmas tree looks incredible. As you can see from the handy video, it's all about making sure the lines of nail paint are still wet so you can blend together with a fine brush.
30. Go monochrome
If your hands are shaky, don't fret. Stick-on nails and transfers are an easy and speedy alternative to help you fake an intricate nail art look like this one.
31. Frozen nails
Turquoise glitter and snowflake nail art create a wonderful wintry manicure that Elsa would be proud of! You'll need a dotting tool, or a thin orange stick, to create these dainty snowflakes.
32. Gold leaf
A deep red, rouge noir shade should always be in rotation for winter, and makes a classy Christmas nail design for anyone who isn't into nail art. Plus, this particular rouge noir nail brings extra festive feels with a frosting of gold leaf.
33. Tartan time
Go for a classic Scottish tartan design to see in Hogmanay in style! This is quite a complex design so may be best reserved for a professional hand. We love it as a single accent nail.
34. Gold rush
Elevate a simple nude nail with a dusting of gold glitter at the tip. The great thing about glitter (aside from looking fabulous!) is that it's incredibly hard-wearing, so it should see you through a few soirées.
35. Half 'n half
An asymmetric splash of glitter paired with a deep shade of wintry green is simple but effective. This makes a particularly good choice of nail design for short nails, as it's so simple and striking.
36. Chunky glitter
Black nail polish can take a chunkier glitter that doesn't need to be so densely packed. The glitter top coat also hides a less-than-perfect paint job. Win-win.
37. Golden touch
If your Autumn/Winter go-to is black, burgundy, or any other gothic-inspired nail shades, add a touch of gold with a reverse French manicure to liven it up for the party season.
38. Silver accents
This understated glittery number was created by Townhouse (opens in new tab) and is perfect for those who favor a more minimalist mani. The subtle sliver of silver glitter down the center of the nail looks chic and it's a cinch to recreate. To enhance its soft and snowy appeal, a bone base color works really well.
39. Let it snow, man
A festive take on basic white polish, this snowman design is super easy to create. Start with a white base color then use a dotting tool to create the snowman's features.
40. Tinsel nails
Grab your fine line brush and a rainbow of glitter polishes - this tinsel-inspired creation is the perfect balance of fun, elegant and festive.
41. Ring bling
One of the quickest and easiest ways to add some Christmas pizazz to your manicure is to go with a glitter accent nail on your ringer finger.
42. Christmas kisses
This kiss-kiss manicure is simple but glamorous. Start with white, bone or pale pink nails then use a fine liner brush to paint on two metallic red kisses.
Emma North is a Beauty Writer who works for digital titles including woman&home, Woman, Woman's Weekly, Woman's Own, Chat and GoodtoKnow. Emma's career in beauty journalism began with internships at publications including Vogue, Elle, The Telegraph and Glamour. She was then taken under the wing of Funmi Fetto, Contributing Beauty Editor at Vogue where Emma assisted with Funmi's debut beauty book, Palette.