If the family does not like a Christmas cake, why not make these small slices of Christmas cake to offer guests and keep a few slices for you too! Decorate with a layer of royal icing if liked, or just pipe a little icing over the marzipan and decorate with icing sprinkles and whatever decorations you like.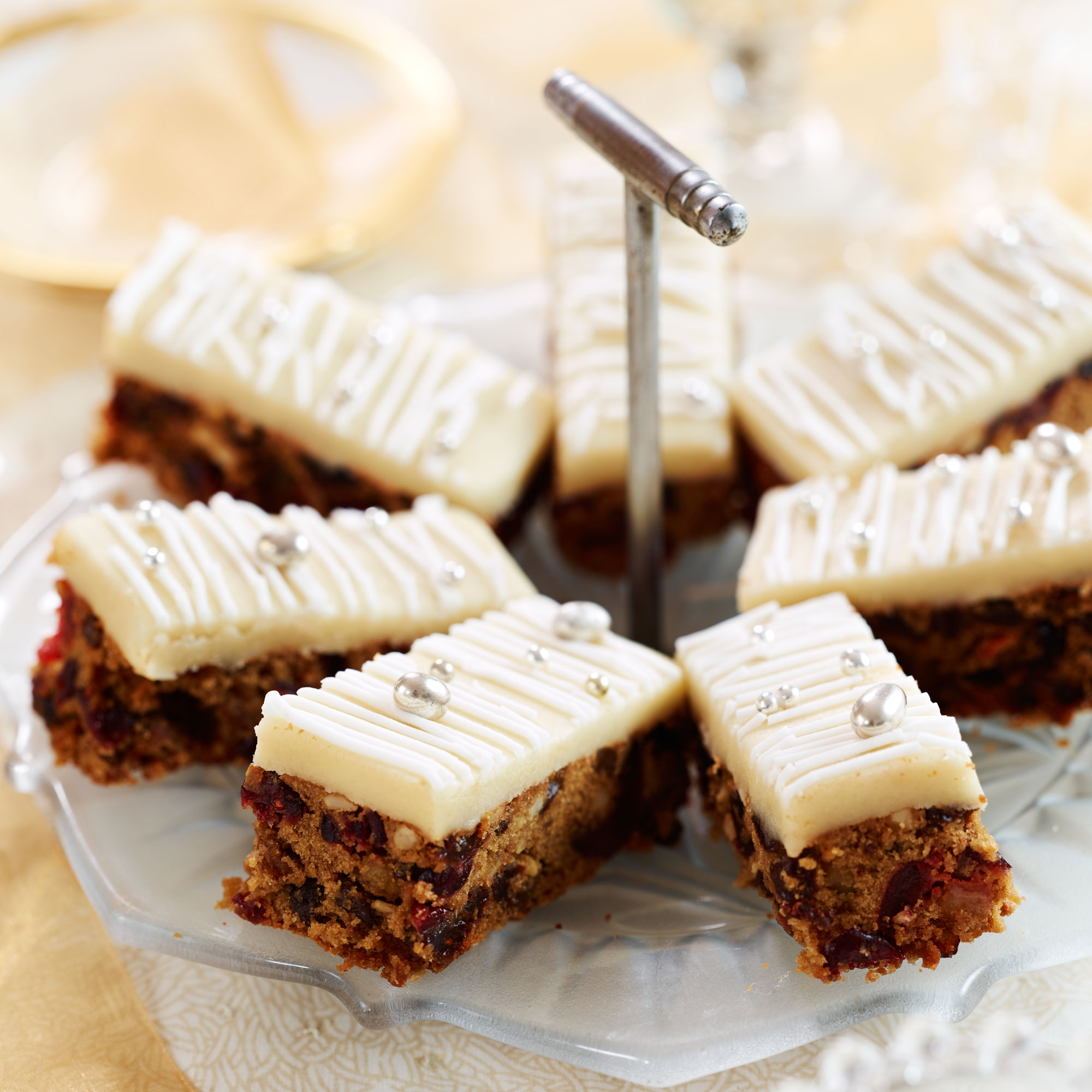 Ingredients
125g (4 1/2 oz) butter, softened
125g (4 1/2oz ) golden caster sugar
3 small eggs
150g (5 oz) plain flour
500g (11b 2oz) mixed dried fruits
1 tsp mixed spice
to decorate
1 tbsp warmed, sieved apricot jam
300g (10oz) marzipan
200g (7oz) royal icing sugar
silver sugar balls or cake decorations
you will need

a 7x11 inch rectangular tray bake tin, lined with baking parchment
Preparation
Pre-heat the oven to 170C, 150C fan, gas 5.

Place the butter and sugar in a mixing bowl and beat until really light and creamy, gradually beat in the eggs. Fold in the flour, fruit and spice to give a soft dropping consistency.

Bake for 45-50 mins until just firm to the touch. Allow to cool completely.

Brush with apricot jam then roll out the marzipan on a lightly dusted work surface. Spread the top of the cake thinly with jam then press the marzipan on top.

Make up the royal icing sugar as directed on the pack, then place in a small piping bag, snip the end and drizzle over the cake. Decorate with sprinkles then cut into slices.
This will keep for 2-3 weeks in a cake tin.
If liked, drizzle the united cake with a little brandy or rum to give extra flavour.
Find more
Christmas cake recipes