So satisfying - with wild flavours everyone will love.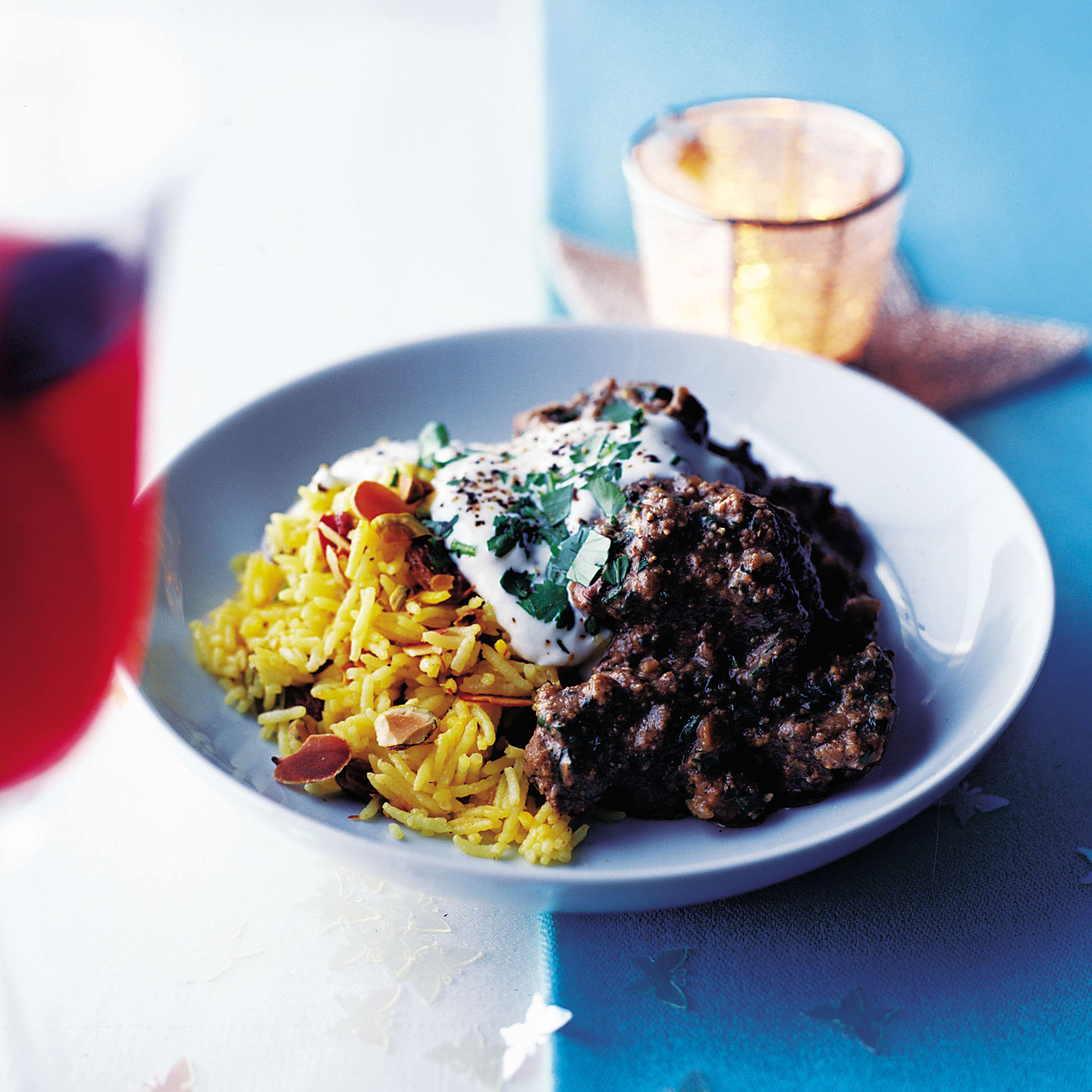 Ingredients
1kg (2lb 4oz) leg of lamb, cubed
2tbsp groundnut oil
1 cinnamon stick
6 to 8 cardamom pods, crushed
pinch of ground cloves
1 onion, finely chopped
3 garlic cloves, crushed
7.5cm (3in) piece root ginger, grated
1tbsp ground cumin
250ml (9fl oz) natural yogurt
50g (2oz) ground almonds
chopped fresh coriander, to garnish
For the nutty rice
300g (10oz) basmati rice (Tilda is our favourite)
good pinch of saffron strands
large handful of sultanas
handful of toasted pistachio nuts
3 to 4 cardamom pods
1 cinnamon stick
100g (4oz) flaked almonds, toasted, and natural yogurt, to serve
Tip
Try making spicy aubergines for a side: sauté 2 crushed garlic cloves, add 1 1/2 tbsp crushed cumin and coriander seeds, 1/4 tsp chilli powder and smoked paprika. Add 2tbsp tomato purée, a dash of water and pinch of sugar. Coat 8 halved baby aubergines in the dressing; roast until tender. Serve with natural yoghurt and chopped coriander.
Preparation
Brown the lamb in 1tbsp of oil and set aside. Heat the remaining oil and fry the cinnamon, cardamom and cloves. Add the onion, garlic and ginger and fry gently until soft.


Add the cumin and fry for a few minutes. Add the lamb to the onion and spices. Stir in the yogurt, ground almonds and 200ml (7fl oz) water. Simmer over a very low heat for about 2 hours until thickened and the lamb is tender. If it dries out too quickly, add a little water.

For the rice, put all the ingredients in a large pan with 600ml (1pt) water. Bring to the boil, cover and simmer over a low heat until the water has been absorbed. To serve, stir some coriander into the lamb, and spoon the flaked almonds and yogurt over the rice.