These Black Friday board game deals are so good that I'm willing to break the law this Christmas – that's if playing them with family turns out to be banned!
A Black Friday board game deal is still essential in my house, despite Sage advisors trying to ban us playing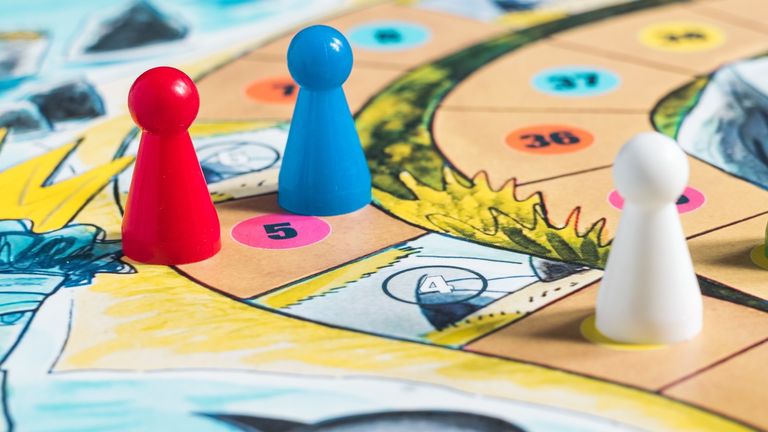 (Image credit: Getty Images / Andrea Colarieti / EyeEm)
After one of the best Black Friday board game deals? You've come to the right place. And, don't worry, I won't tell anyone. As with the news that Sage advisors are recommending that family board games should be banned this Christmas to help stop the spread of Covid, suddenly buying one feels a little naughty. But when you spot some of the best Black Friday deals it's hard to stop yourself.

I know, I know, it feels a little wild to be talking about breaking the law. But if you don't get into a huge row when someone cheats at Cluedo on Boxing Day, then it's not a proper family Christmas anyway, right? Plus, these are great all-year round, so surely life will be back to "normal" for Easter so they can be played then? Here's hoping!

Here's the best Black Friday board games your family will love you for buying...
Best Black Friday board game deals – top bargains we've spotted
Pictionary Air Family Drawing Game £20 £15 | Argos Save £5 The classic family drawing game just got a high-tech upgrade. Point the Pictionary app camera at the illustrator and they'll appear, along with their sketch, on the screen of your smart device. For ages 8 years and over.View Deal
Speak Out Game £22 £7.33 | The Entertainer Save £14.67 This game is already flying off the virtual shelves and we can see why. It's a really hilarious game where players have to say words and phrases with a mouthpiece in place. For ages 16 and above.View Deal
The Chase Family Board Game £23 £17.25 |The Entertainer Save £5.75 Based on the brilliant TV show, fans of The Chase will love this game. Game includes an electric timer, money tokens, a game board, player pieces and two stacks of question cardsView Deal
Hasbro Gaming Monopoly Classic Game £22.99 £14.99 | Amazon Save £8 You really can't beat the classic Monopoly game at Christmas. One that is guaranteed to cause the most arguments. Currently on offer at Amazon, if you haven't got it, now's your chance!View Deal
Spin Master Games Beat the Parents £14.99 £10 |Amazon Save £4.99 Kids go head-to-head with parents in this trivia game. One for all the family, for ages six and up.View Deal
Friends The One With the Apartment Bet Trivia Game £15 £10 |Argos Save £5 Could we BE any more excited? Friends fans will love this trivia game based on the actual one played in the sitcom, with the four categories Fears & Peeves, Ancient History, Literature and It's All Relative. Just don't bet your apartment on this one!View Deal
Early Bird Game: £23 £11.50 (save 50%) | The Entertainer
Save £11.50 Perfect for ages 4-16 years, this fast-moving game relies on quick moves to make sure you're the first one to grab the worm. Suitable for 2 or 4 players, what's great is that all age groups can play without any tricky questions which will leave younger ones feeling frustrated. We love.View Deal
Botched Operation Board Game: £30 £27 (save 10%) | Hamleys Save £3 Have older teens or young adults in the family who don't usually like to join in? This grown-up version of the children's game is great. Just like the original, you have to remove the bones from the cavities but this time you do it while taking part in the challenges on the cards at the same time. Recommended age 12+.View Deal
Articulate! Your Life Game: £33 £23.10 (save 30%) | Hamleys
Save £9.90 Get everyone up on their feet and shouting with this sister version of the classic Articulate! game. Great for children and adults aged 12 +, this fast-paced game is all about describing what's on your card without saying certain words. It definitely brings out the competitive side in everyone.View Deal
Ravensburger kNOW! Quiz Game: £29.99 £9.99 (save 66%) | The Entertainer Save £20 Wow, what a saving! This really is one of the best deals we have seen on family board games. What's unique about this one is that the questions never get old. That's because to find the answers you need to ask Google Assistant. So this box won't dusty on the shelf. Great for ages 10 and above. View Deal
Bingo Game: £15 £7.50 (save 50%) | Hamleys Save £7.50 Bingo is a great game for the whole family to enjoy together and this one is no exception. What's makes this version such a must-buy this Christmas is that you can choose to play with traditional numbers or shapes, depending on the ages of those in the room. This game never gets boring. Altogether now, "Legs 11!"View Deal
LOGO Board Game - Second Edition: £28 £23 (save 18%) | Argos Save £5 While a fiver may not seem like a huge saving now, for the amount you will play this game in years to come, it really is worth the investment. This one is all about spotting famous logos which you see everyday - but it's a lot tricker than it sounds. Ideal for 2-6 players and for ages 12 and above.View Deal
Rapidough Board Game: £28 £20 (save 25%) | Argos
Save £8 This is just like charades but, instead of using your actions to describe something, you have to form it in dough instead. It's great for four or more players and is a lot harder than it looks. Children aged eight and over will enjoy joining in as sometimes the most simple pieces of art work speak volumes compared to anything too intricate.View Deal
Scrabble Original Board Game: £20 £16 (save 20%) | The Entertainer Save £4 Every family should have this classic board game in their home. After all, who hasn't had a big row over whether a word is "real" or not? And this game is now in its 70th year. Still just as popular, it's ideal for ages 10 and above, and suits 2-4 players.View Deal
And while I know that stopping the spread of Covid-19 is a serious matter, I still think there needs to be some fun this Christmas. Whichever one of these Black Friday board games you pick, always be careful if it could lead to vulnerable friends and family getting sick.
Always wash your hands before and after you play, and be careful not to let children put their hands in their mouths.
All you have to do now is watch out for any cheaters! There is always one!
Happy shopping...