Who is Marcus Brooks on This Is Us and why is he so important in the penultimate episode of the show?
Getting ready to say goodbye to This Is Us forever, fans wonder who Marcus Brooks is while watching penultimate episode of the show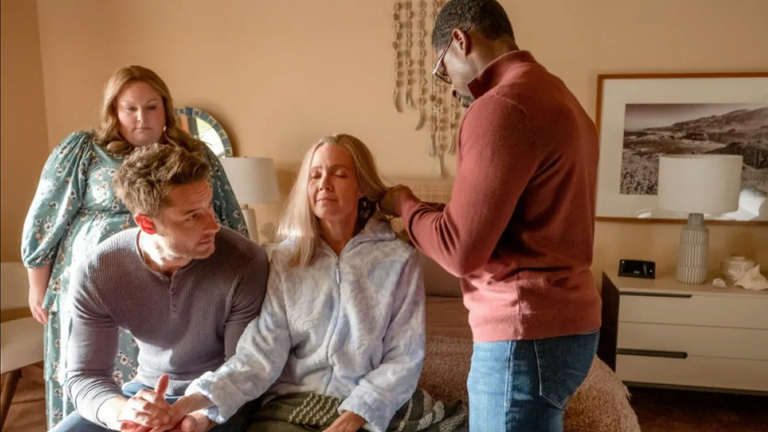 (Image credit: NBC)
The penultimate episode of This Is Us aired on NBC last night and, although fans are getting ready to say goodbye to beloved characters, showrunners have just introduced a new one that is raising a lot of questions.
As This Is Us season 6 wraps up, a new character by the name of Marcus Brooks entered the plot.
WHO IS MARCUS BROOKS ON THIS IS US?
The penultimate episode of This Is Us, titled The Train, aired last night, mainly focusing on the passing of (spoiler alert!) Rebecca Pearson, played by the wonderful Mandy Moore. But, alongside the unfolding of that plotline, watchers got to know the Brooks family.
In the episode, the family got into a car accident while driving home on a January night. The youngest member of the clan, Marcus, was unbuckled and suffered severe injuries in the crash.
Fans did, however, quickly realize that Marcus was going to be fine as the episode fast-forwarded to a grown-up version of the character working in a lab while trying to find a cure for cancer. At first, it appeared as if Marcus was Deja's present-day boyfriend - but it quickly became apparent that wasn't the case.
Towards the middle of the episode, though, the connection between Marcus and the Pearson family was made a bit clearer. While waiting in the hospital to hear about Marcus' status following the accident, the character's father meets Jack Pearson, who happens to be in the hospital because his house just burned down and he inhaled a lot of smoke. As fans know, Jack will die by the night's end.
Jack and the Brooks father start talking while grabbing a coffee in the hospital and Jack tries to cheer his fellow dad up by telling him that, "There is no lemon so sour that you can't make something resembling lemonade." That is the same phrase that Dr. K said to Jack and Rebecca when, years prior, one of their triplets didn't survive birth.
Turns out, the saying has become the Brooks' family motto throughout the years.
Towards the end of the episode, a grown-up Marcus is shown receiving an award for creating a possible cure for Alzheimer's - the exact illness that afflicted Rebecca and contributed to her passing.
As usual, the show's writers have found a subtle but powerful way to connect all plot points.
WHEN IS THE FINAL EPISODE OF THIS IS US AIRING?
The season 6 finale, which also happens to be the series finale, of This Is Us will air on NBC on May 24 at 9pm EST.
If for any reason you're struggling to watch the show, a VPN (virtual private network) is a popular way to access TV shows only available in other countries, and many are easy to get.
If you're already confused, don't panic - we've got you covered. Our sister site, TechRadar, has put every major VPN service to the test to save you the hassle of sifting through the web yourself. They've rated ExpressVPN as the best - and here's why.
In their words, "It's compatible with all of your devices, supports most streaming services, and ranks among the fastest. You can even install it on devices like an Amazon Fire TV Stick, Apple TV, Xbox, and PlayStation. So for a one-stop-shop, you can't go wrong with Express."
---
Anna Rahmanan is a New York-based writer and editor who covers culture, entertainment, food, fashion and travel news. Anna's words have appeared on Time Out New York, the Huffington Post, Fortune, Forbes, Us Weekly, Bon Appetit and Brooklyn Magazine, among other outlets.