The most popular wedding flowers have been revealed and surprisingly, they're not roses
The top flowers for wedding bouquets may surprise you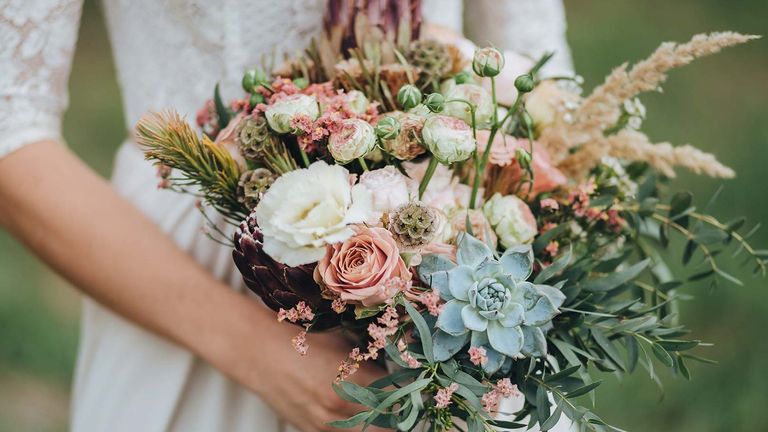 (Image credit: Flowercard)
Forget a white wedding, new research has found that the vibrant red poppy is the most popular wedding flower for 2021.
There are certain elements that can make a wedding truly unforgettable. There's the music, the dress and, of course, the flowers. 
To discover the nation's most popular wedding flowers, the number of Google searches for each type of flower between July 2019 and June 2021 was reviewed.
Out of the 75 wedding flowers studied, the average number of searches was 487,350 over two years. So, it's clear that wedding flowers are a high priority. 
---
By looking at the search patterns for 75 of the most popular wedding flowers, Flowercard have been able to determine the most popular flowers picked for weddings in the UK, as well as which of these have seen the biggest recent growth in popularity and which flowers are the most popular on Instagram.
But which flower came out as our most searched?
The 10 most popular wedding flowers for 2021
Based on the number of searches, poppies come out on top with over 2.9 million searches. Poppies can be a wonderful addition, usually for summer weddings as they generally flower between June and September. The number of searches for poppies was over 2.4 million more than the average.
This is a rise Lizzy James from Meadow Flower Studio has noticed too, she says, "Icelandic poppies have been a big hit this year. I think the popularity is down to a combination of their soft sherbet hues, their pleated textures and the sheer quirkiness and individuality of each flower. These furry, wayward stems create a wonderfully dynamic bouquet, and the pastel tones blend perfectly into any bridal color palette."
The second most searched flower is the fragrant peony, with over 2.3 million. The pink and purple large peony flowers are a staple of weddings and are often a flower of choice for a bride's bouquet.
The third most popular flower is the classic white rose.
White is the colour most classically associated with weddings, and the rose is the flower most associated with love and romance.
The top 10 wedding flowers in full are:
·         Poppies, 2,930,500 searches
·         Peony, 2,302,700 searches
·         White Rose, 2,172,500 searches
·         Hydrangea, 2,081,600 searches
·         Daffodil, 1,797,600 searches
·         Lavender, 1,515,400 searches
·         Orchid, 1,403,600 searches
·         Dahlia, 1,352,500 searches
·         Chrysanthemums, 1,216,500 searches
·         Foxgloves, 1,203,800 searches