Oprah Winfrey gives Ellen DeGeneres this wise tip upon ending her daytime show
Appearing on one of the final episodes ever of the Ellen DeGeneres Show, Oprah Winfrey tells her pal and talk show host to take some well-deserved time off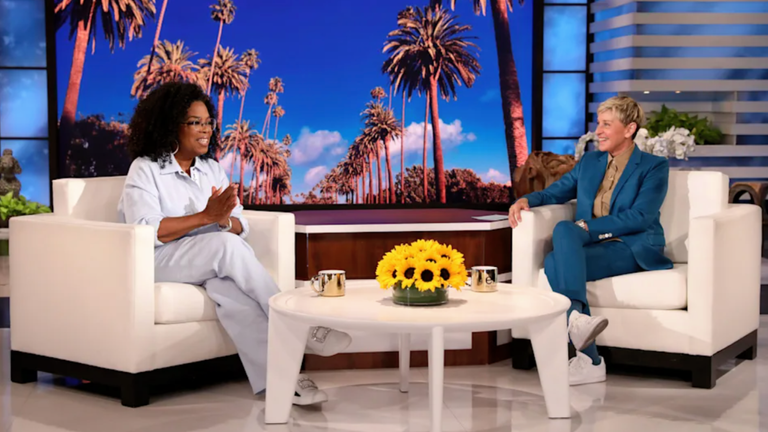 (Image credit: Warner Bros.)
After 19 years on the air, the Ellen DeGeneres Show officially ends today and talk show host Oprah Winfrey has some very wise words of advice for her pal ahead of today's final episode.
Ellen DeGeneres bid farewell to her audience after taping the final episode ever of her show last month, but it's Oprah's appearance on an episode earlier this week that has got audience members teary-eyed.
Oprah, who recently debuted a COVID-19 documentary and wrapped up her own eponymous talk show over a decade ago, told Ellen to consider taking some well-deserved time off.
"Some real time," she said. "Because you know what I did? I took a week off and then I went right back into work. Take some time, okay? Do you hear me?"
In response, Ellen, whose show lost a million viewers last year, said that, she "has to keep working because I like to stay busy." The host mentioned a few upcoming projects, including potential house-flipping efforts alongside her wife Portia de Rossi and, perhaps, a joint venture with Oprah herself.
Although the two are, in fact, neighbors in Montecito, California, Ellen was totally kidding about the proposition, which included potential show ideas like Real Ex-Talk Show Hosts of Santa Barbara, CSI: Montecito and Grand Ole O-pry.
Throughout her appearance, Oprah also mentioned having spoken to Ellen's backstage staff members before stepping in front of the camera.
"I said to everybody, 'I know what this feels like with only a few days left.' I just was really applauding your team for making this show what it's been for 19 years," said Oprah. "Obviously, you're the face out front but it's everybody back there that actually makes it work. I was tearing it up saying, 'Guys, what a great job you've done holding this together.'"
Oprah then went on saying, "You have all of these people who become your family. This becomes your home. That's what happens. Families come together, relationships are built. It becomes home for hundreds of people who are all supporting you and helping you be as great as you are."
Agreeing with her friend, Ellen mentioned that she had been thanking her staff "every single day." She went on thank Oprah herself for being a guest on the episode, specifically explaining that there is "a small group of people who understand what this job is and an even smaller group of women [who do]."
Anna Rahmanan is a New York-based writer and editor who covers culture, entertainment, food, fashion and travel news. Anna's words have appeared on Time Out New York, the Huffington Post, Fortune, Forbes, Us Weekly, Bon Appetit and Brooklyn Magazine, among other outlets.