It's official: '80s comedy classic Working Girl is getting the reboot treatment
Casting has not yet been set on the reboot of Working Girl, the iconic film starring Sigourney Weaver, Melanie Griffith and Harrison Ford back in the 1980s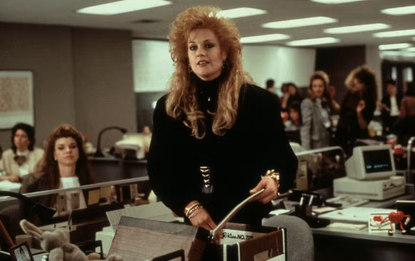 (Image credit: 20th Century Fox)
Everyone loves Working Girl: the 1988 rom-com by Mike Nichols starring Melanie Griffith as Tess, a secretary from Staten Island who ends up impersonating her boss Katherine, played by the wonderful Sigourney Weaver. According to Deadline, 20th Century is working on a reboot of the film.
Deadline (opens in new tab) reports that, although details about the potential production haven't been made public yet, Selena Gomez is attached to the project as a producer. No word yet on whether she'll star in the film as well and, if so, which role she'll take on.
---
According to the outlet, Ilana Peña, who is a staff writer on Crazy Ex-Girlfriend and also created Diary of a Future President for Disney+, is working on a script for the remake, which is supposedly going to be released on Hulu in the United States (a broadcaster in the United Kingdom has not been revealed yet).
The film was a critically acclaimed production, as made clear by the slew of Academy Awards nomination it garnered, including Best Picture, Best Director, Best Actress and two Best Supporting Actress nods (one for Joan and another for Sigourney). Although falling short in all mentioned categories (Rain Main won Best Picture in 1988), the film did win Best Original Song for Let the River Run, a now iconic track by Carly Simon.
This isn't the first time that Hollywood players try to bring the film back to life. In 1990, Sandra Bullock took on the role of Tess in a short-lived sitcom version of the film that aired on NBC and was eventually cancelled due to low ratings.
What is Working Girl about?
The original Working Girl starred Melanie in the protagonist's role, an ambitious 30-year-old secretary named Tess McGill who signs up for nights at business school while working in a brokerage firm in lower Manhattan.
After being treated unfairly, Tess decides to dramatically quit and becomes an administrative assistant to one Katharine Parker, played by Sigourney. Following a slew of dramatic events, Tess decides to impersonate Katharine to prove her worth at work.
The cult movie also starred Joan Cusack as Tess' friend Cynthia and Harrison Ford as Jack Trainer, Tess' eventual love interest.
Anna Rahmanan is a New York-based writer and editor who covers culture, entertainment, food, fashion and travel news. Anna's words have appeared on Time Out New York, the Huffington Post, Fortune, Forbes, Us Weekly, Bon Appetit and Brooklyn Magazine, among other outlets.