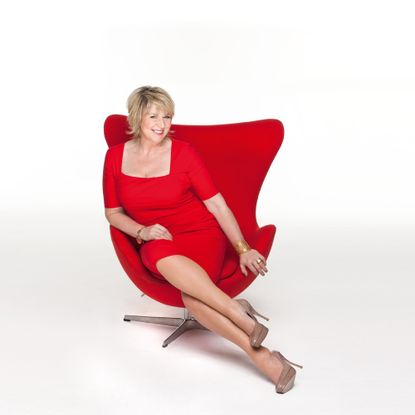 I'm nearly 55, I'm as healthy as I can be, I'm loving my life, and I like my body - I always have. It has worked very hard. It's had four children; it's fed children, it's had three caesareans, it's had a couple of husbands! I've never hated it. That should be the way we view our bodies as women. We have to love ourselves.
If I'm feeling a bit rubbish and have to face the world, I'll wash my hair and put some make-up on, and that usually does the trick. But I'm not a clothes horse, although I like jewellery very much. I love anything that sparkles. But I don't judge people by their clothes. And I don't want to be judged on my clothes or my appearance. I enjoyed writing Hidden Treasures, much more than my first novel. I felt less nervous and actually enjoyed the process. It's set in Cornwall and it's about a woman called Helen who decides to leave her philandering husband and start a new life in Cornwall, where she attracts the attention of two local men.
Phil travels a lot for work, but we never speak on the phone when he's away because it brings out the worst in us. So now we just text - and only a little bit!
The longest he's away is a couple of weeks. I don't mind because I like cooking what I want for the kids and leaving the washing up for the morning if I like. And I'm allowed to have the cats inside at night. You know, little things.
Phil is the person I want to spend my time with more than anybody else. The truth is, I hate it when he goes away and I miss him very much. It translates itself as me being really quite cool with him when he gets back. It's like a cat coming back from the cattery - they're pleased to see you but then they're horrible to you.
My words of wisdom to my children are: "Hard work brings good things" - you can't just loll around on your backside. And also: "Always leave people and things better than you found them."
Obviously, I could worry about their futures, and their jobs. But I don't believe in worrying until you know what the problem is. I think life is so short, and we should just get on and enjoy what we've got. Today is a peaceful day. Tomorrow might not be.
If I feel any depression coming, which I haven't now for a long time, I take a very deep breath. The last time I felt it, I decided, "There's no point in running because it will get me, so I have to turn round and look it in the eye and let it run through me."
When it comes to fitness, my thing is cycling. I cycle to raise money for the charity of which I'm patron, the Genesis Research Trust (iogt.org.uk). The Trust raises money for the largest UK-based collection of scientists and clinicians who are researching the causes and cures of conditions that affect the health of women and babies. These rides give me so much. Eight years ago, I could hardly get up a little slope, and now I'm not just riding over mountains, I'm actually attacking them - it's my Olympics.
Fern Britton's book, Hidden Treasures(HarperCollins)
,
is out now.
This is an edited version of Fern's interview. To read the full article, pick up the May issue of woman&home, out now.