Dr. Jill Biden's students reveal she's 'incredible' but a 'tough grader'
Dr. Jill Biden is finally back in the classroom this week after a year of virtual teaching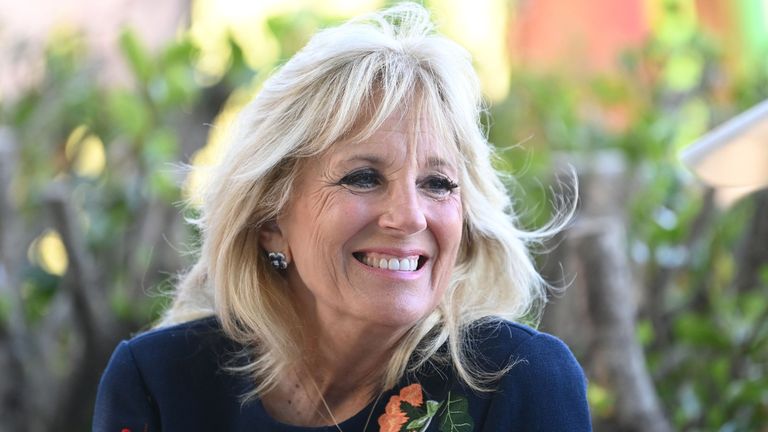 (Image credit: Getty)
By Emma Dooney published
After a year of teaching virtually, Dr. Jill Biden is itching to get back inside the classroom—and it looks like her students can't wait either.
The First Lady will resume her job as a college professor this week—and for the first time in months, she won't be working from the White House. Dr. Jill will finally get to see her students again in person after multiple semesters of remote teaching, as COVID-19 cases drop and schools across the US try to get back to business-as-usual.
The proud academic has been working as a Professor of English at Northern Virginia Community College for twelve years now, making history as the only First Lady to hold a job after President Biden was elected in 2020.
She has spoken publicly about her passion for education on numerous occasions, even calling it the "key to unlocking human potential" at one point. With such conviction in the value of teachers, it's no surprise that Jill has desperately missed face-to-face student contact over the past year.
"There are some things you just can't replace, and I can't wait to get back in the classroom," she said in a recent interview with Good Housekeeping.
It looks like Jill's students are also looking forward to seeing her in the flesh. Many have shared their thoughts on her lessons on the review site, Rate My Professors, and—deep breath of relief—the verdict is largely positive. The First Lady has received a number of glowing ratings from students, with many praising her fun teaching style and undeniable enthusiasm.
---
"She's an incredible teacher and human being. English class was a great experience with her," one impressed past pupil wrote.
"AMAZING professor. She really cares about each and every one of her students. She has a big heart and a passion for education. Thank you so much for being the best teacher EVER Dr. Biden!" another gushed.
Some even credited Jill for helping them to finally enjoy studying English, after previously struggling with the subject.
"I absolutely hate English. But she made it applicable to work and life. Yes, it's a lot of work. But it's not really hard. She challenges you to become a better writer and to have an open mind," one person said.
While most of the feedback was complimentary, the reviews weren't entirely without criticism. Several people complained that Dr. Jill doesn't hand out As easily, while others warned that she gives a lot of homework.
"Super tough grader! Lots of writing! Not sure how any student can make it out her class!!!" one person said.
"I'm not gonna lie, she gives A LOT of homework, makes you work for the good grade, but it's 101% worth it," another person wrote.
Jill will reportedly teach a hybrid system of teaching this semester, facilitating half the course in the classroom and the other half online. While the college is hoping to recreate a pre-pandemic atmosphere, it will continue to enforce safety measures to ensure the safety of all students and staff. Everyone, no matter what their vaccination status, will therefore be required to wear masks and follow social distancing on campus.
Emma is a news writer for woman&home and My Imperfect Life. She covers the Royal Family and the entertainment world, as well as the occasional health or lifestyle story. When she's not reporting on the British monarchy and A-list celebs, you can find her whipping up vegan treats and running the roads to cheesy '90s pop music...but not at the same time, obviously.