Cameron Diaz says she might have been a drug mule in her past
While discussing her modeling career prior to acting, Cameron Diaz reveals that she might have unknowingly smuggled drugs across borders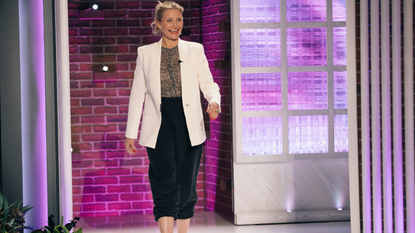 (Image credit: NBC / Contributor)
While on Hillary Kerry's Second Life podcast, Cameron Diaz reminisced about her career pre-acting, specifically recalling an episode in the nineties that has still got her wondering about some of her choices.
Cameron, who recently came out of retirement to join Netflix comedy with Jamie Foxx, explained that, decades ago, she moved to Paris for a period of time to pursue a career in modeling after making some money as a catalogue model in the United States.
Alas, the now 49-year-old actor didn't have much luck booking jobs in France.
"I was there a full year and didn't work one day," she said on the podcast. "I couldn't book a job to save my life. I got, like, one job but I really think I was like a mule carrying drugs to Morocco. I swear to God!"
The star recalls being handed a locked suitcase supposedly filled with her own modeling costumes to be used once she got to Morocco. After arriving at the airport and being asked to open the luggage, Cameron realized the absurdity of the situation and started panicking.
"What the fuck is in that suitcase? I'm this blonde-haired, blue-eyed girl in Morocco. I'm ­wearing torn jeans and platform boots, with my hair down—this is really unsafe," she remembered thinking. "I told them, 'I don't know, it's not mine, I've no idea whose it is.'"
Cameron decided to simply leave the suitcase at the airport, where security wasn't as stringent as it is today. "That was the only job I got in Paris," she said.
---
That's all for the best, of course, as just a short time later a casting agent spotted Cameron in Los Angeles while looking for a "bombshell" to star alongside Jim Carrey in The Mask. Lest you think the then-inexperienced actor jumped at the opportunity, think again.
"I had just started my period. There was no way I was putting on anything sexy that day," Cameron revealed on the podcast. "I was like, 'Are you kidding?'"
Eventually, though, Chuck Russell, the director of the film, was able to convince Cameron to take on the part and kick off her illustrious career filled with iconic roles in films like There's Something About Mary, Charlie's Angels, Bad Teacher, The Holiday, Shrek, What Happens in Vegas, My Best Friend's Wedding, Vanilla Sky, Gangs of New York, In Her Shoes and Annie.
Anna Rahmanan is a New York-based writer and editor who covers culture, entertainment, food, fashion and travel news. Anna's words have appeared on Time Out New York, the Huffington Post, Fortune, Forbes, Us Weekly, Bon Appetit and Brooklyn Magazine, among other outlets.