London Underground:150 Years of Iconic Posters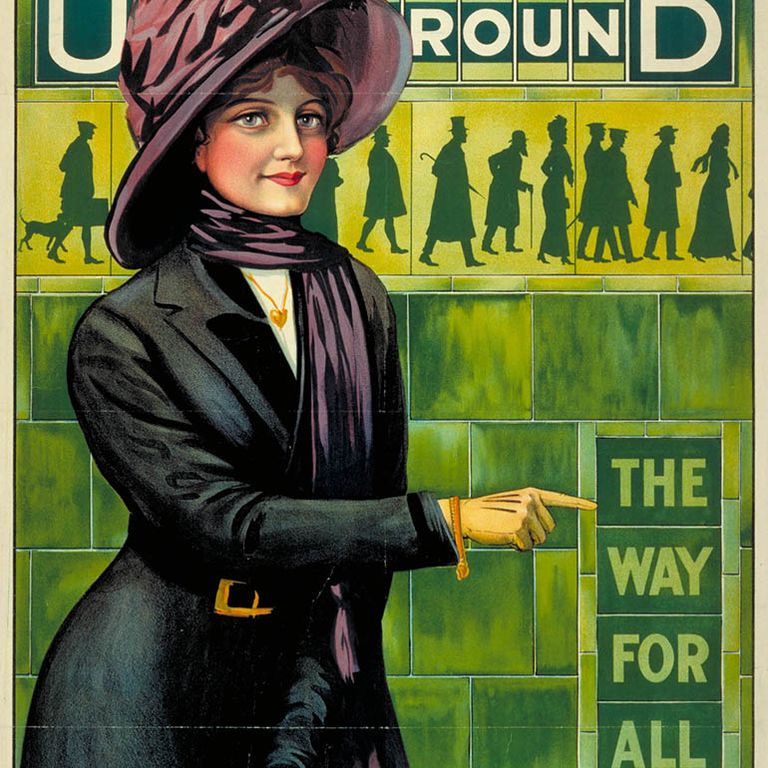 To mark the Tube's 150th anniversary, the Transport Museum is showcasing 150 of the greatest London Underground posters
Victorian solicitor Charles Pearson was a man of vision. Determined to rid London of the traffic that even then clogged its streets, he came up with an idea - an underground train linking different parts of the capital. The London Underground opened its doors on 9 January 1863 and the next day thousands of people queued up to travel on the stream-engine-powered trains. Today, the network is 249 miles long and carries 1,229 million people every year. To celebrate the Tube's 150th anniversary, the Transport Museum is running an exhibition featuring 150 of the best posters advertising the Tube. Visitors also have an opportunity to vote for their favourite poster in The Siemens Poster Vote. Poster Art 150 – London Underground's Greatest Designs runs until 5 January 2014. Underground: The Way for All by Alfred France, 1911
Eastcote by District Railway, by Charles Pears, 1913
Yorkshire-born artist Charles Pears, who created many posters for the Underground, employed evocative images to entice people to use Tube and trains for leisure trips - the aim was to increase off-peak usage and revenues.
By Underground to Fresh Air, by Maxwell Ashby Armfield, 1915
Like many posters of the time, this striking design promoted leisure travel and days out by Tube across Greater London.
Fly The Tube by Geoff Senior and agency Foote, 1979
By the late Seventies, the posters were no longer designed by individuals but by agencies, and they needed to work alongside TV and radio advertising. With posters in decline, this prize-winning design by Geoff Senior was an exception.
Brightest London is Best Reached by Underground, by Horace Taylor, 1924
Originally a cartoonist, Horace Taylor used vibrant flat colour for this sensational poster, aimed at encouraging people to enjoy London's entertainment by public transport.
It Is Cooler Below, by Frederick Charles Herrick, 1926
Today's commuters would disagree with Herrick's message that "The Underground is the only spot of comfort when the days are hot". This beautiful design features the strong colours and lines of Art Deco posters.
The Quickest Way to the Dogs, by Alfred Leete, 1927
Comic illustrator Alfred Leete designed what must have been the most amusing underground poster in history to encourage people to visit sporting events by Tube. By placing the Underground logo on the dog's head, the poster creates an implicit association between speed and the Tube, creating an impression of fast transport.
Away From It All by Undeground at Whitsuntide by M.E.M. Law
The London transport companies tried to make the most of upcoming holidays and events to promote travel by underground. This panel poster uses bold Art Deco visuals to encourage people to take trips at Whitsuntide.
Wimbledon Tennis, by Herry Perry, 1935
As one of the capital's most important sporting events, Wimbledon featured prominently in Tube posters, particularly in the 1930s. This colourful posters by Herry Perry gives the lowdown on how to reach the tennis courts: Southfield Station "thence by special Bus to the ground".
Keeps London Going, by Man Ray, 1938
Although he is best known for his photography, Man Ray started his artistic life as a painter. Heavily influenced by Surrealism, he produced this whimsical poster where the London Underground logo orbits like a moon around Saturn.
For Property Lost, by Tom Eckersley, 1945
Eckersley designed posters for the Underground for sixty years. This one, advertising the Lost Property Office for buses, trams and trains, shows his trademark simple but eye-catching design - the tear-shedding, dog-headed umbrella is delightful.
Carla Passino is a multimedia journalist with more than seventeen years' experience in national and international media.
Carla's primary areas of interest are political, economic and housing trends in global cities. Much of my time is spent writing about the world's prime property markets and the factors that affect it, covering fiscal, legal, political and financial issues linked to home ownership, and reporting on major shifts in British, European and international housing. Over the years, Carla has written about culture, education, interiors, farming, travel, food, wine and more.