Kathy Hochul makes history as the first female governor of New York
The news comes after Andrew Cuomo formally announced his resignation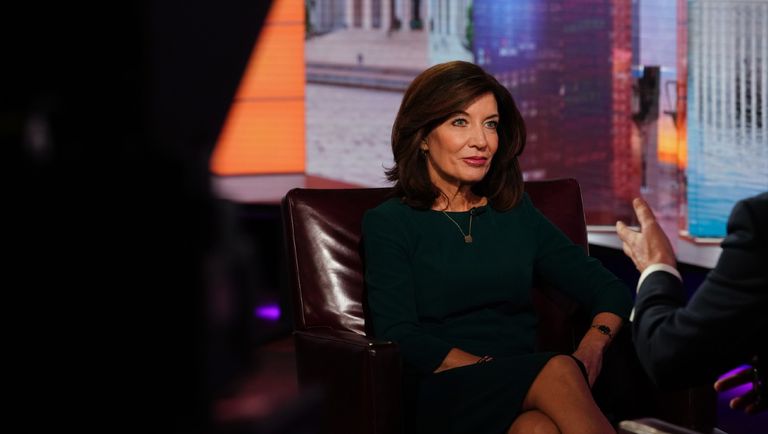 (Image credit: Chris Goodney/Bloomberg via Getty Images)
History will be made on August 24 when current deputy governor Kathy Hochul will become the first woman to take on the role of governor of New York. 
The momentous transition comes after the current governor, Andrew Cuomo, announced on Tuesday that he would be resigning following investigations into past sexual assault claims against him.
Now, the spotlight turns to Hochul who will take over for the remainder of Cuomo's term, which ends next year. During her first press conference on Tuesday, she expressed her desire to run for governor at the end of the term, saying she's "prepared to run for reelection and begin the process as soon as we get everything under control in the state." 
Her priority now is to meet with New Yorkers and "listen first, then take decisive action." 
She confirmed this "vow" on Twitter pledging to fight for New Yorkers "every single day."
"The promise I make to all New Yorkers, right here and right now, I will fight like hell for you every single day," she wrote. "I will travel the state to meet you, to listen to you and assure you that I've got your back. I am prepared to lead."
When news of Cuomo's resignation was announced, Hochul supported the decision, and to mark the occasion, the deputy governor took to Twitter to address her new role.
"I agree with Governor Cuomo's decision to step down. It is the right thing to do and in the best interest of New Yorkers," she tweeted. "As someone who has served at all levels of government, and is next in the line of succession, I am prepared to lead as New York State's 57th Governor."
---
She has served as deputy governor under Cuomo since 2015, where she's worked behind-the-scenes advocating for women's rights and fighting against sexual violence and harassment. When the current governor's alleged sexual misconduct came out, Hochul addressed the situation in support of the "brave" women who came forward.
"Sexual harassment is unacceptable in any workplace, and certainly not in public service," she tweeted. "The AG's investigation has documented repulsive & unlawful behavior by the Governor towards multiple women. I believe these brave women & admire their courage coming forward."
Other policies Kathy Hochul has supported
Describing herself as an "independent Democrat" Hochul has a past of supporting higher taxes on the wealthy, while pushing for cuts to Medicaid and cutting out portions of the Affordable Care Act (all during the Obama-era). In the past she had also been a supporter of the NRA—even receiving an endorsement from the organization in 2012, which she advertised during her reelection campaign, according to a report from The Daily Beast. 
Since joining forces with Cuomo, the deputy governor has switched her previous position and now advocates for gun control legislation. In 2018, she also endorsed a proposal that pushed for drivers licenses for undocumented immigrants (a topic she had opposed in the past). 
Where is Kathy Hochul from?
Born in Buffalo, New York, to Irish Catholic parents, and is one of six siblings. Hochul remained in the state for most of her life where she studied political science at Syracuse University. During that time, she became an activist helping to organize a boycott of the school bookstore in protest of high prices. Her efforts succeeded as the activism brought changes.
Later on, she interned at the New York State Assembly, where she met her future husband, William "Bill" Hochul. The two got married in 1984 and have two kids together, Caitlin Hochul and William Hochul.
Kathy Hochul's past political career
The 62-year-old began an early career in politics after receiving her B.A. from Syracuse University in 1980 and a J.D. from Catholic University four years later. Starting as a legal counsel and legislative assistant to New York Representative John LaFalce, she then became a senatorial aide to the late Daniel Patrick Moynihan.
In 1994, she was elected on the Hamburg Town Board (a small town outside of Buffalo, New York). Her political career took a turning point in 2011 when she took on Congress. Hochul won a special election for Congress, flipping a traditionally Republican seat in upstate New York, but her time in the House of Representatives came to a close during the 2012 general elections when the NY districts were redrawn and she lost to conservative Chris Collins.
The loss didn't sway Hochul who remained in politics and started her run as deputy governor in 2014. Since then, she has remained in the position working under Cuomo.
In a couple of weeks, when she takes over as governor of New York, Hochul will be faced with encouraging people to stay alert amid rising COVID-19 cases across the state. With areas such as New York City requiring vaccine passports for indoor dining, Hochul may bring a new perspective in how to handle the ongoing crisis. 
In the past, tension between Cuomo and NYC's current mayor, Bill de Blasio, made cooperation between the state and city difficult. With a new mayor on the horizon and Hochul taking over as governor, this leaves room for the possibility of a more unified relationship between the local and state government, resulting in (hopefully) swifter actions.
Rylee is a U.S. news writer for woman&home and My Imperfect Life who primarily covers lifestyle, celebrity, and fashion news. At times, she also reports on beauty, royals, entertainment, health, and travel. The latest fashion and beauty trends, along with any quirky travel destinations are her favorite topics to write about. 
Before coming to woman&home and My Imperfect Life, Rylee originally studied journalism at Hofstra University where she explored her interests in world politics and magazine writing. From there, she dabbled in freelance writing covering fashion and beauty e-commerce for outlets such as the TODAY show, American Spa Magazine, First for Women, and Woman's World.
When she's not writing articles, you can find her testing out one of the many restaurants New York City has to offer and planning her next travel destination. Her other hobbies also include hiking, ballet, yoga, and reading practically any book TikTok recommends.