Did Princess Diana's sister Sarah Spencer date Prince Charles before her?
Princess Diana's sister Sarah Spencer dated Prince Charles as we look at who fell in love with him first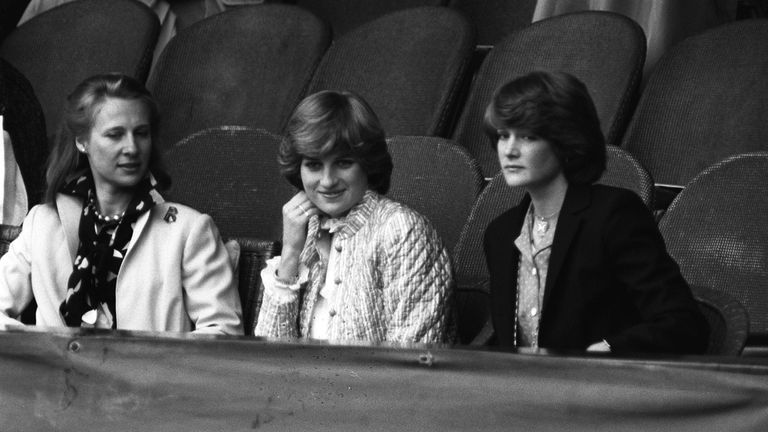 (Image credit: Ron Bell/PA Archive/PA Images)
As Princess Diana makes her mark in the fourth series of Netflix drama The Crown, viewers are left wondering how much of the Crown is true as the show covers royal events around the time she dated Prince Charles and their relationship from start to finish.
And one question on everyone's lips is did Princess Diana's sister Sarah Spencer - now known as Lady Sarah McCorquodale - start a relationship with Charles first?
And some viewers will be surprised to learn that Diana's eldest sister lady Sarah Spencer - born Elizabeth Sarah Lavinia Spencer in 1955 - did date Charles before Diana.
READ MORE: The Crown: Everything you need to know about season three
Sarah Spencer and Prince Charles has a brief relationship back in 1977, when the pair were in their twenties.
At the time they were both renowned for their fleeting romances - with reports Charles dated 20 women in 10 years to get over Camilla Parker Bowles - with whom he is now married to.
At the time, these women were dubbed "Charlie's angels". Meanwhile Sarah is said to have had "thousands of boyfriends."
How did Sarah Spencer and Prince Charles' relationship end?
It's understood their brief fling ended after Sarah told reporters she would not marry the Prince "if he were the dustman or the King of England" - something which Charles was said to be furious about.
And that was that. So how did Charles and Diana end up meeting?
Well, it was Lady Sarah that introduced Charles to her younger sister at Althorp House, which was the Spencers' ancestral home - and the grounds of which the late Princess Diana is now buried.
At the time of the initial meeting, Prince Charles who has just launched a fashion collection with Net-a-porter, was there for a pheasant hunt and Sarah admitted afterwards in an interview with the Guardian, "I introduced them; I'm Cupid."
But the portrayal of the introduction is much more charming in the Netflix serial - but sadly in reality Diana was not wearing a Midsummer Night's Dream costume.
Aside from brother Charles, the Spencer sisters have another sister Cynthia Jane, all grew up in close proximity to the royal family, with their home situated on the Sandringham Estate.
Their infant brother, John, died shortly after his birth one year before Diana was born.
READ MORE: The Duchess of Cambridge paid a beautiful tribute to Princess Diana with her latest outfit
Who is Princess Diana's sister Sarah Spencer now married to?
Sarah married Neil Edmund McCorquodale in 1980 and became Lady Sarah McCorquodale and they have three children George, Celia and Emily.
After her Diana's death, Sarah became the president of Diana, Princess of Wales Memorial Fund before it closed in 2012.
She has remained close to the royal family and often spends time with nephews, Diana's sons, Prince Harry and William.
We can't wait to see what else The Crown unearths...