Best air purifiers – improve air quality in your home with our pick of the top models
The best air purifiers offer some legitimate health benefits, quietly filtering the air in your home, removing dust, allergens and even bacteria and viruses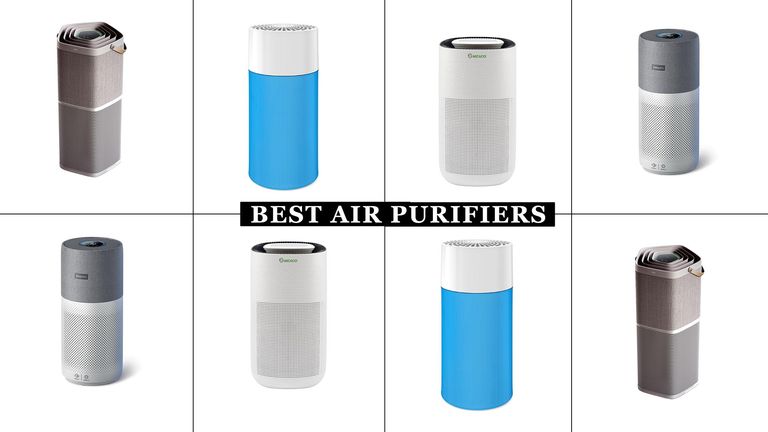 (Image credit: Future)
Air pollution is more prevalent than ever, which means it may be time to take a look around to find the best air purifier on the market. And luckily, we've tested out a solid selection on your behalf. 
Over the past few years, air quality has become a focal point for health experts - the fact is, pollution is now considered to be part of a global health crisis. Airborne pollutants are as much of an issue indoors as out and, while ventilation is key, the solution might not simply be leave doors and windows open (in fact, if you live near a main road, that simply adds to the number of airborne pollutants in your home). And, the idea of flinging our doors open in winter? Well, that's a lot of cold air. Because of this - air purifiers are often the best solution. Air purifiers filter out all of the pollutants from the air in your home, to help improve air quality so you aren't breathing in as much stuff that could be harming your health.
Of the models that we tested the top-rated air purifier was the MeacoClean CA-HEPA 76x5 because it hits the "Goldilocks" sweet spot - being neither too big nor too small. Additionally, it's affordable, smart and can efficiently clean the air in a large room. 
It wasn't a one-horse race, however. There were some pretty serious contenders for the top spot, in the form of the Blueair Blue Pure 411, which is small, affordable and cleans the air in a single room without smart controls, and the Philips AC3033/30 Air Purifier Series 3000i, which looked stylish and offered a long-lasting (and thus money-saving) filter.
How we tested the best air purifiers
No, we didn't just read the specs from the manufacturers - we carried out our own tests, featuring an expensive high-end industrial air quality meter, the Met One Instruments Model 804 Handheld Particle Counter. With this, we tested the room's initial air quality, tested it again after the air purifier had been used at its top setting for an hour, then compared the two sets of results to establish how well the air had been cleaned. We focused on the PM10 and PM2.5 figures because these are the ones the World Health Organisation uses as benchmarks of air quality. These are particles measuring no more than 10 microns and no more than 2.5 microns respectively.
As with all our guides, we also examined value for money, noise, style and ease of use in all the air purifiers tested below.
The best air purifiers as reviewed by our experts
The MeacoClean CA-HEPA 76x5 is the smallest air purifier on test to boast an air-quality sensor and smart controls. While there's a control panel and display on top, plus coloured lights to give a visual indication of air quality, the machine's companion app adds remote control, air quality tracking, scheduling and even voice control to the offering. Talk about functionality.
For a smart air purifier it's also compact and affordable. It's not, however, all that beautiful but what it lacked in looks it made up for in performance: it tested well, effectively cleaning the air in a 30m² room. Its three-layer filter includes HEPA and activated charcoal, to catch microscopic particles and gases, making it one of the best air purifiers for dust. The filter will, however, need replacing every six months, so that's an additional cost to bear in mind. Overall, the Meaco is hard to fault, as it's compact, affordable and has great smart controls.
See our full MeacoClean CA-HEPA 76x5 Wi-Fi air purifier review
There's no getting around the fact that the Philips AC3033/30 Air Purifier Series 3000i is both large and pricey but, that said, it looks great and its filter lasts for years. Its top setting is loud but, thanks to its air quality sensor, you can put it on auto mode and it will work away as quietly as possible (dependent on the air it's working with).
Like the Meaco, this air purifier has touch controls and a display on top plus coloured lights to give a quick visual indication of air quality. And, again, you can use the app in multiple ways - as a remote control, to track air quality and for scheduling.
Its three-layer filter includes HEPA and activated charcoal, to catch microscopic particles and gases. The filter life is "up to 36 months", which, if you read between the lines, means a big saving on replacement filter cartridges. The Philips performed well during testing, and is designed to clean the air in a 32m² area: that's two good-sized rooms. Large it might be - but this stylish model is also low maintenance and simple to use.
See our full Philips AC3033/30 Air Purifier Series 3000i air purifier review
If you want a small, affordable, simple air purifier for a single room then look no further. At a fraction of the cost of the bigger models, this Blueair Blue Pure 411 air purifier performed well during testing. The obvious drawback is that its size means it's only designed to clean air in a single 15m² room.
Should that be what you're looking for, however, it's good-looking and small enough that it won't dominate a smaller room. You can even make it colourful with a range of fabric pre-filters to cover the bottom half. Its three-layer filtration includes Blueair HEPASilent, a quieter way to remove tiny particles.
There are no air-quality sensors or smart controls included in this model; while we didn't miss the app option, the lack of sensor meant there was no automatic mode. That said, setting this up is simple enough – you just tap a button to select from three power levels (high power filters the air faster but it's also louder). In most homes though, the low setting would suffice.
See our full Blueair Blue Pure 411 air purifier review
With its tall, grey, curvy five-sided shape and unusual leather-style handles, the AEG AX9 600 air purifier's design is a little like Marmite – you'll either love or hate it. While this was the largest air purifier we tested, its room-cleaning capacity was the same as the more discreet-looking Philips at 32m².
Its controls are divisive too; the app is excellent but the AEG's touch panel doesn't display air quality, instead indicating this via coloured lights. The panel allows you to select intuitively from nine levels of power, but – as ever – the smart setting is best, as it means the machine is quiet most of the time. And as noise levels go, the AEG is relatively quiet.
An interesting feature comes with the filtration system: its five stages of filtration vary because you can choose from three cartridges, customising filtration to prioritise pollen, odour or choose a good all-rounder. This makes it one of the best air purifiers for allergies. 
The AEG performed well during testing, but we marked it down a little for its size and quirky design. If you love the look of it though, it won't disappoint. It's an effective air purifier with a striking design.
See our full AEG AX9 600 Connected air purifier review
The only model in our testing that also functions as a cooling fan, this Swedish design - the Blueair Blue Pure Fan - purifies the air at any time of the year but is especially useful in the summer. There's no air quality sensor and no app, but the controls are simple. 
The floorstanding design is stylish and, while filtration isn't as good as dedicated air purifiers, it's an excellent fan and it does a good job of cleaning the air in the room too. This is a model that's well worth considering if you need a fan and suffer from hayfever or summer allergies; it'll can clean the air in a 24m² room pretty well. Overall, it's a stylish fan that purifies air as it blows, making it perfect for the warm months.
See our full Blueair Blue Pure Purifying Fan review
If you're still unsure about whether an air purifier is for you, or simply want to know more about what they do, read on to find out the answers to the most frequently asked questions...
What do air purifiers actually do? 
You might be wondering exactly how air purifiers work. They operate much like fans but, rather than simply circulating air, they pull it in and move it through a series of filters that collect (or trap) different sizes of airborne particles, before recirculating the air. The particles – everything from dust to microscopic particles such as smoke, pollen, odours and germs – are then trapped in the layers of the filter cartridge, reducing the pollutants in your home. And if you're wondering how to clean your air purifier, it's worth nothing that over time (and with use) these filters require maintenance – if they're not reusable or washable, they'll need replacing regularly for the air purifier to continue to function efficiently. 
Most air purifiers recirculate the air discreetly, so there's no cooling breeze like that which you'd associate with a fan. As a side note, you can buy fans for warmer weather that also filter the air. And while these are great for the summer, they are of course less useful in colder months. It's also worth noting that in the air purifiers vs dehumidifiers debate, dehumidifiers are more useful for ridding your home of winter condensation than an air purifier.
Some air purifiers are small and simple – you just turn them on to your chosen setting and leave them to clean the air in your room. Others are known as 'smart'; they contain a sensor that measures air quality in order to choose their own setting accordingly, and can also be connected to an app on your phone so you can control them remotely. Additionally, these apps usually allow you to keep track of air quality ups and downs.
What is the CADR - and why is it so important when it comes to air purifiers?
When choosing the best air purifier for your home, the other main consideration is how much air each model can filter - after all, one of the main air purifier benefits is that it rids your space of harmful pollutants. In order to measure how much air each model can filter, it is necessary to take a look at its Clean Air Delivery Rate (CADR). Measured in cubic metres per hour (m³/h), it refers to the volume of air that an air purifier can clean in the space of an hour. If you want really clean air, the gold standard is for all the air in the room to be cleaned five times an hour. 
It might help to dig out your tape measure. If, for example, your room measures 16m² (the room's length multiplied by the width) and your ceiling is 2.5m high then you have a volume of 16x2.5 = 40 m³ of air. To clean it five times an hour you need a CADR that's five times that number, so at least 200 m³/h. Look for a higher CADR if you want clean air in larger rooms and open-plan spaces. If this is a technical spec too far, don't worry – we've done the maths for you in the reviews above.