Why your home needs an air purifier
Your home should feel like a haven, and the best air purifier can make your surroundings even better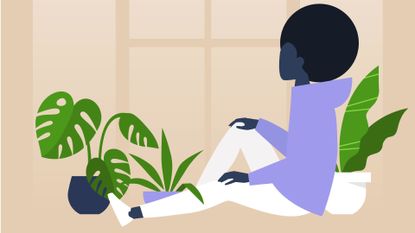 (Image credit: Getty images )
Like most people over the past six months, I've spent more time in my home than I thought was healthy for a human being. But whether you're loving the slower pace of life or hate having to stay indoors thanks to Coronavirus, as it looks like it may well continue into next year we might as well make the best of it. That means making our home as comfortable as it can possibly be.
Pep talk over. Well, almost, because while surrounding yourself with creature comforts is important, have you thought about the things you can't see, such as the air you breathe? I'd never considered what the best air purifier might be before, but seeing the sun catching the dust swirling around my living room, as I gazed out of the window with writer's block, got me thinking.
Why I'm considering buying an air purifier
I should profess at this point that I do clean my house and vacuum regularly, honest. But despite that, the dust never seems to go away. And it's not just dust – there's pollen, bacteria, pet hair and other allergens, too. Even if, like me, you're lucky to not suffer from allergies, asthma or other respiratory problems, why would you not get rid of what exacerbates them if you could? And if you do have sensitivities or allergies, then surely an air purifier is a no-brainer?
Do you know what benefits you get from using an air purifier? In simple terms, an air purifier uses a fan to draw air from a room, passes it through a series of filters to remove dust, pollens and other allergens, pet hair, smoke, odours and bacteria, then circulates it back into the room. Some models have more filters and better degrees of filtration, as well as lots of other bells and whistles that can have genuine health benefits, but I won't go into that here – take a look at our air purifiers buying guide to the best air purifiers for allergies for more on that.
The fact that air purifiers can get rid of smoke also got me thinking. I'm not a smoker and neither is my boyfriend, but what if one of us was? Cigarette smoke is potent and, frankly, in terms of ridding your home of its scent, fragranced candles and air fresheners aren't going to cut it; the source of the problem (the smell, not the smoker!) needs to be removed rather than masked. The best way to do that is with an air purifier.
While we're on the subject of, shall we say, personal habits, my mind turns to anyone with rooms rented out or living in a house share. We've all lived with people who don't have the same standards as us, and while it would be easy to take on all the cleaning if that of others' isn't up to scratch, I wouldn't advise it – you'd definitely be making a rod for your own back. The next best thing is to pop on an air purifier in the living room. Ross Geller style. Passive aggressive possibly, but whatever you need to do to make your life a little better, I say.
But surely fresh air is best, I hear you cry – why not just open a window? I would tend to agree, a cool breeze blowing through your home is a pleasant thing, but this isn't always viable. If you live in a city or near a busy road, pollution, dirt and grime can get into your home when a window is open, which only worsens the quality of the air indoors. And I'm willing to bet there are plenty of people out there who wouldn't class themselves as allergy sufferers but have had to reach for the tissues on a hot and humid day due to an unknown airborne assailant (I'm looking at you, rapeseed pollen!).
I'm not saying that buying an air purifier will cure your asthma or make walking into your home feel like you've been transported to an Alpine hideaway, but it can certainly help. It's not an all-in-one solution, but thinking of an air purifier as an addition to your cleaning routine – alongside flinging open windows once in a while – will give day-to-day life another layer of comfort. And we could all do with more of that right now.
Sign up to our free daily email for the latest royal and entertainment news, interesting opinion, expert advice on styling and beauty trends, and no-nonsense guides to the health and wellness questions you want answered.
As an interior stylist and writer with a penchant for way too many vases and cushions, Laurie Davidson eats, sleeps, and breaths interiors. She's lucky enough to have been in the industry for over 20 years, working across TV and magazines, and alongside some of the top UK brands and names.

If Laurie isn't knee-deep in boxes for a shoot or preparing mood boards, you'll most likely find her testing appliances and accessories for buyer's guides. With a wealth of experience, features, and shoots under her (stylist's) belt, Laurie has become a much-called upon expert.