Best white chocolate Easter eggs 2021: The woman&home taste test
Our expert food team pick out the best white chocolate Easter eggs in the shops this year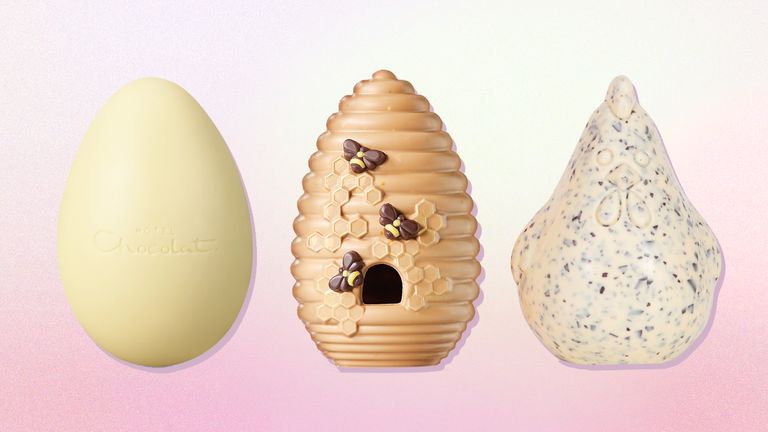 (Image credit: Hotel Chocolat/Aldi/Montezuma's)
Looking for the best white chocolate Easter eggs? Our Test Kitchen team have taste tested all the best Easter eggs 2021 to help you find the perfect egg for you this year. Whether you're looking for a gift or to treat yourself, we're sure to have an egg that satisfies all your needs.
This year, our round-up of the best white chocolate Easter eggs has lots of blonde egg submissions and we think it is going to be a welcome addition for any white chocolate lover looking for a change.
But what is blonde chocolate? Put simply, it's white chocolate that has been caramelised. The result is a light cream, almost golden, coloured chocolate with sweet caramel nutty undertones. If you love the combination of chocolate and caramel, blonde chocolate should be high on your to-try list and one of the below eggs is a brilliant place to start.
From your go-to supermarkets think Tesco and Waitrose, Marks & Spencer and more. We've rounded up the best white chocolate eggs.
The best white chocolate Easter eggs 2021
Aldi Specially Selected Exquisite Blonde Chocolate Beehive Egg
Our overall winner
Specifications
Stockist: Aldi (available in store only)
Weight: 600g
Price: £14.99
A standout winner in both appearance and taste, we were totally enamoured by this Aldi Easter egg. The design is spectacular and the blonde chocolate has sweet honeycomb pieces mixed through, which is a real delight to eat.
Hotel Chocolat Extra Thick White and Light Egg
Great for gifting
Specifications
Stockist: Hotel Chocolat
Weight: 409g
Price: £29
If you're looking to splash out, this thick egg from Hotel Chocolat is total decadence. The chocolate is made with 36% cocoa butter, which is more than most other white chocolate on the market. We love the reusable tin packaging and the fun truffles carefully packaged inside the egg.
Hotel Chocolat Soft Boiled Egg
Specifications
Stockist: Hotel Chocolat
Weight: 150g
Price: £10
The fun design of this egg is sure to put a smile on whoever you buy it for. The hollow egg is made using the same white chocolate recipe as the thick egg described above but it's more budget-friendly.
Silkie White Chocolate Speckled Hen with Dark Chocolate Flecks
Fun design
Specifications
Stockist: Montezuma's
Weight: 200g
Price: £9.50
Visually appealing and tasty too, this white chocolate egg is creamy and smooth and the dark chocolate flecks help to balance out the sweetness. We love the bright packaging for this handmade egg which is 100 per cent recyclable too.
Chocolate Pomegranate
Fun design
Specifications
Stockist: Waitrose
Weight: 45g
Price: £3
Quirky, fun and tasted great too! This is Easter novelty done well. The caramelised white chocolate is brilliantly balanced with sharp, fragrant pomegranate which stops the sweetness from overwhelming your palate.
Lindt Lindor White Shell Egg with truffles
Classic crowdpleaser
Specifications
Stockist: Tesco
Weight: 348g
Price: £15
Instantly recognisable in taste, this smooth white chocolate egg comes with a generous bundle of luxurious Lindt truffles, which could be shared with loved ones if you're feeling generous. The box is impressive and would make for easy gifting.
Moser Roth White Chocolate Lovers Duo Egg
Quirky flavours
Specifications
Stockist: Aldi (available in store only)
Weight: 330g
Price : £7.49
Perfect for couples who have different tastes or for someone who likes variety in their chocolate, this Fairtrade egg boasts a chic design and sophisticated flavour combinations. One half is blonde with crunchy Feuilletine and smoked salt. The other half tastes like breakfast as it's made with yogurt and a blueberry, forest fruit crunch.
Noteworthy white chocolate Easter eggs
M&S Collection Extra Thick Blonde & White
Good value
Specifications
Stockist: Marks & Spencer
Weight: 500g
Price: £12
This is a good, affordable take on the luxury thick eggs flooding the market. The packaging is chic and after opening the box the delicious smell makes you want to crack right in. It is quite sweet on the palate and doesn't boast a particularly high cocoa butter content but it's good nonetheless.
Cadbury White Oreo Peter Rabbit Hollow Bunny
Easy Easter extras
Specifications
Stockist: Tesco
Weight: 100g
Price: £2.99
Those with a sweet tooth who love all things Oreo will be delighted with this novelty chocolate bunny. It has an affordable price point which makes it an ideal little extra for any Easter egg hunts or hampers you're building.
Cadbury Dairy Milk White Chocolate Oreo Egg
For Oreo fans
Specifications
Stockist: Tesco
Weight: 220g
Price: £3
If you like the idea of the above Oreo chocolate bunny but want a traditional egg this is the solution! The hollow egg is made with the same Oreo-flecked white chocolate and comes at a reasonable price too.
Jessica is a Senior Food Writer at Future and is an enthusiastic, self-taught cook who adores eating out and sharing great food and drink with friends and family. She has completed the Level 1 Associate course at the Academy of Cheese and is continually building on her knowledge of beers, wines and spirits.
Jessica writes food and drink related news stories and features, curates product pages, tests and reviews equipment and also develops recipes which she styles on food shoots. Some career highlights for Jessica include chatting to one of her favourite food writers and chefs Sabrina Ghayour for an interview in Country Homes and Interiors and having the opportunity to meet the legendary Michel Roux Jr. and Raymond Blanc.