Experts reveal the health risk of going all-inclusive on your holiday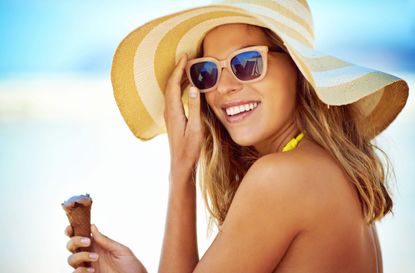 Undoubtedly, one of the best things about jetting off for a relaxing summer getaway is the indulgence that comes with it.
Whether it be sampling some exotic local cuisine, making your way through the beach bar's extensive cocktail menu or enjoying afternoon ice cream by the pool, most of us munch and slurp away on plenty of treats while we're on holiday.
But if you total up the calorie content of everything you chow down on while soaking up the sun, you might be in for surprise.
Experts have revealed that a typical Brit could be consuming a staggering amount.
According to Vivotion.com, the daily diet for someone enjoying the food and drink offerings of an all-inclusive hotel could tot up to over 8,000 calories and 300g of fat.
If you're lucky enough to be flying off for a whole fortnight, taking in that amount every day for two weeks could see you swallowing a whopping 110,000 calories and 4.5kg of fat.
The NHS recommends a healthy, balanced diet of 2,500 or 2,000 calories per day for men and women respectively, but all-inclusive holiday makers could easily have eaten far more than that by lunch time.
A large 'Full English' breakfast alone could add over 1,500 calories to your total before you've even applied your sunscreen and hit the pool.
After a filling lunch, snacks like crisps and nuts plus creamy frozen treats washed down with alcohol and sugar-laden cocktails could easily add thousands more.
After a day of barely moving from the sun lounger, travellers often head out for an extravagant evening meal.
A three course dinner of steak and chips, plenty of delicious side dishes, a rich desert, paired with night time beers and wine could contribute to a daily total of over 8,000 calories before heading to bed to get some rest before another day on the beach.
MORE:The surprising item you can't take in your hand luggage when travelling to the USA (opens in new tab)
But the temptation of an all-inclusive break doesn't have to totally sabotage your health and figure.
A spokesperson for Vivotion.com explained: 'The wide range of food and drinks available at an all-inclusive resort is about choice and convenience, not a calorie challenge.
'Just like throughout the rest of the year, we'd encourage Brits to ask themselves "is there a healthier option available that I like?"
'It can be worth considering portion control and snack frequency on an all-inclusive holiday too.
'Perhaps ask yourself if your eyes are bigger than your belly, or "am I really that hungry or simply trying to get my money's worth?"'