Top Five Cotswolds Nature Trails And Walks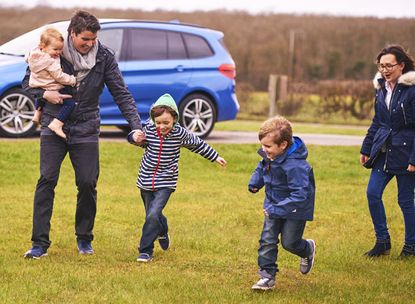 This is a woman&home advertorial
Set out on foot through the Cotswolds and you'll be rewarded with magnificent views, magical walking and any number of buildings and sights to explore.
Cotswold Way
Let's start with the best known walking route - the Cotswold Way National Trail. This runs for more than 100 miles along the top of the Cotswold Escarpment, from Chipping Camden in the north to Bath in the south. You'll pass through a number of historic villages and locations (look out for the Neolithic Burial Chamber at Belas Knapp or Sudeley Castle near Winchcombe). Since the full route is likely to be longer than your weekend visit allows, why not choose one of the many shorter, circular walks (averaging four to six miles in length) that can still give a wonderful flavour of this beautiful part of the Britain?
The Rollright Stones
This five-mile walk, celebrating the magic of this ancient site, starts and ends in the little village of Salford, two miles west of Chipping Norton. In fact, you may want to call in to the Black Horse in Salford for refreshments before of after your walk! The Rollright Stones themselves are located right on the Oxfordshire/Warwickshire border, and are made up of the King's Men Stone Circle, the King Stone and the Whispering Knights, a 5,000-year-old burial chamber. If you're an original Doctor Who fan, you might remember them from the 1978 episode 'The Stones of Blood'.
The National Arboretum, Westonbirt
Head three miles out of Tetbury and you'll reach this spectacular Victorian collection of more than 15,000 trees from all over the world. There are three main areas to explore, including the Old Arboretum (a dog free zone), Silk Wood and the Downs - a perfect location for a picnic. Admission to the National Arboretum costs £9 per adult, £3 for 5 to 18s.
Cleeve Hill and Common
The wide open spaces and breath-taking views at Cleeve Common have attracted visitors for more than 200 years. Nowadays it's a Site of Special Scientific Interest because of its geology, habitats and botany. It's also the largest common in Gloucestershire, offering a haven for plants, insects, reptiles, birds and mammals. Park the car and head off to discover one of three scheduled ancient monuments, or if you're feeling particularly energetic, why not give kite-flying a go? There are special areas of the Common where this is permitted, and there's usually a good breeze for some exciting activity!
Woodchester Park and Mansion
Make for this beautifully secluded wooded valley at Nympsfield, near Stonehouse. Here you'll find the remains of an 18th- and 19th-century landscaped park with a chain of five pretty lakes. Park Mill Pond, the last of these lakes, includes a man-made island that's now a heronry. Other secrets of Woodchester Park include an old Boat House, constructed in the early 19th century and now a home to many bats.
The trails through Woodchester are exciting and sometimes on the steep side. The scenery is magnificent and there's even a Victorian Mansion that was mysteriously abandoned in an unfinished state in 1873. Woodchester Park is open year round from dawn to dusk.
The seven-seat BMW 2 Series Gran Tourer is the perfect vehicle for a family weekend in the Cotswolds. Move the middle bench of seats forward or backward to get legroom just right for everyone, whilst still ensuring there's room for golf clubs and picnic hampers in the boot.
To win your own luxury family weekend away in the Cotswolds, click here.
We've mapped out the locations for you here: