7 things to do in Northumberland that will convince you it's your next holiday destination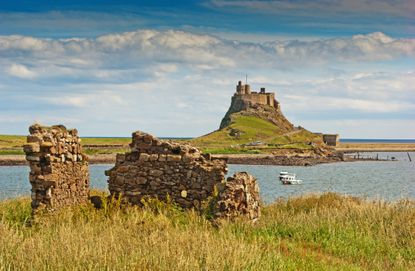 (Image credit: Getty Images)
With a stunning coast and countryside, Northumberland is an unsung British holiday destination. Romantic castles, beautiful gardens, rugged scenery, varied wildlife and walks galore. We've picked some of our favourite things to do, but the possibilities are endless...
The North East is blessed with gorgeous places to stay and fabulous things to do. If you're planning a trip, here are our top 7 things to do in Northumberland…
Things to do in Northumberland
1. Take in a scenic walk along the coast
Pack a picnic and head to Craster, a fishing village with a picturesque harbour. From here you can walk along the coast to the dramatic ruins of Dunstanburgh Castle (english-heritage.org.uk) in around 40 minutes.
Then either loop back or continue north to the charming village of Low Newton-by-Sea. Visit the bird hides around Newton Pool, a freshwater nature reserve, and enjoy a constitutional at the Ship Inn before returning to Craster to stock up on kippers from L Robson & Sons smokery.
The whole walk is 6 miles and should take a couple of hours.
2. Enjoy history and stunning scenery at Lindisfarne
Just over an hour's drive from Morpeth, the Holy Island of Lindisfarne is a must.
One of the great religious sites of medieval Europe, it has a striking Lindisfarne castle and Lindisfarne priory.
Make a day of it strolling around, soaking up the history and enjoying the sea views and birdlife.
3. Visit Gertrude Jekyll's seaside garden
While you're at Lindisfarne, don't miss the gorgeous walled garden created by Gertrude Jekyll in 1911 – it's a riot of colour with hardy annuals, colourful perennials and heritage vegetables.
4. Browse one of the largest secondhand book stores in Britain
Nearby Alnwick is a pleasant town to stroll around and has a very useful Tourist Information Centre, but the jewel in its crown is the amazing Barter Books, one of the largest secondhand bookshops in Britain.
Set inside Alnwick's former railway station, it plays homage to its past with a miniature railway set high above the bookcases. There are cosy snugs, comfy seats, a café and books galore.
5. Experience the magic of Alnwick Castle
Roll up Harry Potter fans and garden lovers. Alnwick Castle featured in the Harry Potter films, memorably as the backdrop to broomstick flying lessons lead by Madame Hooch (Zoe Wanamaker).
Tours and activities, such as archery, broomstick training and medieval dressing up, are included in the admission price.
The gardens are every bit a match for the imposing castle with a spectacular cascade of fountains. It's the smaller areas that really charm, though, especially the quirky allotments, the irresistible snifferama that is the rose garden and the intriguing poison garden. You can visit the castle and gardens separately, though we recommend doing both if you're looking for memorable things to do in Northumberland.
6. Spot red squirrels at Wallington House
Half an hour from St Mary's Inn is Wallington, an elegant country house set in woodland, with beautiful gardens. You can hire bikes or walk through the woods, looking out for red squirrels and listening to birdsong, while the house is fascinating, with a striking painted hall.
7. Walk Hadrian's Wall
This long-distance footpath runs 135km east to west. Not for the faint-hearted but but dipping in is essential if you're up this way. Housesteads, one of 15 forts set on the hillside along the wall, has a small museum packed with info.
You can roam around the remains of the fort, set on a hillside, and try to imagine what life was like for the 800 Roman soldiers who lived there.
And if the thought of the Romans' communal loos doesn't make you grateful for your hotel comforts, we're not sure what will!
Where to stay in Northumberland
Morpeth, just 20 minutes from buzzing Newcastle, makes the perfect place to explore further afield. AndSt Mary's Inn is a great base – relaxed and comfortable, it has spacious rooms that offer the perfect mix of modern and antique styling, with superb bathrooms.
The staff are friendly and there's heaps of info on things to do in the area, including a great map on their website.
There's modern British dining with a Northumbrian flavour, and a regular and 'interesting' wine list, which is a nice touch, plus hearty breakfasts that cater for all tastes.
Dogs are welcome – there's even a designated dining area if you have your pooch in tow.
Sharon has worked in lifestyle magazines for many years and is passionate about sharing information, whether that's about great places to discover, books to read, performing arts, or how to live a greener life. She has written for The Guardian and BBC Homes and Antiques, interviewed authors such as Isabelle Allende, and was a contributing editor to The Beekeeper's Bible.