Hotel review: Shangri-La Rasa Ria, Borneo, Malaysia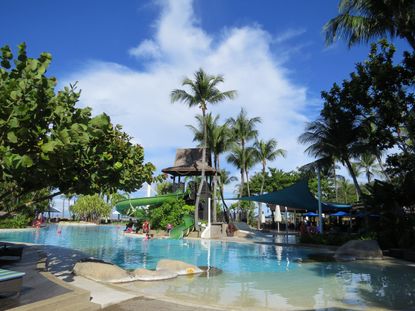 A little cluster of luxury surrounded by white sand beaches and tangled rainforest, Shangri-La Rasa Ria is truly one of Borneo's finest hotels - with enough fantastic activities, amenities and top-notch restaurants to keep you (and your family) entertained for weeks.
Sabah - or Borneo, for that matter - might not be the most obvious choice for far-flung family holidays, but you'll be glad you made the effort to visit this extra special location. The hotel's private wildlife reserve offers a delightful introduction to wild Borneo, while the spa, dining and rooms are just as fabulous as you'd expect from a Shangri-La resort.
Location: 9/10
A 50-minute drive south of the city of Kota Kinabalu, Rasa Ria is easy to reach but feels wonderfully far-flung. With nothing but beach, ocean and jungle reserve as far as the eye can see, the resort is a true retreat - guaranteed to soothe your frazzled soul.
To get here, you'll need to take a cab, hotel transfer or hire a car - approximately 100MYR (£20) from Kota Kinabalu airport. Parking at the hotel is free.
Design: 9/10
True to the style of all Shangri-La resorts, Rasa Ria's interior design is sleek, cool and classy - think white marble, sumptuous furnishings and striking artwork at every turn. There are nods to local aesthetics too, with intricate wood carvings and a gorgeous open-plan lobby adorned with fresh flowers and comfortable sofas.
Outside, the extensive gardens have been landscaped to perfection, with stone walkways leading to two vast swimming pools and a white sand beach - complete with swaying palms, shaded cabanas and turquoise waters. Paradise.
Rooms and bathrooms: 9/10
The resort is split into two wings: Garden and Ocean. The main difference between the two is the view from the rooms - and to be honest, the vistas in any direction are pretty fabulous. The decor mirrors the high-quality contemporary look of the rest of the hotel.
King-sized beds come as standard in every room - with marble en suite bathrooms, complimentary tea, coffee and water, and private terraces with enough space for armchairs and a table. WiFi is free and reliable, and rooms are impeccably clean and well-maintained.
Service: 9/10
Tricky food allergy? No problem. Need an early check-in? Of course. Nothing is too much trouble for the staff at Rasa Ria: they all go out of their way to help. This is a large resort, but service still feels personal and friendly.
Facilities: 10/10
Rasa Ria is a sizeable drive from the closest amenities - but you won't care, as everything you could possibly need is close at hand. Fabulous restaurants, a great kids' club, amazing beach, sun-drenched swimming pool… this is the stuff of holiday dreams.
It's clear that no expense has been spared, as all facilities are great quality and well-maintained - from the lavish spa to the poolside ice cream hut (try the 'Kinabalu', a 7-scoop masterpiece). There are lots of more practical facilities available too - such as room service, laundry, and WiFi.
As if that wasn't enough, the hotel has its very own nature reserve - a tangled slice of rainforest with pathways and a treetop canopy walk, which you can explore in the company of knowledgeable local guides.
Until a few years ago, the reserve was home to rescued orangutans, though the apes have now been returned to the wild. There is still plenty of wildlife to see, however - such as monkeys, pangolins and tarsiers. Sign up for a guided 'night walk' for a wholly unique rainforest adventure: you'll feel like a wildlife spy as you hunt for nocturnal critters, armed with a pair of your own super-cool night vision goggles.
Family-friendly: 10/10
Children are welcome in most areas of the resort, and the complimentary kids' club (ages five to 11) will keep them entertained all day. Free cots are available, plus interconnecting rooms and children's menus.
A kids' pool is open from 7am to 7pm, giving them plenty of opportunity to blow off steam.
6. Food + Drink 9/10
The hotel's breakfast buffets would be daunting if they weren't so damn delicious. Sure, you could concoct your very own muesli blend or graze on freshly-baked croissants - but now's your chance to try traditional Borneo speciality nasi goreng (fried rice with veggies and eggs), expertly-rolled sushi, and even pizzas and coconut curries for breakfast. With mountains of fresh fruit, eggs made to order, and local-style chai tea too, this is one of Borneo's finest breakfast spreads.
For lunch and dinner, the resort has four main restaurants: Kozan (Japanese-style teppenyaki, freshly cooked to order); Naan (delicious Indian curries and tandooris); Oceano (authentic Italian pastas and grills); and Tepi Laut Makan Street (with local-style street food stalls and excellent seafood). You'll be spoiled for choice.