How a holiday to India changed my life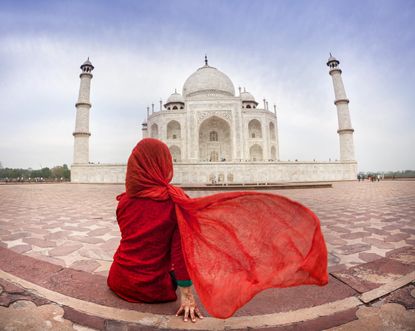 When Woman & Home reader Caroline Dale booked a holiday to India during her battle with breast cancer, she didn't realise how healing it would be…
The Best Exotic Marigold Hotel has always been one of my favourite films. I love the eccentricity of the characters, and the acting by Judi Dench, Bill Nighy, Maggie Smith and Celia Imrie is fabulous. But the real star is India itself so I've always dreamed of visiting. That's why, when I saw an advert for Woman & Home's Real Exotic Marigold Hotel tour as I flicked through the magazine in hospital last year, it really caught my imagination.
I was only midway through my treatment for breast cancer and was in hospital recovering from a mastectomy. I desperately needed something to look forward to after six long months of chemotherapy. I needed colour and vibrancy in my life and instinctively knew India was where I'd find it. Plus the opportunity to stay in the real Exotic Marigold hotel – the Ravla Khempur where the movie was filmed – as well as visit other film locations like Jaipur and Udaipur, was too good to miss.
The trip departed exactly six months after my treatment finished so I asked my doctors if they thought I'd be well enough to go. They told me my immune system should be strong enough to travel by then so I booked the holiday immediately!
I asked my eldest daughter Samantha who's 36 if she'd come with me. We'd never been on holiday just the two of us, and during my cancer treatment I promised myself that when I got through it I'd spend more time with each of my three daughters. They were all there for me at my lowest point and I wanted to thank them individually for helping me get through.
From that moment on my strength seemed to return as I concentrated on getting well enough to go on the trip. A few weeks before we left in February, Samantha and I went shopping for holiday outfits together, which was lovely.
Of course I was a bit nervous, too. What would it be like travelling in a group if we didn't all get on? Would India be too hot, hectic and dirty? Would the food be too spicy? Would we go down with "Delhi belly"? But I needn't have worried. Because it was a woman&home holiday, it was with like-minded people so the group was great – 17 men and women who ranged in age from 20 to 80!
More like this:8 incredible cruise holidays with Woman & Home
We were also in safe, trustworthy hands with Wild Frontiers, who organised the tour, and Bhopal, our tour guide, took us to incredible restaurants and places that we'd never have found on our own. The food was delicious and I didn't get sick once.
Plus India itself was magical and even better than I imagined. I'll never forget seeing the Taj Mahal at sunset from the Moon Garden across the river. Samantha gave me a framed picture of us standing in front of it for Mother's Day, which I love. Visiting the Amber Fort in Jaipur was amazing, too. We drove up to it in these old rickety Jeeps and it felt like a real adventure.
Jaipur and Udaipur were beautiful too and another highlight was the night we stayed at the real Exotic Marigold hotel. In the film the hotel is supposed to be in Jaipur, but the real one, the Ravla Khempur, is actually in the countryside in a part of India I don't think many people see. The evening we stayed there they put on a special screening for us, we dressed up in saris and pointed out the places we'd been to on the trip. But most of all we laughed and had fun, which is exactly what I needed.
More like this:No travel buddy? No problem! Introducing the ultimate holiday for solos
Surviving cancer encouraged me to take a leap and do something different. To push myself and travel to a place that I'd always dreamed about but had always put off. It meant so much to me when Samantha told me in India that it was the best holiday she'd ever had, too.
When I first spotted that ad in w&h I wasn't even sure I'd make it to 2018, let alone be dressed in a sari watching my favourite movie in the place that it was filmed. It really was the trip of a lifetime.
Now I'm happy and healthy again and thinking of doing more woman&home holidays – I've seen the cruise in Portugal with Mary Berry, which I'm keen to book with a friend and there's another trip to Southern India I'm thinking about doing too. In fact, I think my neighbours are starting to wonder how many more times they're going to have to look after my cat!
Now join us on the real Exotic Marigold Hotel tour too!
It's impossible to watch The Best Exotic Marigold Hotel and its endearing cast of characters and wonderful locations without thinking, "I must go to India and experience it for myself." Well, here's your chance. Not only does our exclusive 10-day tour take in some unmissable sights – including the Taj Mahal, the "Pink City" of Jaipur, and Udaipur the "Venice of the East", you'll also meet The Best Exotic Marigold Hotel's writer Deborah Moggach before the tour, for an exclusive talk about how she wrote the book that inspired the hit film.
Plus you'll get to stay in some wonderful hotels – from the heritage Narain Niwas Palace to historic Castle Bijaipur – and even enjoy a night in the real Exotic Marigold hotel itself, – the Ravla Khempur. See the details & book
Your exclusive w&h experiences...
Meet the famous writer Deborah Moggach, author of 19 novels, including These Foolish Things, which was adapted into the much-loved film The Best Exotic Marigold Hotel, for a pre-tour talk and Q&A
Stay at the real Exotic Marigold hotel – the Ravla Khempur
Experience the beautiful Taj Mahal at sunrise, with a sunset preview too
Take high tea at Castle Kanota – which was the venue for the Viceroy Club in the film
Stay in the characterful heritage property Narain Niwas Palace, Jaipur
Relax at the charming and historic Castle Bijaipur, Chittorgarh
Wander around the Amber Fort, City Palace and Palace of the Winds in the "Pink City" of Jaipur
Enjoy a private bullock cart sunset safari and jeep tour
Explore Udaipur, the "Venice of the East"